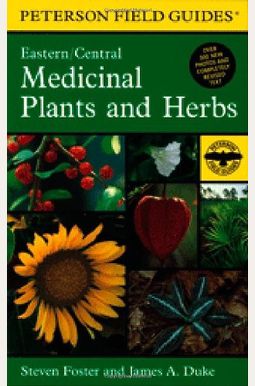 
 
A Field Guide to Medicinal Plants and Herbs: Of Eastern and Central North America (Peterson Field Guides)
Book Overview
This Description may be from another edition of this product.
Peterson The best-selling field guides of all timeMedicinal plants are increasingly well regarded as supplements and sometimes as alternatives for prescription drugs. Steven Foster and James A. Duke have used recent advances in the study of medicinal plants and their combined experience of over 100 years to completely update the Peterson Field Guide to Medicinal Plants. The clear and concise text identifies the key traits, habitats, uses, and warnings for more than 530 of the most significant medicinal plants in the eastern and central United States and Canada including both native and alien species. Seven hundred plus images, the organization-by-color system, and simplified warnings make identifying medicinal plants fast and easy.Sponsored by the National Audubon Society, the National Wildlife Federation, and the Roger Tory Peterson InstituteWith more than forty years of experience in the herbal field, STEVEN FOSTER is the author, coauthor, and photographer of seventeen books.DR. JAMES A. DUKE has over six decades of experience as a botanist, and is the author of more than twenty books.[use PFG website QR code] To learn more, visit www.petersonfieldguides.com or scan here.
Frequently bought together
Frequently Asked Questions About A Field Guide to Medicinal Plants and Herbs: Of Eastern and Central North America (Peterson Field Guides)
#1

#2

#3

#5

#6

#7

#8

#9

#10

#12

#13

#14

#16

#17
Books like A Field Guide to Medicinal Plants and Herbs: Of Eastern and Central North America (Peterson Field Guides)
What should you read after A Field Guide to Medicinal Plants and Herbs: Of Eastern and Central North America (Peterson Field Guides) Book? Here is a list of books to read if you read and loved A Field Guide to Medicinal Plants and Herbs: Of Eastern and Central North America (Peterson Field Guides)
Book Reviews
(13)
Did you read A Field Guide to Medicinal Plants and Herbs: Of Eastern and Central North America (Peterson Field Guides)? Please provide your feedback and rating to help other readers.
Great little book

Derived From Web

, Apr 20, 2022

Great little book, compact and easy to read. Short, consise descriptions of plants and plenty of pictures. Some are missing pictures, which is noted in the book, so I just go online and look it up if I really need it. I've already identified several weeds in my backyard and learned that they are actually useful! Would definitely recommend to someone who is just curious. If you're out there to actually collect and use the plants, I would suggest finding some more from other sources.
Highly recommended

Derived From Web

, Apr 20, 2022

Well, this is my first field guide book that I bought to take on nature walks with me, and I am quite impressed! I just started my Herbalist classes and this is amazing and helpful! Peterson's Field Guide to Medical Plants has great pictures, beautiful descriptions and uses of each plant. I would highly recommend this book, as it includes trees, poisonous plants, etc.
The ultimate medicinal herb book!

Derived From Web

, Apr 20, 2022

After many misad purchases and looking for the right medicinal plant guide that was relevant to my area, THIS is the one. Amazing layout and organization, very useful plants that you are guaranteed to encounter and great colored pictures. I love the idea of 2 index : on medicinal terms, one for plants. If you're looking for the right book, look no further!
Great Book when Used in Tandem with Another!

Derived From Web

, Apr 20, 2022

I am very happy with this book, which I used throughout a medicinal apprenticeship of 6mo herbs. However, it is not a book that can be used alone if you are looking to identify plants in the wild. The information is beautiful, the colorful pictures are fantastic and I appreciate the organization method, but plants don 't stay in bloom all year long! Therefore, these plants can be identified only in the wild if they are in bloom, as the pictures do not include adequate photos of the leaves or non-blooming times. I still recommend the book, but keep in mind that you may need some additional help.
Good plant reference!

Derived From Web

, Apr 20, 2022

I have my Master's degree in Library Science so that I know when I see it a good reference book. In my opinion, this book is more for a slightly more experienced plant person, but the pictures are very nice and the book is well-written. As a beginner, I could figure it out, so I am sure that anyone could. You would definitely be able to avoid any mishaps while foraging for berries using this guide, since they provide explicit warnings about dangerous plants throughout. I bought it to learn about the plants in my backyard, and I had already found a good deal of information about them. Recommended :
Amazing!

Derived From Web

, Apr 20, 2022

Currently Peterson dipped into it, but it appears to be business as usual for Barely. It was delivered in good time.
Arrived damaged twice

Derived From Web

, Nov 19, 2020

Ordered 3 different books because of a deal, 3 different books were ordered. The 2 other books came in fine, this book came in the first time with black marks on the front and back cover, ripped bottom cover and damage to the binding. Before ordering, had others warn that this had happened to them as well. Another of this book has decided to reorder another of this book. The first book came in damaged as well, but was not as damaged as the second. The second book was only damaged in binding at the second book. Due to the lack of information within the book and the quality control of the seller, I decided to return the second book for a refund. The pictures within the book were somewhat helpful in identifying plants, but the descriptions were unsatisfactory and overall too vague for understanding how to use different parts of plants for medicinal purposes. would not recommend.
Brilliant Guide

Derived From Web

, Jun 6, 2020

This little book is wonderful. I have seen many of the flowers and plants in it that I live in the area I live in, none of which I knew had the properties they possess. As someone who loves and prefers nature's remedies over modern pharmaceutical products, I find this book perfectly matches my needs. It is informational, organized and just what any naturalist or herbalist should have in their collection, of any level. Of course, this is my opinion only. Buy it and see for yourself. This little guide is the whole package. I will buy the Edible Plants version of Peterson's guide to accompany this with the Edible Plants version.
good resource but not spiral bound version

Derived From Web

, May 25, 2020

I wanted to be able to use this book while I was working on some foraging projects in my yard and on hikes... I got the spiral version, which was almost double in price, but I figured it would be worth it, because it does lay flat... but it literally punched holes down the entire book and put the spiral. There are words cut off because of it. For the most part, you can figure out what's said and read it well - but it is not a very professional appearance. It is frustrating every time I come up to a reference and have to pause to put it all together like a puzzle. I need it for a course that starts this week too - so no time to return for the regular bound version sadly. I have a few other texts that will be helpful too - and aren't as frustrating to use. It's a shame that this has a nice size to it too - could have been done a little better with the right binding...
A must have guide!

Derived From Web

, Jul 29, 2019

This little book is packed with info! It is a must for any library that is concerned with herbalism in any form. I am still a beginner and there is so much to learn about the gifts of nature. Not only is it very helpful in identifying plants while foraging, there is also some good solid info about each plant and some of its uses. A quick reference for a perfect fir. The only thing I see is a small map showing the common natural habitat areas such as you see in other field guides. But that is not enough for me to take a star. Highly recommended for novelist such as myself as well as the more experienced.