Buy 3 Get 1 Free
Our Best Sale Yet! Add 4 Books Priced Under $5 To Your Cart     Learn more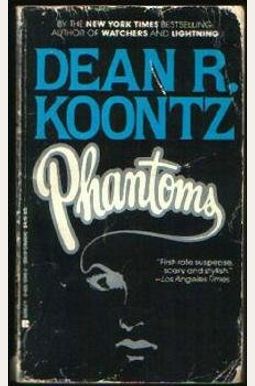  
Frequently bought together
Frequently Asked Questions About Phantoms
Book Reviews
(14)
Did you read Phantoms? Please provide your feedback and rating to help other readers.
Another great Story

Derived From Web

, May 17, 2022

As usual, Dean Koontz tells a compelling story, and it is usually difficult to put this book aside for a later reading. His characters are all very interesting and the way he describes them either leads you to love or annoy them. The ending is not entirely surprising, but one that you will hope for.
Good book.

Derived From Web

, May 17, 2022

Reading Phantoms enjoyed. Some of it was good, but still a predictable read. occupied my mind instead of focusing on problems.
Not Koontz's s Best

Derived From Web

, May 17, 2022

Even some of the same names from Salem's Lot are still. Wondering who first came.
Phantoms

Derived From Web

, May 17, 2022

I was really grateful for the ending of the book. With the damaging boron that essentially kills the demon. I would have liked a little more of the book as the Charenten who lived. Shirley Rucker, thank you.
Grotesque and suspenseful

Derived From Web

, May 17, 2022

I liked the second half much better than the first. The build up was so good that it was hard to be impressed by the reveal of what causing all the horror. Sorta reads like a movie, with mysterious characters, sets, decent murders, etc. If you combined Poltergeist with a slasher film and then throw Star Trek in the typical old style of being god-like evil, you get an idea of what this is all about. When describing suppernatural or novel beings, I usually prefer less explanation to more, but the description was at least clever. There are scenes of wary gore, so be extreme. Spoiler does not take hours if not days for bacterium to do their thing, eat and replicate on a large scale? I would think that simply using soapdetergent would have been far more devastating for an oil-based creature, especially one with no bones. Horror and Sci-Fii rarely get the science correct. Not a deal breaker, just annoying. The ending went on for quite a while and was a little too cliche for me.
Straighforward Plot and Conflict makes Phantoms a good match for the reluctant reader in the classroom...

Derived From Web

, May 17, 2022

I enjoy Dean Koontz and as a retired teacher, I can testify that many non-readers, especially young men, become readers when introduced to his books. They are drawn to the battle of evil verses good and the plot line that suggests some connection to ancient rituals, mystic forces or government mishaps. His characters are easy to identify and the good nature of the conflict seems to be a heroic mix for the reluctant reader. I am a dog lover, so he appeals to me naturally. Teachers may want to think about this in some cases as YA, but with parental permission. I found my students like to feel that they are making adult choices when it comes to reading material, but parents are still in the loop. For many years, Koontz was my go-to, and I gave away many copies of his books, and received feedback that it turned some students into readers.
Loved "Phantoms!" If you haven't read it, read this right away!

Derived From Web

, May 17, 2022

deliciously spooky '' When I first decided whether to buy this book, the summary had me slightly worried, because it seemed like such a fun concept! This worried me only because I was afraid that this book would be one of those great-creative ideas with incredible potential, maybe even one with ideas that seem plausible and realistic, only to build the suspense, get you hooked... then drops you with a bang after 85-90% of the book is done by making some predictable'; bogus ending when it could have been great! Thankfully, this was not the case here and certainly did not disappoint. It actually got better and better! This author is a lover and I love this book!
Phantoms ...very good, right on the edge for me..

Derived From Web

, May 17, 2022

Dean Dean Koontz is a great author. This is another great story with a mix of science and supernatural aspects and is fast paced to keep you reading from start to finish. This one was right there on the edge of being a little gruesome for me. I wouldn't want it to go any further... some of the scenes made me flinch a few times, but it moves quickly and in the classic style of Dean Koontz, he didn 't dwell on the gross stuff, but kept it about the story, not the gore. I liked it and I enjoyed the theory that the evil was really an ancient, biological entity in the world.
Sublime. Not JUST horror, maybe not even mostly horror. Just damned good writing.

Derived From Web

, May 17, 2022

But Koontz takes care to write the novel he also had to write the novel he wanted to write. Like all Koontz's work, populated with strikingly drawn characters both fair and foul and above all filled with his patented blend of unrelent suspense. There is just enough plausibility to not break the immersion, just enough breaks to not burn the reader. Definitely one of a handful of the best Koontz's. Definitely one of the best of anyone. If he'd learn just a little about guns. Lol's wife is a very special treat.
Another Dean Koontz Favorite

Derived From Web

, Jun 2, 2021

Dean Dean Koontz has mastered the smart thriller better than any other author, and Phantoms is no exception! I loved the unique story and the terror lurking around every corner.