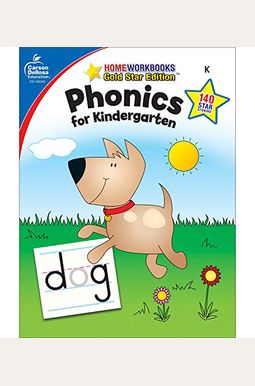 
 
Phonics For Kindergarten, Grade K: Gold Star Edition
Book Overview
Workbook Features:
- Ages 5-6, Kindergarten
- 64 pages, 6 1/2 inches x 9 inches
- Covers tracing letters, beginning consonant and vowel sounds, sight words, and more
- Features coloring activities, puzzles, tracing activities, and more
- Includes an incentive chart, 100 motivational stickers, and an answer key
Hands-On Learning: Carson Dellosa's Phonics for Kindergarten Workbook helps kindergarteners enhance their fine motor skills and early writing skills through fun and engaging activities, games, and more.
What's Included: The workbook covers beginning consonant sounds, vowel sounds, letter tracing, sight word recognition, and more. Also included are an answer key and an incentive chart and 100 motivational stickers to celebrate progress along the way.
How It Works: Students practice writing and phonics skills through hands-on writing, tracing, and coloring activities, puzzles, and more. The full-color pages feature clear, step-by-step instructions to guide you with each new task.
Working Together: Parents use the phonics workbook for added practice from home, and teachers incorporate it into hands-on practice. Use the incentive chart to track progress and encourage students with reward stickers after completing each activity.
Why Carson Dellosa: For more than 40 years, Carson Dellosa has Read More chevron_right
Frequently Asked Questions About Phonics For Kindergarten, Grade K: Gold Star Edition
Book Reviews
(13)
Did you read Phonics For Kindergarten, Grade K: Gold Star Edition? Please provide your feedback and rating to help other readers.
Seems to be effective and fun for grandson

Derived From Web

, Apr 20, 2022

I bought this for my grandson and we have used it quite a bit to go along with his kindergarten homework. We don 't use it all the time or anything quite that drastic, but helps at times for reinforcement of sounds or letters with which he experiences some difficulty. This book is very helpful in this way. My grandson likes this book MUCH more than the material of the school. He learns faster from this book and never seems to want to stop. This is in contrast to the school-provided material in which school is placed in distinct contrast. We have used a few different phonics books and this is the best of them so far. I recognize myself too, though not everyone learns the same way from the same material. This book is also inexpensive, so I would say it is a good option to try if you're first starting to check them out, or if you have had struggles with other books and feel frustrated in finding a good book to help or teach your own children, etc.
Good for 3-4 that know their letters, but too easy for Kindergarteners

Derived From Web

, Apr 20, 2022

Our experience so far is that kindergartners are expected to already know what is in this book, so far. A lot of this was taught to the pre-school children by our school district. Unfortunately, it is a little simpler than I expected. There are only a few pages like the front shows. The majority of the pages are circle or draw an x on pictures that start with letter _ type exercises. If your kiddo is not comfortable with sound recognition, only the last 5 or so seem to deal with writing in letters. That said, if your kiddo is not comfortable with writing, this could help. If they are already pretty comfortable with their lettersound recognition, I would go for something a little more complicated for the price, it is pretty reasonable. We're about a third of the way so far, and my pre-schooler loves the gold stars on the back. I have motivated her to keep working for each page, but I can see her losing interest soon, since it is pretty easy and repetitive.
My grandson loves it!

Derived From Web

, Apr 20, 2022

As with the beginning reading book, I also send my grandson unseen, my grandson also loved this book. Born right away, although he is a certified gifted child and has passed through it before entering an upper scale kindergarten back home in Colorado. He still got bored with it a few times ; he often goes back to it and enjoys it. Nana B makes her happy!
Excellent, simple phonics book

Derived From Web

, Nov 30, 2020

This is an excellent and simple phonics workbook for children who learn to read. It is broken into beginning, middle and ending sounds. The exercises are comparing things that all start with a letter or finding things that have the same letter sounds. Kids circle or cross the choices. It is pretty no frills, which is great because these are essentially once used and toss. I like that the exercises are simple enough that my kindergartner can do one or two pages on his own. I also use this for my 3 year old, but because he doesn't have great finger skills to circle, I have him either point or put a sticker on the choices. I also have to commend the publisher for selecting photos that have SIMPLE phonics and a focus on short vowel sounds.
Missing vowels...

Derived From Web

, Jul 16, 2020

My 6 yo son is autistic and has an obsession with completion. Everything must be completed and in the right order. This book seriously annoyed him and now he won 't touch it because they go over the alphabet in the first half of the book but SKIP ALL THE VOWELS. The vowels are located in a completely different format at the back of the book, at the book. As soon as he realizes we had skipped A, he puts it down and refuses to work in it again unless the missing letters are located and put in their rightful places. It is not bad and was decently priced.
Engaging

Derived From Web

, Jun 12, 2020

Engaging : Very engaging. I got this workbook to help me homeschool my kid due to Covid-19, and we both liked it a lot. He loves getting the start stickers and marking the chart every time we finish a page.
Great for a speech activity!

Derived From Web

, May 27, 2020

I've received this for my 5-year-old son. He is in speech and during Covid he has a talk with his speech teacher on Zoom and I have been doing activities with him at home to supplement. This little book is great for Practicing words and sounds and is something different to add to our rotation. He is also learning to read, so this helps in a number of ways. I would definitely recommend it for anyone with a kid who is learning to readspell or as a speech practice tool.
Great starter book!

Derived From Web

, May 4, 2020

I bought this book for my three year old because she knew her letters, numbers and some specific words. This was a great basisal book for phonics. She was able to complete all of it and enjoy it. There were many sheets that she was able to complete independently for practice.
60 pages of Learning Phonics

Derived From Web

, Feb 4, 2019

60 practice activity sheets with answers given key, as you complete each page, paste the sticker on their respective numbers. How fun for a toddler! The books focus primarily on how each letter sounds, like hard C sound or hard G sound, with interesting images for children. My daughter is 4 and loves working on these pages, matching the similar sound pictures, knowing what letter makes what sound, she has familiarized with multiple sounds and knowing the difference between each of the letters. A few pages at the end cover a bit of writing practice. Apart from that, everything is based on the letters and their sound, not Mucc of the writing involved. I would definitely recommend such books for children of her age.
Simple yet effective for teaching

Derived From Web

, Aug 12, 2018

Simple but effective for teaching your child all about the recognition of letter sounds. Its bright colors make it very attractive to children.