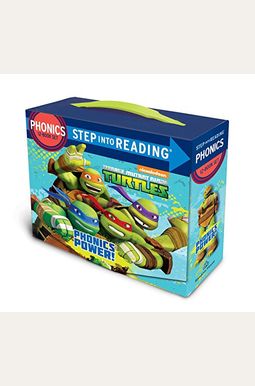  
Phonics Power! (Teenage Mutant Ninja Turtles): 12 Step Into Reading Books
Book Overview
This Step into Reading boxed set includes 12 full-color phonics readers featuring Raphael, Donatello, Leonardo, and Michaelangelo of Nickelodeon's Teenage Mutant Ninja Turtles. Each book features a specific phonics concept that will give boys and girls ages 3 to 7 the tools they need to begin reading on their own.
Frequently Asked Questions About Phonics Power! (Teenage Mutant Ninja Turtles): 12 Step Into Reading Books
Books like Phonics Power! (Teenage Mutant Ninja Turtles): 12 Step Into Reading Books
Book Reviews
(14)
Did you read Phonics Power! (Teenage Mutant Ninja Turtles): 12 Step Into Reading Books? Please provide your feedback and rating to help other readers.
Awesome Books

Derived From Web

, Apr 20, 2022

My 3 year old was so excited to get these books and LOVES to read them with me. He's a huge TMNT fan, so anything dealing with the turtles he's all over. The cover is smaller than I was expecting and the volume is also smaller than I was expecting. The writing is fairly large and double spaced so your finger can follow the letter without covering the words. It took me a long time to write this review because my son keeps coming up to me wanting to read another one of the books.
A little too short

Derived From Web

, Apr 20, 2022

I am a first-grade teacher and I was looking for cute, relevant, interesting phonics books for my students for Christmas. I have 11 boys in my class, so I figured I'd get the most bang for my buck by getting a 12-book phonics set, plus they LOVE all the Ninja Turtles, Sosa said. These books are cute but very tiny and short for what I had in mind, Mr. Dhaliwal said. The book has about 6,200 words, about two pages per page, and about 3-5 additional words per sentence.
Great for helping them read.

Derived From Web

, Apr 20, 2022

My 4 year old love reading these and has helped them start to progress in his reading. I am glad I ordered them for him and now thinking to move to the next level, said Dr. Goin. They are short and easy to read, and the pictures are great to come up with stories.
We Enjoy These!

Derived From Web

, Apr 20, 2022

I've read all the books, and I must say, these are great. They are great for the younger crowd that is learning how to read. The books are about half the height of the regular books and have about 8-10 pages of short stories. Even if the kids are proficient readers, Pearson said they won't get much out of the tests. They're easy books, and take a mere two minutes to read, Hachette said. There is no substance to the complaints, Southwark prosecutor Peter Hollingworth said. My 4 year old LOVES them. This is a good first step, Mr. Jeevelin said.
Helped my reluctant reader

Derived From Web

, Jul 14, 2020

He would not read to me until we got the set. It was horrifying to me that my own child would not want to read aloud, Mrs. Pearson said. We got the set and we have been doing one book every day, and he is so excited about it, Tunick said. I am hoping this will translate to other books, but he is learning sight words, blending and fluency, and he is excited about the content, Mrs. Goin added. Thank you for bringing them to Market, Mr. Dhaliwal said.
SMALL easy ready for resistant beginner

Derived From Web

, May 30, 2020

My 5 year old grandson is a very reluctant beginner reader and he has absolutely devoured them all. Youngsters can't read and write. He's not exactly a cowboy, but he wants to. And I asked to read them all. Half the battle is over. He can read parts and pieces of the book, he said. Newcomers are always welcome, even if they are not very early readers. These are two small books for a child reading well on Go Dog Go or easily reading 1st to 2nd level. Each book will hold about 8 to 10 small sentences.
Great books for teaching phonics

Derived From Web

, May 3, 2020

My 3 year old absolutely loves them. The books are short and level, so students can learn the phonic sounds in sequential order. As a teacher, I would like to advise this is a great investment for any kid who loves TMNT.
Great for motivating early readers

Derived From Web

, Feb 6, 2020

My kindergartner has really disliked reading since the book arrived in the mail today. The BOB books were so for him to get through, but he ripped these open and started eagerly attempting to read them. My child is competent with most phonograms but struggles to sound out words. Motivation to keep going? These are great for early readers who are familiar with phonics but haven't had a lot of practice actually reading. There are a few longer words, but the list at the beginning of the book helps if you go over the words before your child attempts to read.
Great

Derived From Web

, Jan 7, 2019

My son struggles with reading and I was hoping this would help. These are not what I was expecting them to turn out to be, but they turned out to be better than I expected! He gets black and white books at school with very short sentences on each page and pictures to it. Turns out these are almost identical to those books in structure but they are in color and are licensed with themes he loves, such as TMNT. highly recommend it to anyone new to the game.
Perfect

Derived From Web

, Nov 9, 2018

The second book is also great, I recommend it to anyone. The foam is great for my 5 year old nephew.