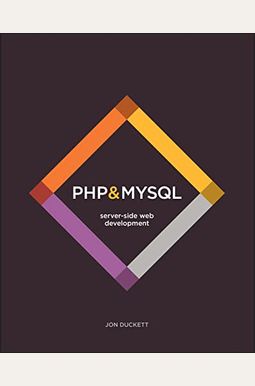  
Php & Mysql: Server-Side Web Development
Frequently Asked Questions About Php & Mysql: Server-Side Web Development
Book Reviews
(6)
Did you read Php & Mysql: Server-Side Web Development? Please provide your feedback and rating to help other readers.
Beautiful, helpful, colorful and concise guide

Derived From Web

, Mar 25, 2022

I've been a fan of Duckett's guides since I first picked up his HTMLCSS book in a panic to help me through an intro web design course for non-IT majors. It was an immensely helpful class, and I relied on it throughout that class. As a librarian, I find this book extremely well-designed, and every page is color, easy to read, and full of useful tips. I recommend his books to anyone who would like to learn programming on their own, or need another resource to supplement their course materials. I keep all his books on my desk and frequently refer to them in my work with our online library resources and LibGuides, and even as inspiration for other graphic design media I produce. Highly recommend! Mr. Duckett has a solution: Write more.
Jon Duckett is the best

Derived From Web

, Mar 11, 2022

Even if you are not interested in programming, considering how the book is written in terms of color presentation, book layout and graphics, you will find this book worth the money. For over seven years, I have been trying to understand PHPMYSQL, all efforts to master the language proved abortive. I invested a lot of money on various books, videos, online learning platforms, but it's still no headway. But with this book by Jon Duckett, I understand PHPMYSQL is just too easy for me. I wish Jon Duckett would do a second edition of his other two books and also give us a well written-easy-to-understand book on react, angular and vue javascript frameworks as well as a book on nodejs. Please, Jonett, have your social media pages so that we can follow you and discuss more with you. Jon Duckett is the best! It's great to be back home, said Blair.
Gods be praised - they finally published it!

Derived From Web

, Feb 17, 2022

I have waited over 4 years for this book. It's an insanely good book, but Wiley needs to do more to promote it. PLEASE don't torture people again. This book is in classic Jon Duckett form richly detailed charts, immersive infographics, and other pretties to keep engaged developers while learning about the inner workings of PHP and MySQL. Like his previous releases, Apache will be a cut above the vast majority of web development books. Also, it is extremely difficult to find modern PHP resources that are engaging and educational. I believe Duckett has set a new standard in what a good PHP resource can look like, wrote Brian McBride.
Duckett Never disappoints!!

Derived From Web

, Feb 17, 2022

Television images could not be loaded. Where do I start? I won't write a long review. I will come back to this review in a few weeks. But I preordered because Duckett's content is just amazing. I'm impressed. This book covers the entire PHP8 development cycle, from creating a single client to creating a fully functional web service. What's more, the entire php framework is junk. This is also object-oriented, which I appreciate. What is left is to be seen, debated and resolved. Please give us NodeJS, with express and mySql!
Great book!

Derived From Web

, Feb 17, 2022

The infographics and concepts are clear and are explained well. I also have the JavaScript and HTML5 books from Johnett and this new PHPMySQL is a great addition to the collection. This is a great beginner's manual if you want to learn PHP and MySQL.
A great visual aid for the entry level or intermediate Web Designer or Developer

Derived From Web

, Feb 16, 2022

As a web designer and mac user, I've been told by some job posts that experience php and mysql was required for more interactive websites. I tried looking for other books but wanted a quick guide to understanding what these programs are and how to practice them, problem was many books were for pc computers and not much for macs. This book is also being updated with links to interpreter programs so isers can practice these php and mysql examples. Thanks for the great resource!