Buy 3 Get 1 Free
Our Best Sale Yet! Add 4 Books Priced Under $5 To Your Cart     Learn more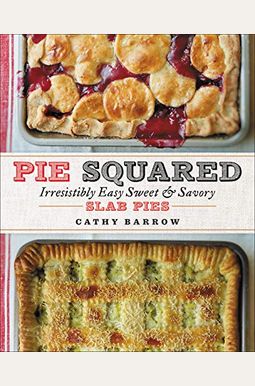  
Pie Squared: Irresistibly Easy Sweet & Savory Slab Pies
Product is currently Out of Stock.
You can add it to your wishlist and you will be notified once we receive a copy.
Book Overview
James Beard Award Nominee 2019 for Best Cookbook: Baking and Desserts
The delicious new food trend of slab pies that makes it easy to serve sweet or savory pastry to a crowd-or just your family For those of you who aren't up on your Pinterest food trends, slab pie is just like regular pie-only better (and bigger) Instead of crimping and meticulously rolling out a round crust, slab pies are an unfussy twist that are perfect for a potluck or dinner party or just a family dinner. Baked on sheet pans, slab pies can easily serve a crowd of people dinner or dessert.
Pie
Squared
includes seventy-five foolproof recipes, along with inventive decoration tips that will appeal to baking nerds and occasional bakers alike. And this fresh, uncomplicated take on pie will surely pique the interest of those who have previously been reluctant to take out their rolling pin. Barrow didn't invent slab pie, but she definitely thinks outside of the crust. In addition to traditional pie dough, she offers more than a dozen crust recipes-from cracker crusts and cornbread crusts to cookie crusts and cheddar cheese crusts. Using these as a base, Barrow then entices readers with both savory and sweet slab pie creations, with recipes like Spinach, Gorgonzola, and Walnut Slab Pie and Curried Chicken Slab Pie to Sour Cream Peach Melba Slab Pie and Grande Mocha Cappuccino Slab Pie. The first book of its kind, this will appeal to lovers of easy food trends like sheet pan suppers and dump cakes. Don't be surprised when you start spying slab pies at your next potluck
Frequently Asked Questions About Pie Squared: Irresistibly Easy Sweet & Savory Slab Pies
Books like Pie Squared: Irresistibly Easy Sweet & Savory Slab Pies
Book Reviews
(13)
Did you read Pie Squared: Irresistibly Easy Sweet & Savory Slab Pies? Please provide your feedback and rating to help other readers.
Excellent pie book. Cannot go back to baking pies in a round pan

Derived From Web

, Mar 16, 2022

She really simplifies and innovates the pie making for you. It is genius to bake a cake in a quarter sheet pan. Her pie crusts are spot-on and there is such a variety of pie fillings, both sweet and savoury. She is clear and concise in explaining how to prepare and assemble food. This book is loved. The photo is based on her ham and cheese slab pie. She mentions in the recipe that you can substitute any cooked protein, so I subbed Costco - roast chicken, cut into small quarters and mentions that you can substitute olive oil crust for the entire butter crust. Since I didn 't have the forethought to start this butter crust 4+ hours before I needed it, I made the olive oil crust, which was tender and delicious. I have baked many others from this book, but have only one photo of this.
Outstanding and adaptable recipes.

Derived From Web

, Aug 7, 2020

The day I made a pear pie, I got the book using pears from our tree. An all-hard crust was not first! I have never had such an easy time making a crust. This cake lasted in my house for a day. I'm pretty sure that I 'll double these recipes. They're that good to Dang. Without being condescending, her writing is clear and informative. It inspires to try them all. Tomorrow I make the tomato pie. I'll definitely work my way through this book.
If you like pie ...

Derived From Web

, Aug 5, 2020

As a kid, I loved frozen pot pies. They are not part of my adult diet, but with this book I was able to create a number of pies that reminded me of my childhood. I made many recipes from the book and enjoyed them all. I particularly like the recipes for savory pies in the book, and some of my favorites are Cheesy Cauliflower Rarebit Slab Pie with Rye Crust, Vegetable Pot Slab Pie and Just-Like-Artichoke-Dip Slab Pie. I thought that each came out beautiful and even better than I expected.
Boring flavors and frustrating processes

Derived From Web

, Dec 15, 2019

The intrigue and rectangular appeal lies in the shape of the first pie. The recipes are otherwise quite common, like the spinach dip. Her spinach dip recipe is so mundane that it leaves you yearning for a better dip. It takes an unusual amount of time to roll a rectangular crust. There is a reason why pies are designed to be round ; it is in the physics where a ball of dough is flattened into a circle with a rolling pin.
Good but ambiguous recipes

Derived From Web

, Nov 20, 2019

Well laid and photographed, but some receipts are ambiguous. For example, the Pear recipe specifies two quantities of sugar, but does not specify what kind of sugar to use in which step.
Please include a recipe which uses the "Pourable Chocolate."

Derived From Web

, Jan 21, 2019

I found this book fun to look at, although the only recipe I would probably try would be the cheese Danish with a puff pastry crust. In Squiggles, Glazes and Drizzles, however, there is a recipe for pourable chocolate on p. 80, which sounds so delicious and yet is not used with any of the recipes in the book. The closest I see is chocolate pecan slab pie on p. 261, but here the bittersweet ingredient is 2 ounces of chocolate, chopped. I could have asked this just as a product question, but I can not find that section on this product page.
What a treat!

Derived From Web

, Jan 11, 2019

A new area for me, but after reading Barrow's wonderfully written, clearly explained and splendidly illustrated book, I ordered a pan immediately and went to work or play. Barrow's obvious delight is in what she inspires. Not only is this a cookbook, but it is also a delicious read. The recipes can certainly be followed to the letter, but inspires us throughout Barrow to do our own thing... What if I substituted this with this or added this or poured in a dash of Framboise? Savory or Sweet... Barrow inspires her readers to do their own thing -- and that is at its best culinary and literary mastery and generosity.
I always thought pi r round ;)

Derived From Web

, Nov 6, 2018

I was shocked by the amount of unique ideas contained in this cookbook. Artichoke Dip - Slice Pie ''. And so on! '' I read it in bed, like some people read thrillers or romance novels.
Flavorful, easy, crowd-pleasing slab pies

Derived From Web

, Nov 6, 2018

The recipes are written with great care, putting the baker at ease from the beginning. The pan-roasted mushroom and Kale pie was a comforting dinner for my family -- and the leftovers provide mouthwatering lunches, too. Since I was a girl, I have been baking pies and Cathy's pastry is the best I ever had. This delightful book would be a wonderful holiday gift for a newbie baker or experienced baker.
It's all about the crust!

Derived From Web

, Nov 5, 2018

As Cathy says, pie is just a casserole without the crust. I love to cook and bake, but for many years, pie crusts have been a source of frustration for me. I never had the right equipment, I was impatient, small children and work deadlines made it impossible to plan my time. Now that my children are older, my job is predictable and I have a little more time in the kitchen, and Pie Squared has motivated me to try again. This time I wing it up to the letter instead of just following it. For this endeavor I even bought a new full-sized food processor, and my baking stone permanently lives in the oven. I am happy to report that my crust was my best date on my Artichoke Dip Slab Pie! I can not wait to bake all the pies in this book. I'm going to try and make a pie every weekend, time permitting, and alternate sweet and savory.