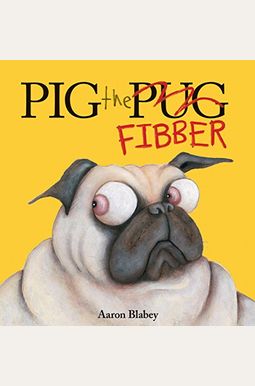  
Book Overview
The world's bestselling pug is back
Pig was a pug, and I'm sorry to say, he would often tell liesjust to get his own way.
Pig the Pug tells lies to get what he wants and get Trevor the sausage dog in trouble. When Pig hatches a plan to get at the hidden treats in the back of the closet, his lies get Trevor thrown out of the house. Finally he's all alone with those treats. What he didn't expect was the bowling ball.Maybe this time Pig the Pug will learn his lesson.
Frequently bought together
Frequently Asked Questions About Pig The Fibber
Book Reviews
(9)
Did you read Pig The Fibber? Please provide your feedback and rating to help other readers.
The same story in every book....

Derived From Web

, Jan 13, 2021

My kids (two and four) received the original book last Christmas and it was love at first sight. They liked the story alright, and I guess there is sort of a lesson.. but it really introduces some horrible behaviour and the lesson is pretty empty. Spoiler alert: All the rest of the series is exactly the same. Note the kicker: In EVERY game I play, I get hit. McCartney, who has battled cancer, said he wants to "make music that people can relate to." In "The Fifth Estate," Michael Lewis quotes Robert Hemenway: "There is no such thing as a book. The lesson really comes from being hurt physically, because that really affects your thinking, Bruno said. It's a lazy and unoriginal story, but it's also just a poor learning moment for small children. There is no reflection, clearly, over the course of the series, which teaches the character nothing but physical pain or suffering, he said. This is garbage, it's nasty. Maybe it's better for older kids who have a grasp of physical humor, but even then, it's that it is the same result in every volume.
Fun, silly reading, lot of laughs!

Derived From Web

, Aug 3, 2020

Each page is jam-packed with pictures, beautiful artistry, silly stories and tons of fun. My son absolutely loves this entire series, and I wish there was more. In the second book, Pug is seriously injured. Not sure that it would be appropriate for my son.
Disappointed in lesson and crude humor

Derived From Web

, Mar 30, 2020

Only by being physically hurt will he learn a lesson, but only by being caught for his lies or deals with any emotional or trust consequences of lies, he said. I really don't want my kid to learn not to lie because one of her lies could physically hurt her, I was hoping it would be more about trust, Mrs. Booher told the judge. The other thing I didn't appreciate is a main part of the story line is that Pig is letting go of a massive fart as a distraction tactic. See the complete list of charges here: http://www. justice. gov.
These books are a hoot!

Derived From Web

, Aug 20, 2019

His family has a very good reputation for being generous with money. Even if I didn't like them, I might have at least liked them more than my son who howls with laughter every time I read them. The illustrations are so good, Mr. Booher told us.
Amazing series!

Derived From Web

, Jul 30, 2019

He will ask me to read the same one or four times in a row, which is more tolerable when the book he's requesting is witty and entertaining for adults. I prefer this one and the original to the other one, the Pig the Stinker, but they're all great.
One of our favorites

Derived From Web

, May 31, 2019

We're huge fans of the Pig Pug books. What a great group of friends, said Kristen. He makes my son giggle endlessly. The creators of the game have cute little messages that are so clever. We absolutely love these books, said Blair.
Great as always!

Derived From Web

, May 15, 2019

It's always a hit with the boys.
We love Pig!

Derived From Web

, Jan 23, 2019

My daughter absolutely loves the Pug! The book is a must-have for any Harry Potter fan. You'll be laughing with your kiddo as you read this. We're huge fans of Aaron Blabey's books, we're not just librarians. It's just that she's a unicorn.
True to the other Pig the Pug books

Derived From Web

, Nov 2, 2018

And, this is just the beginning of a great little book and story for kids. Even with all the pictures, I can't complain about the pictures. It's just that my kids get distracted by the pictures on the page.