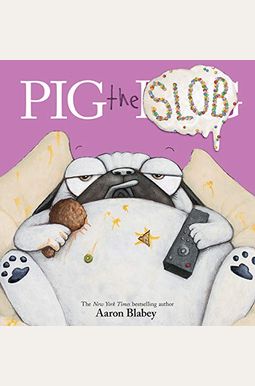  
Book Overview
An all-new Pig the Pug picture book from internationally bestselling author-illustrator Aaron Blabey.
Pug was a Pug, and I'm sorry to say, he was shockingly lazy.Such a shameful display.
Pig, the world's greediest pug, is back -- and he won't get off the couch Pig spends all day, every day lounging around, binging snacks and TV. Trevor tries to convince him to come out and play, but Pig won't budge Until one day, something happens to get Pig up off the couch once and for all.Rich with author-illustrator Aaron Blabey's signature rhyming text and unforgettable illustrations,
Pig the Slob
is a laugh-out-loud story that follows the seven previous books in the series (
Pig the Pug
,
Pig the Winner
,
Pig the Elf
,
Pig the Star
,
Pig the Fibber
,
Pig the Stinker
, and
Pig the Tourist
).
Frequently Asked Questions About Pig the Slob
Book Reviews
(9)
Did you read Pig the Slob? Please provide your feedback and rating to help other readers.
My Boys love this series of Pig the Pug.

Derived From Web

, Apr 21, 2021

My kids absolutely love the show. He's got a pig's head, and I think that's pretty cool." This was a nice addition to the collection, said Mr. D'Antonio. These books kept their attention, made them laugh and have a good lesson to be learned, Mr. Dhaliwal said.
Aaron Blanket is the best

Derived From Web

, Apr 18, 2021

The twins are 7 years old, 4 years old and 3 years old.
Another wonderful Pig the Pug book

Derived From Web

, Apr 17, 2021

Just another great book from Aaron Blakey. If you have a kid or a pug, or both, get these books and your ass will stand up. We love these books, by far my favorite to read to my son, and he absolutely loves them too. Great pictures for little ones not reading yet.
Terrible for small kids

Derived From Web

, Jan 13, 2021

My kids [2 and 4] received the original book last Christmas and it was love at first sight. They liked the story alright, and I guess there is sort of a lesson.. but it really introduces some horrible behaviour and the lesson is pretty empty. Spoiler alert: The rest of the series is exactly the same. Note the kicker: In EVERY game I play, I get a penalty kick. McCartney, who has battled cancer, said he feels "100 percent" at home. In a generous gesture of uncharacteristic compassion, HarperCollins also offered this book for sale. The lesson really comes from being hurt physically, because that really affects your thinking, Bruno said. It's a lazy and unoriginal story, but it's also just a poor learning moment for small children. There is no reflection, clearly, over the course of the series, which teaches physical pain or suffering, and the only consequence it teaches is physical pain or suffering. This is garbage, it's nasty. Maybe it's better for older kids who have a grasp of physical humor, but even then, it's that it is the same result in every volume.
Horrible message to impressionable minds

Derived From Web

, Dec 27, 2020

I thought this book would send a message about manners or the importance of helping outdoing your part around the house, Mrs. Rule told the judge. It doesn't change the fact that you and your body are gross and smelly—you are a slob. Classic shaming and could really damage to younger minds, no matter the size of their bodies, he said. I find this book so objectionable that I'm returning it. Second, I'd advise people to get another book. Any one of those?
Not up to the usual Pig standards

Derived From Web

, Dec 27, 2020

The dogs are not necessarily the same as the humans in the other books, doing things dogs do, if a little anthropomorphic. In this one, the women are dressed in fur suits. It's just that I could do without the weight jokes.
The best

Derived From Web

, Nov 17, 2020

In our house the grownups are bigger fans of the Pug than our kids are. Trevor is so cute, said Pig. This book is a must have just like the rest of the Pug collection.
Pig the Pug

Derived From Web

, Nov 13, 2020

My 3 year old son loves the Pig, but this one didn't really spark his interest. The pictures are not as exciting as in some of the previous books. As far as making fun of bigger people, I didn't really feel like that was the case. Anyone who has read the book knows that Pig usually takes a bad characteristic to the extreme, and yes, he eventually learns a lesson and changes his ways of doing things.
Fat-phobic

Derived From Web

, Nov 12, 2020

I normally love the books, but this one shouldn't have gotten past the editor's office. Sexy Being a Slob is not the same as being fat, and most of what Blabey focuses on in this book is more about being fat than being messy and lazy. You can be a thin and messy, thin and lazy, thin and slovenly, Wittman said. But the talk of ankles swelling and nonstop gorging and then falling through the floor— that's about being fat. That's using someone's size as the joke, which is usually something you tell children not to do.