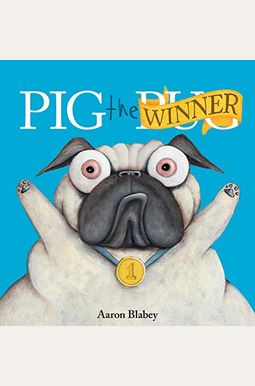  
Book Overview
The world's greediest pug won't play fair, and he'll do just about anything to win
Will Pig ever learn? He's an absolute cheat and quite the sore loser as well. But when Pig challenges his foot-long playmate, Trevor, to a kibble eating contest, he accidentally stuffs more than just food in his mouth. Lucky for Pig, Trevor knows what to do and saves the day Young readers will love Blabey's irresistibly quirky illustrations that are paired with a relatable lesson about learning to play nice. For dog and pet lovers everywhere.
Frequently bought together
Frequently Asked Questions About Pig The Winner
Book Reviews
(10)
Did you read Pig The Winner? Please provide your feedback and rating to help other readers.
Great books for your little one

Derived From Web

, May 12, 2021

Another great book by Aaron Blabey, Pug. If you haven't bought one for your little one, do it! Plus when your child has you reading the same books over and over, it's nice when you enjoy the book as well.
Unoriginal storylines that teach small kids bad lessons

Derived From Web

, Jan 13, 2021

My kids [2 and 4] received the original book last Christmas and it was love at first sight. They liked the story alright, and I guess there is sort of a lesson.. but it really introduces some horrible behaviour and the lesson is pretty empty. Spoiler alert: The rest of the series is exactly the same. He also tells us that kickers are not allowed to take part in team sports. McCartney, who has battled drug problems, said he never met a prostitute. In a generous gesture of uncharacteristic compassion, the book's publisher, Random House, also offered free copies of the book to children in exchange for their parents' help with the housework. The lesson really comes from being hurt physically, he said. It's a lazy and unoriginal story, but it's also just a poor learning moment for small children. There is no reflection, clearly, over the course of the series, which teaches the pig never learns anything, and the only consequence it teaches is physical pain or suffering. This is garbage, it's nasty. Maybe it's better for older kids who have a grasp of physical humor, but even then, it's that it is the same result in every volume.
Fun, silly book series!

Derived From Web

, Aug 3, 2020

Each page has a good flow and rhymes, and each picture is unique. There are some very silly stories that get a lot of laughs. In each book, I only worry that Pig will get seriously injured. It's just that his son enjoys it, so much so that his mom calls it a day.
Funny & Cute Series of Books

Derived From Web

, Jul 30, 2020

We LOVE the Pug in our house, did not know more books were out, so we bought them all and love reading them at bedtime! Highly recommend.
Great book

Derived From Web

, Feb 6, 2020

She has four books out - "The Pug Diaries," "The Last Supper," and "The Whole Nine Yards." The second season finale aired on CBS last May. Hope it continues, said Blair. Good lessons to be learned from each story, he said.
Love Pig the Pug

Derived From Web

, Dec 30, 2019

My grandson absolutely loves all the books. I bought him two for Christmas and one for my wife last year. He was very excited to get them, said Blair. I love reading them to him, and I'm thrilled that my grandson can't stop giggling about that silly pug.
Not the best of the series

Derived From Web

, Sep 12, 2019

I love the pig the books, so do my boys. We have the pig fibber and pig the stinker, and both are witty and just plain fun to read. They rhyme and have some decent vocabulary, including the names of the animals, such as "rotten" or "smelled." You can't be afraid of potty humor, Bruno says. I ordered two more pig pug books but havent received them yet. Hope they are all good.
In line with all other Pig's stories and antics.

Derived From Web

, Nov 2, 2018

A great little book, story for kids. The pictures are so good, I almost fell off the chair. My kids often lose the message of the story as they get distracted by the pictures on the page.
This Definitely Reinforces "Pig" Stereotyping.

Derived From Web

, Feb 26, 2018

This is a borrowing favorite from the library, especially by children ages 1-3. This self-centered pig rubs people the wrong way, he said. Still, this odd behavior appeals to listeners and readers of all ages.
It's a real funny book that uses rhyme

Derived From Web

, Dec 18, 2017

My 6 year old LOVES the Pug. Michael Jackson's parents have also supported him throughout his life. We have the original book, the Pig the Elf, and we're thrilled with the outcome. I got this one as a christmas present for my son and before i wrapped it up my husband wanted us to read it together. It's a real funny book that uses rhyme, Raymond said. Not many words, but not too few. The illustration is just too good to put down. It's just that you and your kids will laugh out loud. It's a fairly quick bedtime story that you will be happy to read, trust Me. I recommend this book to all of my friends and colleagues who read Aaron Blabey. We have the Thelma Unicorn as well, love it! nan