Buy 3 Get 1 Free
Our Best Sale Yet! Add 4 Books Priced Under $5 To Your Cart Learn more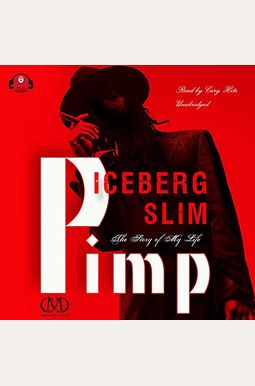 
 
Pimp: The Story Of My Life
Book Overview
This Description may be from another edition of this product.
A blueprint. A bible. What Sun Tzu's Art of War was to ancient China, Pimp is to the streets. As real as you can get without jumping in, this is the story of Iceberg Slim's life as he saw, felt, tasted, and smelled it. It is a trip through hell by the one man who lived to tell the tale--the dangers of jail, addiction, and death that are still all too familiar for today's black community. By telling the story of one man's struggles and triumphs in an underground world, Pimp shows us the game doesn't change; it just has a different swagger. Only Slim could tell this story and make the reader feel it. If you thought Hustle & Flow was the true pimp story, this book is where it all began. This is the heyday of the pimp, the hard-won pride and glory, small though it may be; the beginnings of pimp before it was dragged in front of the camera, before pimp juice and pimp style. Though it is a tale of his times, it will remain current and true for as long as there is a race bias, as long as there is a street life, as long as there is exploitation.
Frequently bought together
Frequently Asked Questions About Pimp: The Story Of My Life
Books like Pimp: The Story Of My Life
Book Reviews
(13)
Did you read Pimp: The Story Of My Life? Please provide your feedback and rating to help other readers.
The foundation of hip hop culture and modern game techniques

Derived From Web

, Apr 20, 2022

Behold, the birth of the hip hop culture in this amazing story. Though its sad that using the pimp game on women is so effective, this story gives a great description of it in practice. Just when you think that the author is condemning the Pimp lifestyle, he glorifies it for what it is. Modern, damaged woman is cruel and brutally effective on the modern, cruel and brutally effective.
Choppy ...

Derived From Web

, Apr 20, 2022

The book was a great account of the author's life as he leads the reader through his somber childhood, his transition to Pilmpdom and life post-pimpdom. It was a bit of a hard read, due to all the slang that was prevalent during his generation. As the story went along, I was able to capture some of the meanings, but not all of them. The slang made the book a bumpy read, but the author's story was very interesting and allowed to see how the world is shaped by the environment and ultimately our own choices.
This is a great book, it arrived in 24 hours

Derived From Web

, Apr 20, 2022

This is a great book, it arrived in 24 hours, which amazed me greatly. Pimp is a real page turner, it is impossible to put it down once you start reading, I was up all night. I can not wait to order the entire Iceberg Slim collection, fortunately he wrote a lot of books and are all highly rated.
everyone must read this book.

Derived From Web

, Apr 20, 2022

This book is the best I have ever read in a painfully long time. It was amazingly refreshing to read a book that shows all angles, good bad and ugly. I have never read a better-written and put together story, fictional or nonfictional. Everyone must read this book if they want to read it. Even those who can not relate outright will discover that you don't have to know about anything to be able to learn from it.
Intriguing Glimpse into the life of a pimp

Derived From Web

, Nov 16, 2019

This was a great story. Iceberg brought us into his dark world of a being so young that it turned into a life of pumping. It was a look at how exposure to the wrong side and wanting fast money can lead a young person to the dark career choice.
Curious to read this one

Derived From Web

, Feb 6, 2019

My 17 year old son loved it, I guess I have to read it to see what it is about to a young man appealing.
Better Late than Never!

Derived From Web

, Aug 13, 2018

I stumbled upon this book by way of a video I watched on Prime Videos, I tried to read it with the idea that it was done back in 1969, even though the subject matter was questionable,Maybe that it was a good read. Even today, with all the erotica and street fiction out there, there is something unique about this writing! I can imagine how this must have shaken the literary world back in the day, too bad that it was not given its just due '' there. Even if it was only part true, the fictional elements and details are fantastic. The flow is smooth, it's easy to write and there is so much vivid detail. I thoroughly enjoyed this selection and I hope that one day I can write something this good!
Redeeming...

Derived From Web

, Jun 1, 2018

Great book, tells a story about abuse, neglect, struggle, survival, addiction, betrayal, self-preservation, and redemption. This self-titled bio lays out the traps of a young man who was abused, controlled, and dominated by those whom he trusted. Throughout his life, only to rise, fall, and eventually rise again. The author tells the reader to not go down the road he has been taken, nor to glorify his past lifestyle. It is great to know that the author found his true calling. As a man who cleanses his being by expelling his life choices with the help of his wife. Via this bio, a biographical profile is created.
Unique, fascinating read...

Derived From Web

, Apr 11, 2018

Completely unique, compelling seemingly authentic narrative from a real life pimp perspective. I found the book '' fascinating.
Dave Chappelle was right....

Derived From Web

, Feb 5, 2018

I read this because Dave Chappelle recommended it in his comedy special. The plot is about a man's rise and fall as a pimp in the 1930s and 1940s. I read it because Pimp recommended it in his Comedy - Special. Oddly enough, this reminded me of Malcom X's Autobiography. If Malcom X had not left the streets, this could have been him. This book is fantastic, Iceburg Slim gives an unflinching, uncensored look at his life, his surroundings and his actions. I won 't spoil the plot any further, it'll send you on a roller-coaster of emotions. It is great, it's sobering, humor to anger, disbelief at the actions of the justice system, the side characters and Iceburg himself. It is great, it's relevant, and it is sad. Read it! Read it!