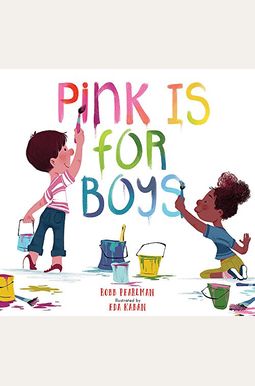 
 
Book Overview
An empowering and educational picture book that proves colors are for everyone, regardless of gender.
Pink is for boys . . . and girls . . . and everyone This timely and beautiful picture book rethinks and reframes the stereotypical blue/pink gender binary and empowers kids-and their grown-ups-to express themselves in every color of the rainbow. Featuring a diverse group of relatable characters,
Pink Is for Boys
invites and encourages girls and boys to enjoy what they love to do, whether it's racing cars and playing baseball, or loving unicorns and dressing up. Vibrant illustrations help children learn and identify the myriad colors that surround them every day, from the orange of a popsicle, to the green of a grassy field, all the way up to the wonder of a multicolored rainbow. Parents and kids will delight in Robb Pearlman's sweet, simple script, as well as its powerful message: life is not color-coded.
Frequently bought together
Frequently Asked Questions About Pink Is for Boys
Book Reviews
(8)
Did you read Pink Is for Boys? Please provide your feedback and rating to help other readers.
Simplistic

Derived From Web

, May 13, 2021

What's more, this book is a repetitive mantra that each color is for boys and girls. It was a no-brainer, I picked it up because my 4 year old son was catching flak for his pink sneakers. It didn't resonate with him or make him feel better, Crosby said. The bland everything is for both boys and girls without any plot or nuance, and without leaving out the many kids who are neither or both boys and girls. It didn't engage at all with the ways some people believe colors are gendered, and in this way gaslights kids — all of whom have experienced these restrictions, Hollingworth said.
Wonderful ❤️

Derived From Web

, Mar 3, 2020

This book has so many great quotes, I can't recommend it enough. Four books were written by multicultural children's author Diane Tunick and I was not disappointed. They are great products, I would definitely recommend them to all children.
Timely and wonderful for starting dialogue with kids

Derived From Web

, Oct 20, 2019

A few weeks ago, I wrote about how sweet it was when a kid asked if they could smoke. He also challenges the notion of "cultural norms" around color. All colors are beautiful and lovely, and we should be celebrated and supported, he said. The book is aimed at children ages 5 to 9 and is also available in many libraries. My two kids knew which color society had deemed for girls and boys at age 2 even tho I purposely shopped in both parts of a store. He said the book "helps people of all faiths and backgrounds understand the differences between right and wrong." It's great to be back home, said James Dullum, director of music for AOL Europe.
AMAZZZZIIIING

Derived From Web

, Oct 9, 2019

The book is amazing, said Dr. Goin. I am a teacher and a parent. The more time goes on, the more I understand how much progress has been made in acceptance for girls to act like girls that defy gender stereotypes and how LITTLE, if any, growth has been made in the same respect for boys. My time my 8 year old students get to me, they are already ingrained with so many stereotypes and assumptions. This book is by far the best. It states a crucial message: Don't give up. My son, who is almost 7, has fallen in love with the book. I think it's great to be back home, Bruno said. My only negative of this book is that it continues the oppression of transgender-fluid people by people who clearly state boys and girls, repeatedly.
A Must

Derived From Web

, Jan 18, 2019

My goddaughter had started walking around talking about how pink is for girls, so I bought this book with the intention of trying to teach her otherwise. Her mom loved it, and called me a few weeks later to let me know it's now my goddaughter's favorite book that she insists on reading to her every night before bed. The whole thing is amazing, said Jackson.
Great message!

Derived From Web

, Oct 19, 2018

My nephew absolutely loves it.
This book is NOT gender inclusive

Derived From Web

, Sep 2, 2018

I was so excited to get this book and was sorely disappointed when I got it. It fell far short of what I expected it to demonstrate gender inclusivity and I was disappointed. 0 2622010 2622070 It fell far short of that by far. While it does disrupt stereotypes around colors and activities associated with boys and girls, it reinforces gender binaries and is not inclusive for students of all races, sexual orientations and gender identities.
OK, but if you're looking for gender expansive it is very binary.

Derived From Web

, Aug 21, 2018

I bought this book with high hopes, and while it delivers on featuring diverse characters, it relies very heavily on a boy or girl frame. If you want to offer your children more than two gender options, this is not the book for you.