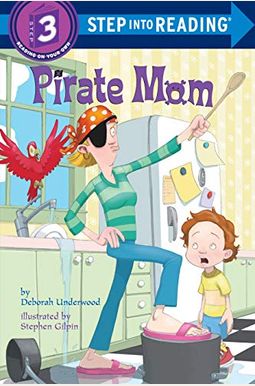  
Book Overview
Join Pete, whose mom has been hypnotized to believe she's actually a pirate, on his adventure to get his mom to remember who she really is
Yo ho ho Pete loves pirates, but his mom thinks they are rude and messy. Then Pete and his mom go to see the Amazing Marco, and Marco hypnotizes Pete's mom into thinking she's a pirate Now Pete's mom won't behave. She chases the neighbors. She steals underwear off other people's clotheslines. She's even flying the Jolly Roger over the house. Pete has to find the Amazing Marco. He wants his real mom back
Frequently Asked Questions About Pirate Mom
Book Reviews
(15)
Did you read Pirate Mom? Please provide your feedback and rating to help other readers.
They really liked the harmless silliness of it all

Derived From Web

, May 28, 2022

Well, the main thing is that she has passed the Grandchild test and also her mother's approval. In fact, when the twins saw the book for the first time, they had their mom read it cover to cover three times in a row. They really liked the subtle silliness of it all, plus some harmless value-principles.
Thumbs Up!

Derived From Web

, May 28, 2022

This book is great for young readers! My nephew loves the interesting story and the book is perfect for his age-reading level. This is probably more of a second grader book, but if your child enjoys reading and is a little younger, they will enjoy the challenge! ) Perfect for Stockings, Easter Baskets or just a gift for no reason! ''
hilarious & great read

Derived From Web

, May 28, 2022

He cracks at the little sayings that Pirate Mom says and some things she does. While it is a little longer than most of our other books, it is a great read : he read 4 pages, then read two, he read 4 more, and so on. Of course he needs a little help with some words such as bilge, but can easily sound them out for the most part. Fantastic book for mommy and son to read together! , ''
Fun readers!

Derived From Web

, May 28, 2022

This is a really funny reader and our daughter loves it, she took it to school for show and tell '' and ended up reading it in class!
Pirate fun for kids

Derived From Web

, May 28, 2022

Deborah Underwood's Pirate Mom is a funny romp about a boy who has to deal with his mother after being hypnotized into thinking that she is a pirate. The parent-child role reversal is sure to delight children, and the easy-to-read format builds up the confidence of a beginning reader.
cute story

Derived From Web

, May 28, 2022

My children loved this book! My seven year old had begged for it over and over again, then ran around acting it out and my two year old loved that he was able to read it. The story was colorful and the pictures were fun. We worked in the book and it read great.
Imaginative early reader book

Derived From Web

, May 28, 2022

My four year old daughter enjoyed this early reader book thoroughly. She thought it was funny and fun to see a mother become a pirate. She wanted to share this book so much that we bought a copy for each of her pre-school classmates. A book that can keep the young listener's attention as well as being a fun-to-read early reader book.
Silly, fun book

Derived From Web

, May 28, 2022

The story is fresh and unpredictable, the illustrations are funny and the tension builds until Pete resolves the problem that the grownups caused. Pete, go!
Pirate Mom Rocks

Derived From Web

, May 28, 2022

I have shared this wonderful book so far with a dozen of my students. They've all been totally engrossed and enchanted by the magic story and the entertaining drawings. The 7-year-olds can read it on their own and have been reading it aloud to my younger students. It is adorable to watch. It has been a huge hit and most students have gone out to get copies of their own to enjoy at home.
Arrg

Derived From Web

, Mar 5, 2021

Good to read : A nice step for this reading level and a subject to keep those growing readers immersed.