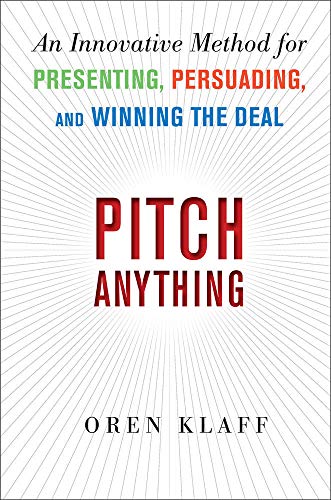 
 
Pitch Anything: An Innovative Method for Presenting, Persuading, and Winning the Deal
Book Overview
Gold Medal Winner--Tops Sales World's Best Sales and Marketing Book
Fast, fun and immensely practical.
--JOE SULIVAN, Founder, Flextronics
Move over Neil Strauss and game theory. Pitch Anything reveals the next big thing in social dynamics: game for business.
--JOSH WHITFORD, Founder, Echelon Media
What do supermodels and venture capitalists have in common? They hear hundreds of pitches a year. Pitch Anything makes sure you get the nod (or wink) you deserve.
--RALPH CRAM, Investor
Pitch Anything offers a new method that will differentiate you from the rest of the pack.
--JASON JONES, Senior Vice President, Jones Lang LaSalle
If you want to pitch a product, raise money, or close a deal, read Pitch Anything and put its principles to work.
--STEVEN WALDMAN, Principal and Founder, Spectrum Capital
Pitch Anything opened my eyes to what I had been missing in my presentations and business interactions.
--LOUIE UCIFERI, President, Regent Capital Group
I use Oren's unique strategies to sell deals, raise money, and handle tough situations.
--TAYLOR GARET, Vice President, White Cap
A counter-intuitive method that works.
--JAY GOYAL, CEO, SumOpti
About the Book:
When it comes to Read More chevron_right
Frequently bought together
Frequently Asked Questions About Pitch Anything: An Innovative Method for Presenting, Persuading, and Winning the Deal
Books like Pitch Anything: An Innovative Method for Presenting, Persuading, and Winning the Deal
What should you read after Pitch Anything: An Innovative Method for Presenting, Persuading, and Winning the Deal Book? Here is a list of books to read if you read and loved Pitch Anything: An Innovative Method for Presenting, Persuading, and Winning the Deal
Book Reviews
(6)
Did you read Pitch Anything: An Innovative Method for Presenting, Persuading, and Winning the Deal? Please provide your feedback and rating to help other readers.
This might be the worst book I've ever read - Seriously.

Derived From Web

, Jun 22, 2021

The sales stories and techniques used in this book are so impractical and out of place that they could be considered comedy. There is a weak attempt to use psychology of croc- brain, but it is a load of CROC. The most crazy story in the book is when the author is meeting with a Fortune 500 executive and he eats an apple. The author excuses himself from the meeting so that he can get utensils and a plate from the kitchen. The executives apple is cut in half when he returns. Everyone gets a piece of the pie when he does business, he told the executive. If you tried this in a business setting, you would be immediately kicked out and your name would be dragged through the mud in any professional circles you ran in. I can't recommend this book enough, it's a total waste of time.
Fictional Stories

Derived From Web

, Aug 30, 2020

This macho nonsense really disappointed me. The author tells tall tales of asserting dominance. The dialog is hostile and crazy. The author doesn't give any practical or tactical advice. He will tell a story about a situation where he might face an objection The author belittles the objection, then everyone agrees with him. It really is? There is a lot of hand wavey references to the crocodile brain trying to make this process seem more scientific. If you are looking for a practical guide to influence people, look elsewhere.
Gold Nugget after Gold Nugget make this purchase a No-brainer!

Derived From Web

, Aug 21, 2019

If you' re not in sales or pitching a million- dollar deal like Oren, this book will teach you how to convince your kids to do homework or get a sweet date. I would buy the book for chapter 6 alone. The way Oren describes what's going on in our minds is amazing. I appreciated his honesty in this chapter. I was in the same situation and soaked up the information at a fast pace. Thank you Oren, for writing a book about pitching. All has a measure of humor. The five stars are well deserved.
Eye Opener for the Inexperienced!

Derived From Web

, Feb 2, 2018

I read this in 4 days because it was recommended to me by a sales person. I can see where I went wrong with almost everything I was doing after having a few sales calls that were not productive. I realized I was trying to get to the higher part of the brain instead of appealing to the crock- brain. It's easier to see why I' ve bought stuff. It used other framing techniques to make me want to go buy, and it triggered a part of my brain that I didn't know was there. I think this will make selling more fun because I'm more optimistic. This seems like a much easier way to sell if you are new to selling. The concept focuses on how our brain evolved over thousands of years and how we use these techniques to get our targets' attention and create a desire in them to work with you.
He talks about how awesome he is and how amazing his techniques are endlessly

Derived From Web

, Apr 20, 2017

I don't write reviews because I had to warn people and this is my first one. The books are fluff. He talked about the crocodile brain mumbo jumbo. If you' re not familiar with it, it will get your attention in the beginning, but it's terrible later on in the book. He talks about how awesome he is. If you want to help me find this book somewhere else, please tell me how to implement his strategies. I' ll wait.
A fantastic primer for taking control of social situations

Derived From Web

, Jan 17, 2017

This book is really good by Oren. This book is for people who have felt powerless in social situations. Don't accept that social status is unchanging. You can grab that power for yourself often. You can make it fun for you and the other person by doing that. You will learn how to value yourself, and not come off as needy to the other person, when you pitch someone, whether it's a boss, a prospect, or a potential mate. Oren harps on noticing situations where you' re the alpha and busting through social frames so that you can be the leader. The idea of power, analysis, and time frames were intriguing to me. Some of the stories may have been exaggerated. Some of the things he says he's done seem a bit too ballsy, but maybe that's because I haven't taken the apple from an executive's hand and bit it myself. Really enjoyed the reading.