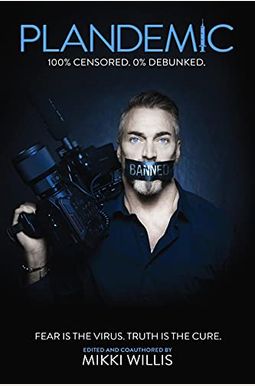 
 
Plandemic: Fear Is the Virus. Truth Is the Cure.
Frequently Asked Questions About Plandemic: Fear Is the Virus. Truth Is the Cure.
Book Reviews
(15)
Did you read Plandemic: Fear Is the Virus. Truth Is the Cure.? Please provide your feedback and rating to help other readers.
EYE OPENER, A MUST READ.

Derived From Web

, Jan 10, 2022

Mikki Willis, thank you for co-writing this book. Wake up America, the United States is coming to Australia.
Must read

Derived From Web

, Dec 26, 2021

As a nurse, I have done an in-depth study of the plandemic, what it is. This book was good for people who have not been able to spend countless hours doing their own research. There is a lot of corruption going on that people need to learn about it.
Still worth it

Derived From Web

, Dec 25, 2021

While a great fan of Martin, Dr. Judy and Dr. Mikki and their courageous efforts, this book is fairly light if you have done your own deep research. But for those many who are beginning to wake up and question the ubiquitous propaganda narrative, it is an easy, quick read and greatly welcomed by this reader.
Thought Provoking

Derived From Web

, Dec 12, 2021

If you don 't go with an open mind in this book, then don 't even bother trying. If you are so convinced that what you have heard from MSM is right and true, you should probably read it.
Amazing!

Derived From Web

, Nov 30, 2021

If you are not yet awake, this book will surely help. Mass brainwashing and fear mongering will eventually bring us down unless we rise with the truth and defend our rights and liberty. The people behind this massive scam have no intention of helping us. This book will open your eyes to the global plan of the malevolent elites.
Are you chattel? Prove them wrong.

Derived From Web

, Nov 20, 2021

Stop empowering rulers who come in the guise of the saviors. You can evaluate information and see the world at large. You don 't need parasites ; they need you.
A Covid Explanation

Derived From Web

, Nov 4, 2021

Although at times it was important to know who was talking, this is an confusing read.
Good facts, well researched, but....

Derived From Web

, Nov 1, 2021

If you already read alternative news sites or do your own research, there is not much more in this book. Some interesting history on Dr. Fauci, but I already trusted him. Reading his history did not surprise me. I was not shocked by the information, but I was surprised that the author missed the biggest fact about the Plandemic. Every thinks that event 201 was the smoking gun. Wrong is a bit rocky in the Wrong. This was planned in 2010-2011, back in Planned. The Rockefeller Foundation planned this scenario for a Romney-Obama fight in 2012. I downloaded the report before it was scrubbed from the web. They spoke as a psy-op about the war on drugs. Using ISIS, Taliban, interchangeably to invoke fear. Their conclusion was that we needed a pandemic to really scare people because this is an invisible enemy that NO ONE COULD IDENTIFY. One word : EVIL is a new technology that is used by the EVIL.
Everything I thought I knew could be a lie.

Derived From Web

, Oct 21, 2021

I would recommend this book to anyone who was willing to question what they thought they knew. Consider what happens if we don 't. I believe that a new consciousness is out there if we use our brains and our heart.
A Must Read

Derived From Web

, Oct 21, 2021

If you dare to be awakened, read this book. The quotes are located at the beginning of the chapters, and the last chapter alone is worth the price of admission.