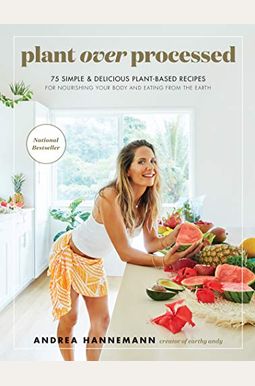 
 
Plant Over Processed: 75 Simple & Delicious Plant-Based Recipes for Nourishing Your Body and Eating from the Earth
Book Overview
A NATIONAL BESTSELER
Trust in nature. Believe in balance. Eat the rainbow Andrea Hannemann, aka Earthy Andy, presents a guide to plant-based eating that is simple, delicious, and fun.
INCLUDES A 30-DAY PLANT OVER PROCESED CHALENGE
Andrea Hannemann, known as Earthy Andy to her more than one million Instagram followers, believes that food is the fuel of life, and that consuming a nourishing, plant-based diet is the gateway to ultimate health. Andy's mantra, plant over processed, embodies the way she eats and feeds her family of five in their home in Oahu, Hawaii.
But it wasn't always this way. Andy was once addicted to sugar and convenience foods and suffering from a host of health issues that included IBS, Celiac disease, hypothyroidism, asthma, brain fog, and chronic fatigue. Fed up with spending time and money on specialists, supplements, and fad diets, she quit animal products and processed foods cold turkey, and embarked on a new way of eating that transformed her health and her body.
In Plant Over Processed, Andy invites readers to join her on a 30-Day Plant Over Processed Challenge that will detox the body, followed by a long-term plan for going plant-based without giving up your favorite dishes. Packed with gorgeous photography and mouth-watering recipes--from smoothies and bliss bowls to plant-based comfort and decadent desserts--this life-changing guide takes you to the North Shore of Hawaii and back, showing you how easy it is to eat plant-based, wherever you are.
Frequently Asked Questions About Plant Over Processed: 75 Simple & Delicious Plant-Based Recipes for Nourishing Your Body and Eating from the Earth
Book Reviews
(13)
Did you read Plant Over Processed: 75 Simple & Delicious Plant-Based Recipes for Nourishing Your Body and Eating from the Earth? Please provide your feedback and rating to help other readers.
After a week of eating from this book my husband has not used his inhaler

Derived From Web

, Apr 16, 2021

After being on this for a week, my husband has not used his inhaler! I love this healthy recipe book! Not only is it packed with recipes and helpful photos of the recipe, Andrea also gives you a 30 day plant over process challenge and very impressive healthy tips. I have made a week of work from recipes! I also love the pictures of her family, it is really personalizing this book! I wish I had taken more photos of the foods I had made.
Great healthy recipes!

Derived From Web

, Mar 31, 2021

Love the recipes! Love the recipes! And love her concept about choosing plants over processed foods to work healthier and feel better! We have been making smoothies and aça bowls for a while, but her recipes use new, easily found ingredients that create totally different smoothies and bowls than we ever had before! She uses a lot of peanut butter in the desserts, but you could easily switch to other nut butters if you have a peanut allergy.
Only a handful of decent recipes

Derived From Web

, Feb 23, 2021

I don 't know, it may be because I consider myself a more intermediate type of at-home-cook. I felt like more of the 23 recipes in this book were kind of MEH... it would be an entire page dedicated to a recipe like this Avocado Whip Avocado, Pepper, squeeze of Lime.
Not worth it

Derived From Web

, Feb 2, 2021

The Honesty shocked at the high rating. I am a vegetarian and I was not impressed with any of the recipes. Fortunately, a lot of them turned out pretty bland. I was very disappointed ''.
Would highly recommend as a way to eat more Whole Foods without sacrificing taste

Derived From Web

, Jan 27, 2021

In the first few weeks of this book, I have already made a few dishes from that book, and they are amazing! The recipes focus on specific food ingredients that seem to be easy to find, and all recipes are super simple and high in nutrition. In addition, the first half of the book discusses how to eat for health and how to make a lifestyle change for improved health and its actually very achievable. It makes me excited to eat more processed foods and less whole food. Even after a few days of eating only whole foods, I feel fantastic and confident and leaner. My favorite part is that salads are actually delectable. I have always tried to get more vegetables in salads and I was never a big salad person, but her salad recipes are ones I would definitely repeat.
It's worth having these recipes at your fingertips, promise.

Derived From Web

, Jan 26, 2021

This is the cookbook that I needed in my kitchen. I read it cover to cover, recipe ingredients and instructions as well. It is so valuable to feel like this is a gradual lifestyle change and not a shaming for falling off the path type of book. The issues she discusses that she suffered before going plant over processed is a lot of what I am now dealing with. Her recipes are delicious and actually quite easy to follow. This will be week two of going plant over processed for every meal and I can say that I am experiencing a lot of what she said I would as my body detoxes. I can 't wait to get to the other side. Highly recommended! Highly recommended! ''
You need this book

Derived From Web

, Jan 15, 2021

I never write reviews, but I am so excited about this book that I have to tell other people to buy it. I added many vegan or plant-based cookbooks to my collection over the years, and have added many vegan or plant-based cookbooks to my collection. I have never been able to stick with this type of eating for a long period of time. Either the recipes were bland or not flavorful or called for all kinds of expensive or hard to find ingredients. One of my struggles with eating plant-based and vegan is that a lot of cookbooks are centered around spicy food. My family isn 't a big fan of either of these. This is the first book where I have been consistently able to eat vegan or plant-based and now my family is too. I have two toddlers who enjoy drinking the smoothies, drinking nice cream and eating broccoli soup happily. They loved the chocolate chip cookies and smoothie bowls. These recipes are easy to find with inexpensive ingredients that are not hard to make even in a rural area like mine. In your kitchen, you need this book!
GET THE BOOK YOU WONT REGRET

Derived From Web

, Jan 12, 2021

Exactly 100% of what I needed is exactly what I have. I'm pretty picky about food, books and formats - I want shit simple. This book is FAR beyond what I ever imagined, it is exactly what I needed and wanted. The photos are so beautiful . The recipes are insane. I'm so happy! '' I have been following Andrea for 7 years now and I feel like I have a little bit of her success. So excited to see more coming soon. Mahalo from Tahoe s Mahalo from Tahoe.
Her Instagram inspiring recipes now in my home

Derived From Web

, Jan 10, 2021

If you know Andrea or even if you don 't, you will enjoy these recipes if you know Andrea. She has compiled all her family's favorites that she shares regularly on Instagram in an easy to read book with proper measurements and all!! The book is organized well with a helpful section for dressing bases and sauces, which can be used in other recipes throughout the book, and includes meals for all day. She has it covered from breakfast to a midnight snack. Photography is beautiful and her personal story is inspiring. I recommend this for anyone who wants to include more plants in their regular diet. I recommend this for anyone who wants to include more plants in their diet.
Amazing guide to wellness in plant-based eating!

Derived From Web

, Jan 9, 2021

I have been following Andy for a while now on Instagram and this book is such an incredible culmination of the recipes she has shared on there. It is so nice to no longer have to look through all my saved posts for my favorite recipes from her and instead just pick up this book! My favorite thing about this cookbook is the conscious care and detail given to health, nutrition, incredible eating, etc. A good chunk of the first part of the book is dedicated to explaining all this and is extremely informative and helpful for people like me who have a plant-based lifestyle to combat health issues similar to Andy's. I couldn 't rave more about this! I couldn t rave about this more! It is really such a gem of a wellness-oriented book. I will say that it does not have as many full blown recipes as most cookbooks do, but I see this book as a guide to wellness and the basics of plant-based eating, so that it doesn 't feel sparse to me.