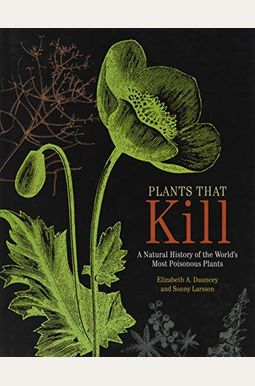 
 
Plants That Kill: A Natural History of the World's Most Poisonous Plants
Book Overview
A full-color illustrated guide to the natural history of the most poisonous plants on earth
This richly illustrated book provides an in-depth natural history of the most poisonous plants on earth, covering everything from the lethal effects of hemlock and deadly nightshade to the uses of such plants in medicine, ritual, and chemical warfare. Featuring hundreds of color photos and diagrams throughout,
Plants That Kill
explains how certain plants evolved toxicity to deter herbivores and other threats and sheds light on their physiology and the biochemistry involved in the production of their toxins. It discusses the interactions of poisonous plants with other organisms--particularly humans--and explores the various ways plant toxins can target the normal functioning of bodily systems in mammals, from the effects of wolfsbane on the heart to toxins that cause a skin reaction when combined with the sun's rays. This intriguing book also looks at plants that can harm you only if your exposure to them is prolonged, the ethnobotany of poisons throughout human history, and much more. A must for experts and armchair botanists alike,
Plants That Kill
is the essential illustrated compendium to these deadly and intriguing plants.
Provides an authoritative natural history of the most poisonous plants on earth
Features hundreds of Read More chevron_right
Frequently Asked Questions About Plants That Kill: A Natural History of the World's Most Poisonous Plants
Books like Plants That Kill: A Natural History of the World's Most Poisonous Plants
Book Reviews
(10)
Did you read Plants That Kill: A Natural History of the World's Most Poisonous Plants? Please provide your feedback and rating to help other readers.
Good for research

Derived From Web

, Jan 14, 2022

I bought this to research a book I am writing. Vivid imagery and great information are available at a glance.
Beautiful book

Derived From Web

, Oct 5, 2021

Great info : Would have liked more pictures, but still does the job. Just what I needed so that I can learn what to stay away from and why.
Lovely book

Derived From Web

, Jul 4, 2021

Has way more information about these plants than I even cared to know. I haven 't finished reading it because it is a lot more scientific than I expected.
This is why I am not a vegetarian.

Derived From Web

, Feb 17, 2021

I like to know what things might kill me in life. I can thus avoid them. This book gives examples of all these things, as I am a human. If you are an insect or a mammal or an aquatic creature reading this review, this book also provides examples of plants you may want to avoid. History short : If natural selection karma is real, avoid eating plants. Bears, or similar animals. Or shades. I am switching to a purely synthetic diet.
Killer plants🌱

Derived From Web

, Jul 30, 2020

I wanted to add this to my plant section. I have an encyclopedia of medicinal plants, gardening books, some books on trees, rainforest and now an interesting book on plants that kill. I highly recommend ''. , ''
educational and interesting

Derived From Web

, Feb 7, 2020

As a kid, I loved picture books and still as an adult! Botanist or scientist - gift for the great gift.
Thoughtful

Derived From Web

, Jan 23, 2020

Got this one younger who is going through a bit of a phase — as a joke. As it turns out, this book is pretty cool. Thinking about grabbing a copy for myself ''.
Great book, well organized

Derived From Web

, Jan 4, 2020

As a toxicology consultant, I found this book a very nice addition to my reference library. It is technical enough to be useful for me, but not overwhelmingly complex, so that I have to dig for the information I need. This book is organized by systemic effect very nicely into chapters. And don 't think that poisonous plants are either restricted to the subtropics or the southern United States. Fortunately, human plant poisonings are relatively rare in this country, but they do occur mainly in curious children. This is a nice book for anyone who has interests in botany as well as toxicology.
Great Book for Biochemistry Lovers

Derived From Web

, Dec 28, 2019

For my 15 year old daughter, Bought this book. She loved it absolutely. It has the chemical structures of the plants'; toxins and poisons and explains how it affects the body and the biological mechanisms affected by plant poisons.
Glad I bought this book!

Derived From Web

, Sep 20, 2018

I was nervous to buy this book, because it had only one review. I am not very keen on buying anything with just a few reviews, but wanted to buy this book. It is full and beautiful and packed with information! Can 't wait to actually read and learn through it!