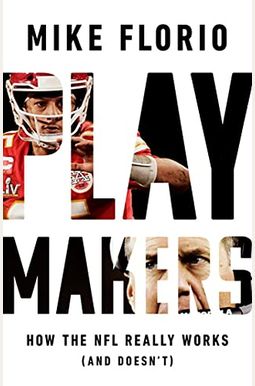 
 
Playmakers: How the NFL Really Works (and Doesn't)
Frequently Asked Questions About Playmakers: How the NFL Really Works (and Doesn't)
Book Reviews
(6)
Did you read Playmakers: How the NFL Really Works (and Doesn't)? Please provide your feedback and rating to help other readers.
Great compendium of essays

Derived From Web

, Mar 20, 2022

The Spygate 1 section was enjoyable. I bought the book to say thank you for all the free content over the years.
Florio is a woke joke.

Derived From Web

, Mar 19, 2022

There was a time when Florio was an entertaining writer. Most of his older fans spent hours a day reading and waiting for wild rumors to come through his pages. He is a creature of the woke media machine, pounding his agenda into his sports writings. His own comments are shallow and meaningless and it is a sad fall for a guy who was once respected in the sports writing world. Don't read this book.
Good, but definitely not worth the price

Derived From Web

, Mar 18, 2022

If you are a new fan, you will like this book. You will probably not be a fan of the NFL. The stories are just a bunch of short stories and blurbs with a lot of fluff added to make them seem longer. The book is too expensive for a fan. The period is over. You can read it for yourself if they lower the price. Otherwise, my advice doesn't pass.
Meh

Derived From Web

, Mar 17, 2022

A series of short essays feels much longer as you getbogged down in details and repetition. After a while, it's boring. Give it a chance.
UTTER TRASH BY FAILED LAWYER

Derived From Web

, Mar 15, 2022

Anyone who reads Pro Football Talk can see an article by Mike Florio. It's simple. Look for circular logic, speculation without any facts or understanding of subject matter, personal attacks on people and organizations based on little or no verifiable information, beligerent, obnoxious, and sophomoric.
Crap, simple as that

Derived From Web

, Mar 15, 2022

The book is terrible. Don't waste your time. No matter what the players do, Florio is always with them. Players can rape, murder, steal, beat women and Florio will defend them. The pages are worth using as toilet paper if you read them in the bathroom. The book is a liberal Democrat socialist PC narrative wrapped in a sports facade where everyone is to blame except for players, their useless union, and of course, the sports media talking heads.