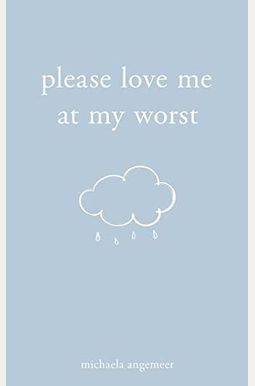  
Please Love Me at My Worst
Frequently Asked Questions About Please Love Me at My Worst
Book Reviews
(10)
Did you read Please Love Me at My Worst? Please provide your feedback and rating to help other readers.
Reflects on what you feel

Derived From Web

, Feb 10, 2022

I love reading it, it hits you really if you experience things that are similar to the book. A link to one's self should be important. How to love yourself is by accepting truth. The hard truth is to reflect and move forward.
Good for a read in the tub

Derived From Web

, Jan 16, 2022

I love this book, it reached for me like any good buck you always wish there was more and not want to end it, but it was the perfect length for you to take a nice warm bath on a self-care day or curl up in the corner and just read it, even if you're having a busy day, just to take a little bit of time and not have to worry about am I gonna finish it today definitely
such a delightful read.

Derived From Web

, Dec 3, 2021

While reading this book with my fiancé, we stopped sometimes and had to process the tenderness. The poems are so sweet and i love that there are small reminders throughout the book as well. She mentions a lot of love, loss, the hardships of healing and even her sexuality, which struck home for both me and my partner. i wish i could write michaela personally for sharing such tender and heartfelt poems.
Too short because I wanted more

Derived From Web

, Nov 11, 2021

I read this book really, but I read it in 30 minutes ''. There were some themes there that I was not kind of interested in, so it made me lose a little interest. Per page, there was not enough text or substance. Each side was entirely 20-45 WORDS long. Some even had 5 to 10 words per whole page. The book was overall good, I loved the context and concept, but not too sure I would buy it again to be honest.
Perfect

Derived From Web

, Oct 29, 2021

Media could not be loaded. It is exactly what I expected and it is perfect, so glad I bought it and came in great condition. )
Poetry that speaks.....

Derived From Web

, Oct 23, 2021

There is something about Angemeer's poetry that speaks directly to me. Aside from the commonality of human experience, it is as if our souls have met across time and space. As in her previous books, she writes in a way that resonates of loss, rejection, love, and loneliness. This is what true poetry was meant to be.
Could not put it down

Derived From Web

, Oct 21, 2021

I loved this book! '' I loved it! I could not put it down. The same day it arrived, the whole thing was read in a sitting the whole thing in one day, the same day it was arrived. It is the most heartfelt and honest poetry book I have ever read in a while. I couldn 't love it more! ''
Would highly recommend

Derived From Web

, Oct 21, 2021

It was written just like all her other books, I love all the poems ''. I loved how she spoke about her dog and the zodiac signs, it was amazing!
A breath of fresh air.

Derived From Web

, Oct 20, 2021

Honestly, this book was a small sigh of fresh air. It engaged me in so many ways and I enjoyed every minute of it. I found it and read it all in a day. This is definitely a book I would recommend 100x It lives with my other favorites on my nightstand!
Not as meaningful as I would've liked

Derived From Web

, Oct 19, 2021

Purchased this because I saw a few poems floating around from it I liked. The other poems are pretty edgy and dumb compared to the few I liked. Maybe it's because I'm in my mid 20s now, but these are not as meaningful and impactful as I would have liked and just thoughts I heard somewhere else before. One is literally i am resistant to change, i'd rather eat ice and cry on an airplane. What is it? Or can you miss someone you never really knew? Dunno, just not my cup of tea and seems like a middle school angst type of thought.