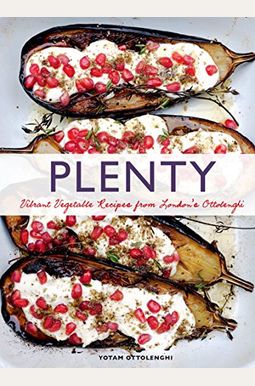 
 
Plenty: Vibrant Vegetable Recipes from London's Ottolenghi (Vegetarian Cooking, Vegetable Cookbook, Vegetable Cooking)
Book Overview
The cookbook that launched Yotam Ottolenghi as an international food celebrity.
A must-have collection of over 120 vegetarian recipes:
A vegetarian cookbook from Yotam Ottolenghi, the author of
Jerusalem, A Cookbook
and other Ottolenghi cookbooks,
Plenty
is a visually stunning collection featuring exciting flavors and fresh combinations that will become mainstays for readers and eaters looking for a brilliant take on vegetables.
Essential for meat-eaters and vegetarians alike, Plenty features more than 120 recipes organized by ingredient.
One of the most exciting talents in the cooking world, Yotam Ottolenghi's food inspiration comes from his Cordon Bleu training, Mediterranean background, and his unapologetic love of ingredients. His approach to vegetable dishes is wholly original and innovative, based on freshness and seasonality, and drawn from the diverse food cultures represented in London.
If you are a fan of Plenty More, Forks Over Knives, Smitten Kitchen Every Day, or On Vegetables, you'll love this Ottolenghi cookbook, Plenty.
An indispensable cookbook for every home library with a spotlight on vegetarian restaurant-caliber recipes that every home cook can make.
Mouthwatering recipes include Jerusalem artichokes with manouri Read More chevron_right
Frequently bought together
Frequently Asked Questions About Plenty: Vibrant Vegetable Recipes from London's Ottolenghi (Vegetarian Cooking, Vegetable Cookbook, Vegetable Cooking)
Book Reviews
(17)
Did you read Plenty: Vibrant Vegetable Recipes from London's Ottolenghi (Vegetarian Cooking, Vegetable Cookbook, Vegetable Cooking)? Please provide your feedback and rating to help other readers.
Time & Ingredient Consuming Recipes

Derived From Web

, Apr 20, 2022

Some of the recipes are wonderful, some are not so good. I thought I would like it so much, I received an extra copy for my vegan daughter. She is used to eating fairly complicated recipes for her diet, which sometimes includes going raw for a while. But we both agree that a lot of the ingredients in our large metropolitan city are difficult to find, if not impossible. And the recipes are very heavy, very ingredient heavy. Great for a gourmet cook, but after trying several, I found that cleaning, cooking and cleanup took nearly three hours. A little more effort than I am prepared to invest for uncertain results. But, OMG, are the photos stunning!
Excellent cookbook.

Derived From Web

, Apr 20, 2022

I am very far from being a vegetarian and am a fully committed carnivore. But I have tried a number of these recipes and they are excellent. The imagination used in creating these recipes is very impressive. The herbs he mixes with the spices produce flavors I have not normally used in my own cooking and work so well together. It has made me more adventurous in my cooking style repertoire and made me eat a lot more vegetable dishes. And best of all, these are recipes that do not make me miss meat.
Rich recipes from a master chef.

Derived From Web

, Apr 20, 2022

I really love this cookbook. There are beautiful recipes and it has many great photographs that inspire me to cook. The only drawback of this book is that the recipes are so rich that it makes for an overwhelming meal if I cook multiple recipes from this book in a sitting. This book makes a great gift - even less avid cooks love this book because of its beautiful presentation.
five stars for content, one for quality of kindle version

Derived From Web

, Apr 20, 2022

There are many great, fresh recipes in this book, many of which look so tempting that I want to cook them all at once. Ottolenghi writes in an accessible style, plus photographs, plus Ottolenghi writes in a pretty style. However, the quality of the kindle version really irks me. In many photos, many ingredients don 't follow the recipes they are supposed to represent, and in several ingredient lists, everything is jumbled together. For example, a list might start with dressing, then list what goes into the dressing, but instead of a break between the next group of ingredients it just keeps going. One has to read the recipe very carefully to make sure that the right ingredients go where they should. i recommend purchasing this book in print form. Although some of the spices called for are not available at your local grocery store, they are readily available online. I look forward to cooking from this book. I just hope that i don 't mess up based on the jumbled ingredients list. - Jean - Bouchier - is a - luxury - hotel with a view of the city.
Wonderful Recipes, Lots With Unfamiliar (British) Ingredients

Derived From Web

, Apr 20, 2022

There are many ingredients available easily where the author lives. Probably could get them in New York City, but not in my city! The pictures of the prepared recipes are absolutely beautiful, good enough to eat! Wish he had a restaurant in Forida, Tallahassee!
Difficult recipes but worth it

Derived From Web

, Apr 20, 2022

The Vegetarian cuisine used to be so dull. Everything is interesting and unique in this book. I've bought this book in England first. I have all books by Ottolenghi and are wonderful. Sometimes it is very difficult and time-consuming, but wonderful. If you like to experiment with new flavors and foods, this is a perfect book for you.
Love, Love, Love

Derived From Web

, Apr 20, 2022

I am not a vegetarian, but I always feel like I could use some more interesting, tasty, and fun vegetarian recipes. This book is great! Seriously, every single recipe is fabulous. Instructions are easy to follow and Ottolenghi has some great commentary on many dishes, also providing wonderful ideas of other dishes to pare with. Many dishes are simple, yet with complex flavor results and rather hearty. I could not be happy with this book. I have easily the cookbook I have the most pages dog-eared in.
Great visuals!

Derived From Web

, Dec 18, 2021

This for a dear friend... for Secret Santa and she can 't stop raving and how many wonderful dishes she has already set!
Should be titled vibrant cheese recipes from London's ottolenghi

Derived From Web

, Oct 27, 2019

I wish someone in the reviews had mentioned how heavy this book is on dairy. I am not vegan, so I'm ok with dairy... in moderation, buuut almost every single recipe in this book has dairy. For Gods sake, he freaking put cheese in the potato salad. He uses cheese as a seasoning.....I detest this!!!! He basically uses cheese as a seasoning...I detest this!!!! I'm considering re-reading this book ''. Other than an absurd amount of dairy and cheese, it's pretty light on spices. Boring! Boring! Boring! '' Blah! Blah! Hate it! Hate it! '' ! !
Exquisite. Vegetarian, not vegan; just be happy with great food!

Derived From Web

, Jun 18, 2019

I agree with angel_xtreme about the zest, it was a little unclear with my lemon that morning. ) I caught it, as I did, or rather caught it half the time I didn 't spare myself, then worried. But even an if-not-large-then-not-small lemon did not overwhelm "caramelized fennel with goat cheese" and balanced the sweetness on a note so excruciatingly perfect that staring into space trying to convey the experience does nothing for this review. I can see where this might drive me nuts later with the juice, but I missed it completely in another recipe. It seems to really perk dairy and dill. As soon as I can find the right '' edition of Sweet on Amazon, I WANT THAT. But this was already my opinion. I want to now do everything .