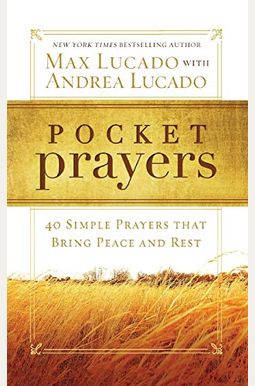 
 
Pocket Prayers: 40 Simple Prayers That Bring Peace And Rest
Frequently Asked Questions About Pocket Prayers: 40 Simple Prayers That Bring Peace And Rest
Book Reviews
(12)
Did you read Pocket Prayers: 40 Simple Prayers That Bring Peace And Rest? Please provide your feedback and rating to help other readers.
A Source of Encouragment

Derived From Web

, Apr 20, 2022

I like that each prayer is continued by the Scriptures. I am typically not much for reading prayers, but the prayers in this book cause me to pray, expanding on the written prayers. This book has been a source of inspiration.
Best little prayer book! If you only buy one book of prayers, it should be this one!

Derived From Web

, Apr 20, 2022

I do this everywhere I go. It is small and slim and can fit in a back pocket, a bag, a pencil drawer, a glove box and mine has been all these places and more. When I am stressed or worried or frustrated or tired or just want to connect with God, I pick one and pray it. These are simple, beautiful and are exactly what I needed. Mine is already pretty dog-eared and will be more so soon without doubt! Love this and I have bought it for a few other people that I also knew would love it.
A truly beautiful book.

Derived From Web

, Apr 20, 2022

A wonderful way to start the day is to read this series of scriptures and the stories written to accompany each. A way to start your daily walk with God through prayer and meditation. These 40 simple steps to prepare for a relationship with the Lord through prayer is Amazing. I enjoyed this book very much and would recommend it to anyone who wants to accelerate that beautiful relationship with the Lord.
I love that he first gives scripture then a written prayer ...

Derived From Web

, Apr 20, 2022

Max Lucado's Pocket Prayers is a book that shows the simplicity of prayer. I love that he gives the scriptures first and then a written prayer, which teaches that your prayers do not have to be long or wordy. It is a great book to carry whenever, especially when comfort or direction or source of strength is needed.
It's just excellent! The prayers have been written to follow Lucado's ...

Derived From Web

, Apr 20, 2022

I have ordered this small book of prayers to accompany Max Lucado's book Before Amen. I struggle with impromptu prayers so that I thought this book might offer some pensive prayers for everyday use. It is just excellent! The prayers have been written to follow Lucado's brief prayer plan, which is simple to say, heartfelt and customizable. The order arrived in no time at all, and I am very glad I ordered it with the hardcover book.
These prayers bring a sense of peace

Derived From Web

, Apr 20, 2022

I love this book ''. It begins with a Bible quote and then the quote is rewritten in a way that is so easy to understand as if we speak directly to God in our own words. There is a sense of peace because the prayers express what I feel, but I don 't know how to speak. I am happy that those who have this gift are willing to share it with those who don 't.
I mailed the book to friends whose grandson was in ...

Derived From Web

, Apr 20, 2022

I mailed the book to friends whose grandson was in a motorcycle accident on 16 August and spent 3 months in critical care before being admitted to rehab. With the crises I experienced, my prayer was that the prayers in the book would bring peace for the entire family.
Divinely driven and well done

Derived From Web

, Sep 13, 2021

A special blessing for me, reading and praying with Max Lucado's writings, has been a special blessing. On many days, this book of prayers seemed to be exactly written for me. Get this book and trust God's promises.
Boring and Small

Derived From Web

, Mar 9, 2021

I received this for my husband's Easter basket because he is religious and also doesn't have a lot of time to read with the children running around, so I thought this would be perfect for him to do short readings. The book is about the length of my hand, which is good because he can put it in his workbag. The passage takes literally 1 minute to read the passage. It is a prayer for the day for 40 days, which is nice, but I was looking for a passage of Scripture and an interpretation of it with a prayer, but I usually like Max Lucado's writings because he makes it so relatable and makes the scriptures understandable, but this is a flop for me and is better suited for the dollar store.
Great little prayer book!

Derived From Web

, Feb 10, 2021

The preface is priceless! And the prayers seem to be exactly what I need for any given day. I personally love this little prayer book, and you can personalize the prayers as you see fit. For example, when it says please help my friends '', I name my friends facing difficult times currently. If you are a busy person but want to consistently fit prayer into your life, this book is a great first step!