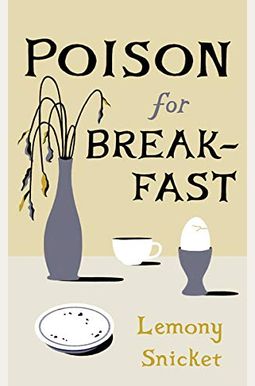  
Book Overview
Dear Reader,
Are you confused? Do you have any idea what is going on? Of course you are, and of course you don't.
This book is about bewilderment, a word which here means not having the faintest idea what is going on at any given time. It is also something of a murder-mystery, in which a dreadful crime is investigated in the hopes of finding out what happened to the poor murdered victim. The person investigating is me. So is the poor murdered victim.
The clues in this investigation include a suspicious stranger, an upsetting supermarket, the strange way literature is made, painful embarrassment, long songs, improperly prepared eggs, and other things which I happen to think are important.
Some people might call Poison for Breakfast a book of philosophy, and hardly anyone likes a book of philosophy. When a person begins to investigate this bewildering world and their own inevitable death, they begin to suffer from a deeply troubling kind of bewilderment experienced by anyone foolish enough to love literature.
Unless you are that sort of person, I recommend reading something else entirely.
With all due respect,
Lemony Snicket
Frequently Asked Questions About Poison For Breakfast
Book Reviews
(7)
Did you read Poison For Breakfast? Please provide your feedback and rating to help other readers.
difficult but good read

Derived From Web

, Feb 18, 2022

It was a difficult read, even for a teenager. Great book, but I would definitely try to read again to get a better understanding of the complexities of the subject.
At least the cover is pretty

Derived From Web

, Jan 17, 2022

I bought this because I've always loved a good series of unfortunate events, and I hated this book. What's more, it was just a tad ton of snicket-isms without any plot or direction, and the twist at the end was aggravating. I regret spending this much money on a book that I couldn't possibly read. Yes, at least the cover is pretty.
Just ok

Derived From Web

, Jan 16, 2022

The rest is just mechanical, said Dr. Carl Zimmer, director of the UCLA Center for Health and Human Services. It was amusing and the typical writing style of Lemony Snicket, but it was also a bit dragged out. It was mostly a waste of time, energy and money, but I wasn't impressed either.
Quite Interesting

Derived From Web

, Sep 26, 2021

Me I In My opinion, Lemony Snicker is actually I In My opinion, Or W In my opinion, Lemony Snicket is a unique and brilliant writer. I've read all his books. This one is different from his series of unfortunate events, but just as enjoyable. I'm not saying it was bad, but I think it was a tad late.
This is a gem of a book

Derived From Web

, Sep 16, 2021

It means something rare and precious that one must treasure. I found this little mystery both moving and wonderfully intriguing, and when I finished, I wanted to go back to work. Snicket is a wise and witty observer of the human condition. He's a philosopher and a poet, Raymond said.
A little full of itself, but a good read all the same.

Derived From Web

, Sep 13, 2021

More philosophy than mystery, and a far cry from the maddening Phantom Tollbooth from which it drew comparisons. You won't find a bad writer, go into it expecting lovely writing. I'm delighted Mr. Snicket decided to pen another series, unfortunate or otherwise.
loved it

Derived From Web

, Sep 2, 2021

It's a great read, and I'll have to admit, I'm a sucker for a good book. I wish I could find more books like this --it was a very quick read, but gave me a lot to think about, Morgenthau said.