Buy 3 Get 1 Free
Our Best Sale Yet! Add 4 Books Priced Under $5 To Your Cart Learn more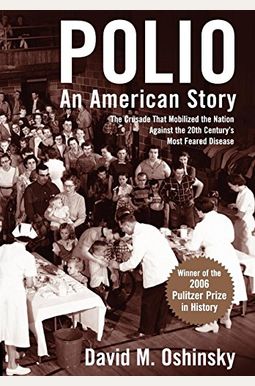 
 
Book Overview
All who lived in the early 1950s remember the fear of polio and the elation felt when a successful vaccine was found. Now David Oshinsky tells the gripping story of the polio terror and of the intense effort to find a cure, from the March of Dimes to the discovery of the Salk and Sabin vaccines--and beyond. Here is a remarkable portrait of America in the early 1950s, using the widespread panic over polio to shed light on our national obsessions and fears. Drawing on newly available papers of Jonas Salk, Albert Sabin and other key players, Oshinsky paints a suspenseful portrait of the race for the cure, weaving a dramatic tale centered on the furious rivalry between Salk and Sabin. Indeed, the competition was marked by a deep-seated ill will among the researchers that remained with them until their deaths. The author also tells the story of Isabel Morgan, perhaps the most talented of all polio researchers, who might have beaten Salk to the prize if she had not retired to raise a family. As backdrop to this feverish research, Oshinsky offers an insightful look at the National Foundation for Infantile Paralysis, which was founded in the 1930s by FDR and Basil O'Connor. The National Foundation revolutionized fundraising and the perception of disease in America, using poster children and the famous March of Dimes to raise hundreds of millions of dollars from a vast army of Read More chevron_right
Frequently bought together
Frequently Asked Questions About Polio: An American Story
Books like Polio: An American Story
Book Reviews
(11)
Did you read Polio: An American Story? Please provide your feedback and rating to help other readers.
This book gave me insight into the political and financial struggle both Salk and Sabin encountered as they raced to bring an en

Derived From Web

, May 27, 2022

( ) '' ). While training to be a nurse, I did a 3 month rotation in a Polio Station, where there were patients in Iron lungs. Those who do not appreciate this time period may not fully live the incredible benefit that this vaccine provides. I had four children of school age when the vaccine became available finally. What a relief to take the children in for the vaccine and a chance to escape the suffering I had seen in the Polio Wards. This book gave me an insight into the political and financial struggle that both Salk and Sabin faced when they raced to bring an end to the terrible disease.
A fascinating account of how things get done! Being ...

Derived From Web

, May 27, 2022

A fascinating account of how things are done! Born in 1940, it happened in my growing years and survived, albeit with a shorter leg than another. An uncle died in 1936, and few families were not touched in one way or another by it. It is fascinating to read about all the human elements that went into the disease, and is a threat to my children and my grandchildren.
I found the book most interesting - from the history ...

Derived From Web

, May 27, 2022

I found the book the most interesting - from the history of the disease's supposed origins, the personalities involved in finding a cure for the fund-raising strategies that live on today!
Excellent historical summary

Derived From Web

, May 27, 2022

From this book, I learned a lot. At times, certain passages got a little sleepy. Although the facts are sometimes sad at times, amazing what mankind can achieve with focused effort : building up on what has gone before and sometimes alone in a new direction.
GREAT NOT TO BE MISSED IMPORTANT HISTORICAL NOVEL

Derived From Web

, May 27, 2022

Sad story, told in a very gripping way from a historical, personal and medical point of view. One of the best books I read this year is.
... or for anyone interested in medical history and how fortunate we are to have vaccines

Derived From Web

, May 27, 2022

Interesting read for those of us who were medical children in the early 1950s, or for anyone interested in pediatric history and how fortunate we are to have vaccines.
Outstanding

Derived From Web

, Aug 8, 2020

This is a well written, exciting story that ties history together to so many modern concerns. This is definitely a story of the future back to the real-life ''. What is the back story of vaccine culture, the fight against socialized medicine, and the advent of media that drives the story. There are then the two very imperfective heroes, their rivalry and choices are still reverberating today. It is the external struggle of mankind's arrogant quest to take control of nature and eradicate a deadly disease. When it was written in 2006, this book was important. But now in 2020 it feels like deja vu with a deadly and uncontrolled virus on the loose, media-driven narratives scaring the public into hiding and waiting for the next great hero scientist to save us all. The story repeats itself certainly.
Fascinating and so much more.....

Derived From Web

, Sep 12, 2019

I love reading about medical history and this book is medical history at its best. It covers every aspect of the polio - epidemic from political to scientific to falsehoods to cultural to philanthropic and more. I just couldn t put it down. The amount of research that must have gone into this book is absolutely mind-blowing.
Even more respect for researchers and the grueling work of vaccine research.

Derived From Web

, Jul 16, 2019

The book was recommended to me by a pediatrician who is also an infectious disease specialist and has worked for various vaccine safety surveillance groups. I am glad to read it! When she recommended it, she mentioned that she was really inspired by how mothers were a driving force for raising money and working together to end Polio. I have to agree ''. I was shocked to read how quickly the disease caused death and even more so in larger families where multiple members contracted polio rapidly. The history of Polio in this country, as well as vaccine development, setbacks, failures and ultimate success is fascinating! The book is particularly well written and cited, like other non-fiction authors I love, such as Doris Kearns Goodwin, Erik Larson, and Laura Hillenbrand.
Too much melodrama, too little science

Derived From Web

, Sep 16, 2017

In many ways, the battle over Polio was not that interesting, but rather than saying it simply, Oshinsky tends to hyperbole and artificial melodrama. At the end of the day, Sabin and Salk were the products of the many men and women who worked and with them. It is only late in the book that Oshinsky acknowledges the debatedness novelty of all their achievements, rather than the natural progression of science. Unfortunately, a second drawback of the book is the extremely superficial level at which science is addressed. I read this book really trying to understand the contribution of different scientists and what led to the eventual conquest of Polio, but fundamental advances were underexplored and poorly described, but for me it left me craving more while not feeling remotely satisfied.