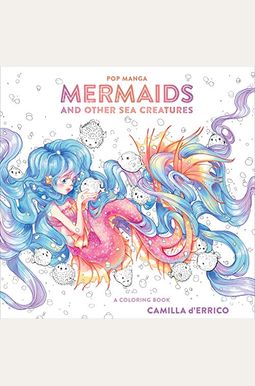  
Pop Manga Mermaids and Other Sea Creatures: A Coloring Book
Book Overview
From the fan-favorite Pop Surrealist painter and graphic artist, this coloring book features stunningly beautiful black-and-white images of mermaids and other legendary beasts of the ocean drawn in Camilla d'Errico's signature manga-inspired style.
Following the success of her first coloring book,
Pop Manga Coloring Book
, artist Camilla d'Errico takes fans beneath the waves with 70 black-and-white images of beloved characters from undersea fairy tales and myths in this stunning coloring book. Along with beautiful and haunting images of mermaids, d'Errico also includes many-tentacled krakens, giant seahorses, narwhals, and more in pieces that you'll want to start coloring as soon as you open the book. Select pieces include designed, patterned backgrounds to keep colorists working away hour after hour in this underwater kingdom of cute.
Frequently bought together
Frequently Asked Questions About Pop Manga Mermaids and Other Sea Creatures: A Coloring Book
Book Reviews
(11)
Did you read Pop Manga Mermaids and Other Sea Creatures: A Coloring Book? Please provide your feedback and rating to help other readers.
Such a beautiful coloring book!

Derived From Web

, Dec 18, 2021

I received this coloring book because my daughter started to become addicted to coloring and I wanted to do it with her. This coloring book is amazing, I love the art and it also helps me with shading, as I like to draw in my free time, but have a little trouble when it comes to shading.
Great book

Derived From Web

, Jan 22, 2021

Why oh why aren 't all coloring book pages one side? Perfect picture style for alcohol markers, but I am only able to use half the book due to bleeding on the back side of the page. I really like colored pencils for drawing, not coloring, but that is just me. I enjoy the images, though wish there were more full sketches and less portrait style ones. Overall, very satisfied and will buy others from this artist. Would have given five stars if the pages were one side!!!!!
Lovely art style!

Derived From Web

, Jun 9, 2020

I adore this artist style! '' The books - paper works wonderfully for coloring with colored pencils.
LOVE

Derived From Web

, May 17, 2020

Everything is wonderful about this coloring book. The designs are of course love and the quality is excellent. Definitely recommend.
BEAUTIFUL ART TO COLOR

Derived From Web

, May 6, 2020

The images are like other mermaids mixed with parts of anime sea creatures. The pages are thick, which is great for markers, but they are double sided, so that I have to choose what side to color. The pages are perforated.
Happy purchaser

Derived From Web

, Dec 6, 2019

I love this artisit ''. She draws so beautifully that it was well worth the purchase.
Obsessed!

Derived From Web

, Aug 11, 2019

After receiving Camilla's first coloring book, I HAD to get this one as well. It does not top the original, but still provides hours of pleasure.
The book is excellent quality and great page weight for coloring

Derived From Web

, Nov 13, 2018

I always enjoy her as an artist, so I am really happy when she releases something new. As an avid collector of her works, both art books, prints, drawing books and her other coloring book, I waited anxiously for this book's release. If you love beautiful art and would like to create some of your own by coloring these lovely images, I recommend it.
Now one of my favorite!!

Derived From Web

, Sep 27, 2018

The moment I opened this book, I was in love! I absolutely love coloring in this book, the pictures are awesome and a lot of fun to color... I don 't even know where to color next... I get to use so many color choices because I feel good using my imagination...I'm really bad in most books, feeling like I have to color things in the color that it really would be... The paper is also great ; I have been able to use markers and water colors. I love the size of her drawings, they are larger and closer so that once it looks so dramatic and bold... I just had to order her other book, the first. Today I got this one just. She is now one of my favorite.
The paper is horrid

Derived From Web

, Jul 23, 2018

I really didn 't want to leave this review because Camilla is one of my very favorite artists and I ordered this the second time I heard about it and then waited impatiently for it to arrive. Then it came and I couldn 't wait to color it, because the images were somehow better than those in Pop Manga, and the disappointment came when I began to color. I was unable to use my colorless blender, pastels, ink pens and watercolors. I have never encountered an issue with these mediums in another book. The paper began to disintegrate when the water touched it. I am just confused because the other reviews praise the paper and someone else here did a beautiful watercolor image.