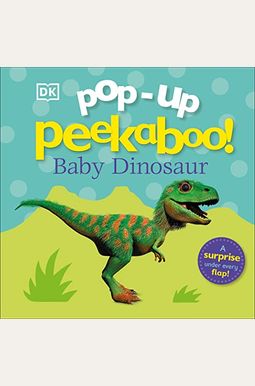 
 
Pop-Up Peekaboo! Baby Dinosaur
Book Overview
A pop-up surprise under every flap
Turn the pages and lift the flaps of this delightful baby book to meet adorable dinosaurs. With the help of parents or caregivers, toddlers will have fun turning the pages and lifting the flaps to play peekaboo. Each surprise character is certain to make toddlers smile The text is written in simple rhymes to support children's language development. Ideal for preschool play, this sturdy baby book will appeal to both parents and children. This exciting read-aloud baby book will keep little ones entertained time and time again
Frequently bought together
Frequently Asked Questions About Pop-Up Peekaboo! Baby Dinosaur
Book Reviews
(14)
Did you read Pop-Up Peekaboo! Baby Dinosaur? Please provide your feedback and rating to help other readers.
Get this if your toddler loves dinosaurs!

Derived From Web

, Mar 20, 2022

It was a surprise, my sister said, because she had bought it herself. Halloween book for my 3 year old son's birthday, which, I won't lie, I thought was cheesy but he absolutely loved it. I came across this dinosaur version of the "Finding Nemo" story after my son had a new found love for dinos. It's a hit! We even brought it to a friends' getaway with other boys his age so I could read it 'ten times,' joked Blair. It shows the pronunciation of the dinosaur names, which I'm sure I'm not the only parent who has struggled with.
pop-up story of baby dinosaurs

Derived From Web

, Mar 7, 2022

In this book, the narrator and illustrator are joined by four other members of the DK staff. It is the story of a baby T. rex dinosaur searching for its mother in a hide-and-seek book that will absolutely delight youngsters. Along with the baby T. rex, children are introduced to several other types of baby dinosaurs, including the Alamosaurus, Triceratops, and Ankylosaurus. The book is in large, bold print and the illustrations are also vivid. It will withstand repeated handling and will protect the pop-up figures. All children love dinosaurs and they'll love this engaging, introductory story of perseverance and problem-solving told in rhymes, too. The Echo Park is priced at $8.50. Highly recommend.
Favorite book

Derived From Web

, Jul 5, 2021

My grandson absolutely loves all the POP BOOKS! He has several, and I have read them all over and over.
instant hit

Derived From Web

, Mar 8, 2021

Our 17 month old wanted to read this book every day, multiple times a day, for at least two weeks. In my opinion, we got what we were worth, Baz said. The novelty has since worn off so we thankfully don't have to keep looking for mommy T-rex, but she still likes to look at it from time to time. The pop-ups are on the fragile side, so she did rip one out on our first reading, but I was able to glue it back. Since then, she has learned to be gentle.
Baby and grandma both enjoy it. Update: be prepared to replace

Derived From Web

, Jan 22, 2021

Definitely one of the all-time greats. 21 month old Will, who has a big appetite for books, will even pull out this one for grandma to read to him. Both love it and are working on it. There are three other books featuring the same girl, but this one is special. In her book, Beckham writes, "the baby is now 2 1/2 years old. Loved them all, Mr. D'Antonio said. Her head is missing and the spine is in tatters. Just received a new copy of the book. Overall, I'm very satisfied with the purchase. The book has a lot of miles on it, through hospital stays, doctor visits, and even death, and has brought comfort and through rough times, Levine said.
Poor design

Derived From Web

, Oct 5, 2020

I'm a huge fan of the series of books. The safety features are modest compared with the Kindles, which lack a design that makes reading safe. The flip pages should not be read, they should be kept closed. At the first reading, one of the kids got broken when my LO lift the flip-paged head of the dinosaur away from its hiding place. I can fix it, but since this is new and the damage was not caused by misuse, I don't think this is something I should be doing.
Fantastic 3 D popups Leap From The Page

Derived From Web

, Sep 8, 2020

I fell in love with this book and cannot stop reading it. As you turn the pages, the dinosaurs leap off the pages toward the reader.
great for children

Derived From Web

, Aug 28, 2020

It's just that kid, that dinosaur-loving kid. Though he's working on his reading part, he'll still recognize names if you associate them with it. He's wild about saying rawr when the pop-ups happen.
Loves the dinosaurs, pop ups are flimsy

Derived From Web

, Apr 26, 2020

My son, now almost 2 years old, has a crush on the dinosaur figures. The problem is, they are so flimsy, they can't be used. He quickly tore most of them up by the time we'd had the book. If your child doesn't have an urge to tear paper, it's great. Yes, I'm sticking to heavy duty books for him.
Great dino pop up book! [Spoilers in Review]

Derived From Web

, Apr 14, 2020

It was recommended to me because my daughter loves dinosaurs and the reviews were amazing. We were not disappointed, Mr. Dhaliwal said. Our daughter has had us read this book like 20 times and she has only had it for a day. It's just that the pop up dinos never get old. However, I will note that the baby dinos have an adorable aesthetic, but when the baby T Rex finds his mom, the pop-up is much more realistic and slightly terrifying. It's just that she likes the scariness." There are no dinos left, so it's just fun. Highly recommend.