Buy 3 Get 1 Free
Our Best Sale Yet! Add 4 Books Priced Under $5 To Your Cart     Learn more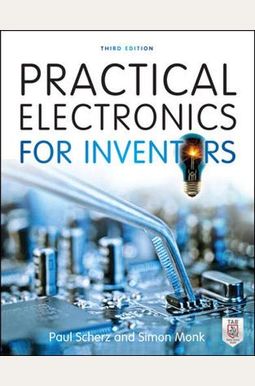 
 
Practical Electronics For Inventors, Third Edition
Book Overview
This Description may be from another edition of this product.
A Fully-Updated, No-Nonsense Guide to Electronics
Advance your electronics knowledge and gain the skills necessary to develop and construct your own functioning gadgets. Written by a pair of experienced engineers and dedicated hobbyists, Practical Electronics for Inventors, Fourth Edition, lays out the essentials and provides step-by-step instructions, schematics, and illustrations. Discover how to select the right components, design and build circuits, use microcontrollers and ICs, work with the latest software tools, and test and tweak your creations. This easy-to-follow book features new instruction on programmable logic, semiconductors, operational amplifiers, voltage regulators, power supplies, digital electronics, and more.
Practical Electronics for Inventors, Fourth Edition, covers:
Resistors, capacitors, inductors, and transformers
Diodes, transistors, and integrated circuits
Optoelectronics, solar cells, and phototransistors
Sensors, GPS modules, and touch screens
Op amps, regulators, and power supplies
Digital electronics, LCD displays, and logic gates
Microcontrollers and prototyping platforms
Combinational and sequential programmable logic
DC motors, RC servos, and stepper motors
Microphones, audio amps, and speakers
Modular electronics and prototypes

Frequently bought together
Frequently Asked Questions About Practical Electronics For Inventors, Third Edition
Books like Practical Electronics For Inventors, Third Edition
Book Reviews
(11)
Did you read Practical Electronics For Inventors, Third Edition? Please provide your feedback and rating to help other readers.
Fantastic Electronics Reference at a Bargain Price

Derived From Web

, Apr 20, 2022

The first impression I got was that it reminded me of a book from engineering school. I wasn't expecting to encounter calculus, df, or matrix algebra when I bought it, but since I have that background it gave me a nice shortcut for a quick review. Even if the judge agrees with Mr. Kennedy, the ferry could face a fine of up to $250,000. I'm not planning on crunching numbers the old-fashioned way and will be using a free online version of Spice as I go through the book, assuming others with less math can do that too. The book is a very large and very thorough work of fiction, said Axel Reid, co-editor of the book. It had me rechecking how much I had spent on Amazon to buy it. What a waste of money, Mr. Snow said of buying all this information, which can be used for other purposes. I expect it to be dog eared and worn within a few years, since I'll likely refer to it often.
Great breadth of subjects, shoddy editing

Derived From Web

, Apr 20, 2022

But this book is also jam-packed with typos, leaving little room for error. It boggles the mind how the errata for this book can be so massive. I found a couple of mistakes, one of which was listed in the errata. Bad editing, by the way. If you aren't familiar with the subject, some of these errors will trip you up and I highly recommend printing out the errata and keeping them with the book while reading.
I'm only about 20% into the book and I love it!

Derived From Web

, Apr 20, 2022

I recommend this book highly. Professional software engineer, and recently I decided to learn more about the hardware side of things so that I could tinker with some home-brew projects using Raspberry Pi and Arduino boards. This isn't a book for dummies, but it's very informative and I found it easy to follow, said Dr. Julie Gerberding, director of pediatric neurosurgery at the Children's Hospital at Montefiore. It covers a lot of information, so it's pretty dense. However, some knowledge of higher mathematics is not absolutely necessary. It also has lots of useful reference materials, such as schematic symbols, circuit code colors, resistors and attenuators. I would definitely recommend this book for anybody looking to get a crash course on electronics, and I plan to buy any future revised editions that are released, said Mr. Dhaliwal.
This is an excellent book. I have read selected sections as referenced ...

Derived From Web

, Apr 20, 2022

I have read selected sections of the video, Understanding Modern Electronics by Richard Wolfson, and have found it to be nicely complementary to the lectures. However, he said, there was a good balance between explaining things in very understandable terms and also exploring further.
a good book to practice

Derived From Web

, Apr 20, 2022

this is the third update that i have of this book, but the first one is what i like most, dividing this be more cmfortable to read chapter 13th microcontrollers with a scope of arduino for lab practice. The English language is easy to understand for foreign readers, Thibault said.
very nice

Derived From Web

, Apr 20, 2022

It has everything you need to know about Newton's curve, including his infamous "eight-inch" rule. It also has some useful links to programing arduino and other electronics devices. I just saw a few pages, said Dr. Goin.
Many typos, easy read, simple structure

Derived From Web

, Apr 20, 2022

Many of the problems stem from missing or wrong subscripts or incorrectly equating the wrong variable. This may not be such a big deal for people refreshing their memories, but for an intro. McBride said the book was "misleading" to beginners. Aside from that I find this book to be a good thing to add readable explanations without the extra details TAE provides. But, those details are what made TAE a great reference even today. As a quick and readable refresher on standard EE topics, this book is fine.
A treasure

Derived From Web

, Apr 20, 2022

Whether you're a hobbyist or an electronics professional, this book is the place to start, and probably finish your project. Basic circuits, by Robert Scherz, provide the necessary understanding and flexibility to modify or improve one's own needs. 0 1462228 1462163 This book is an indispensable reference with generous servings of theory that provide sufficient understanding and flexibility to modify or improve basic circuits to suit one's needs. Only a year ago did I have this book.
Don't know why I bought it because I know nothing ...

Derived From Web

, Apr 20, 2022

Don't know why I bought it because I know nothing about electronics, but this is a big book, and covers a lot of sensors and ICs, motors and everything else. It's the kind of book you want to keep after reading, for reference.
Incredible depth gives you a true understanding of what's happening inside your circuits.

Derived From Web

, Apr 20, 2022

He added that the book is "a serious, very thorough introduction into electronics." Note the use of the term introduction loosely, because this should not be your first electronics book. The author goes into great depth on each subject, making each subject seem more like a book. If you really want to know what's going on inside your circuits at an electron level, this is the book for you. If you're a hobbyist and just want to tinker, this book is probably more useful than you will ever need. I was looking to really know everything I could so this book was perfect for me, he said. Another note: This book is HUGE. I was reading about three dozen books a week. Seconds later, I happened to see the paper version of the book and I could understand why it was taking me so long to get through it. It's great to be back home, said Blair. Even if you're not an architect, it's just not for your first project. After you've tinkered for a few months, you are ready to go deeper, this book is perfect.