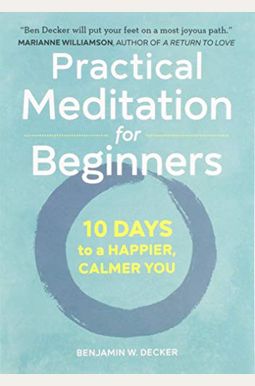 
 
Practical Meditation For Beginners: 10 Days To A Happier, Calmer You
Book Overview
Unlock the power of meditation with an easy 10-day plan
The key to building a solid meditation practice is in the practice itself. From Zen and Vipassana to walking meditations and body scans, the basic practices outlined in Practical Meditation for Beginners help you build the meditation routine that works best for you, even if you've never meditated before.
Written by experienced meditation teacher Benjamin Decker, this guide to meditation for beginners offers a comprehensive program for learning 10 different meditation techniques―one for each day of the program. Newcomers and experienced meditators alike will enjoy the variety of practices and the friendly guidance that makes it easy to get started.
Go beyond other meditation books with:
Thoughtful prompts-Find insightful questions and talking points alongside the exercises to help you stop and reflect on how you feel.
A clear, organized format-Explore chapters for each new meditation technique, designed to help you build up your skills as you move through the book.
Step-by-step instructions-Follow simple and concise guidance that walks you through each new meditation in a clear way.
Practical Meditation for Beginners is an accessible how-to guide that will empower you to meditate with confidence right away.
Frequently Asked Questions About Practical Meditation For Beginners: 10 Days To A Happier, Calmer You
Books like Practical Meditation For Beginners: 10 Days To A Happier, Calmer You
Book Reviews
(11)
Did you read Practical Meditation For Beginners: 10 Days To A Happier, Calmer You? Please provide your feedback and rating to help other readers.
A good beginner's book on meditation.

Derived From Web

, Feb 6, 2021

Buying books only because they are less taxing my eyes than ebooks. First, I thought the print was too small for me and I regretted not buying an ebook instead. But as I read more, I began to like this book. The font size was actually not too bad. This book is excellently laid and very easy to follow.
Small font, difficult to read! Frustrating

Derived From Web

, Jan 14, 2021

The font was too small. I have reading glasses, but this was the smallest font I have ever seen in a publication. Especially a guide that is a tool to learn something! !Will try to return to Amazon!
Do the meditations consecutively each day

Derived From Web

, Jun 1, 2020

Just need to carve around 10 minutes a day. A chapter a day read. But can not emphasize this part enough, to receive the most benefit, you must do each practice consecutively each day. By the end, read the chapter and you will find yourself in a much more peaceful state of mind. And then you can choose your favorite techniques given in the book to meditate afterward.
We need this book in every elementary school classroom across America.

Derived From Web

, Mar 9, 2020

*** This book is an in-depth introduction to the world of meditation and its benefits, presented in a succinct, straight-forward and exciting way. It will benefit the youngest of the students to the more advanced. Despite my familiarity with many forms of meditation, this book has introduced me to many new modalities that I did not know. Additionally, this format would be a great resource for teaching children about the different forms and origins of meditation and how they can be applied very easily to their everyday life.
I've been waiting for a book like this!

Derived From Web

, Aug 10, 2018

This book is the ideal start for anyone wishing to start a meditation practice. I find it is also great for those interested in expanding their knowledge base of various meditation techniques and great tools on how to incorporate them. A must have book for anyone into meditation, and has been very well received as a gift as well!
I would give this book 10 stars if I could

Derived From Web

, Aug 8, 2018

I was given this book as a gift and I am very impressed with how well each concept and exercise is explained. This is the most useful book on meditation that I have ever encountered. Each chapter is both simple and profoundly potent.
Decker's "Practical Meditation for Beginners" is a beautiful initiation into the practice of meditation for both beginners ...

Derived From Web

, Jun 21, 2018

Benjamin W. Decker's Practical Meditation for Beginners is a beautiful initiation into meditation practice for both beginners and experienced professionals alike. This book is a must-have for anyone on the path to self-realization and/or looking for more peace and clarity in their life experience with absolutely eloquent writing, tangible exercises and ethereal artwork. I highly recommend this beautiful book to anyone who is a seeker and hoping to cultivate a deeper relationship with the life-enhancing practice of meditation.
This got me started meditating in a meaningful and productive way

Derived From Web

, Jun 6, 2018

I tried meditation apps before and found always some benefit to them, but then stopped using them shortly after. The writing is concise and gets you as quickly as possible into meditating. The 10 different approaches are also great, as I found some that worked wonderfully, some that were okay and some that I didn 't care for. I think that everyone is different, so that a bit of diversity seems really valuable. It was certainly for me. Nevertheless, I bought 2 additional copies to give them to friends. This book is highly recommended as a jumping point for meditation.
I always felt much better afterward - yet failed to replicate it on my ...

Derived From Web

, May 30, 2018

I had previously experienced meditations in which Ben was the practitioner. I always felt much better after, but failed to replicate it on my own. My schedule is full, yet I still found it easy and a joy to go through this book each day. Thank you for sharing your insight so that we can become healthier, calmer and happier, even amongst all the demanding external stimuli and to-do lists that try to capture our attention every day. Highly recommended!
Beautifully Done!

Derived From Web

, May 22, 2018

I have had the great fortune to attend some of Ben Decker's meditation classes here in Los Angeles. I have a very new meditation practice and I learn something solid every time I am in a room with him! He carried his great teachings into a book that is great for beginners, but there are some wonderful nuggets even for those who have been meditating for years. As the mother of a young woman, I can 't wait to give it to her and all her friends as they learn to navigate through these difficult times. B. The Goodwill Experience :