Buy 3 Get 1 Free
Our Best Sale Yet! Add 4 Books Priced Under $5 To Your Cart     Learn more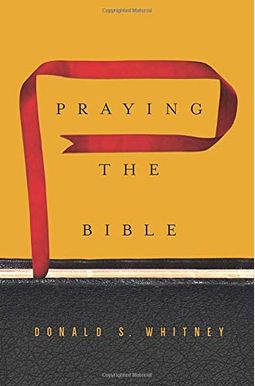 
 
Book Overview
This little book is explosive and powerful.
R. Albert Mohler, Jr.
When you pray, does it ever feel like you're just saying the same old things about the same old things?
Offering us the encouragement and the practical advice we're all looking for, Donald S. Whitney, best-selling author of Spiritual Disciplines for the Christian Life, outlines an easy-to-grasp method that has the power to transform our prayer life: praying the words of Scripture. Simple, yet profound, Praying the Bible will prove invaluable as you seek to commune with your heavenly Father in prayer each and every day.
Frequently Asked Questions About Praying The Bible
Book Reviews
(12)
Did you read Praying The Bible? Please provide your feedback and rating to help other readers.
... read several or Pastor Whitneys books I did expect great things and was not even 1% disappointed

Derived From Web

, Apr 20, 2022

I had read several or Whitney Pastors books and was not disappointed. Yes, many may not order it as it sounds so, however the tools that he provides have truly blessed- changed- convicted me. Then one sentence later, well, did you do it? But I did and the practical plan of a specific psalm and five others in tandem, will speak to your heart and provide moments of intimacy with the Creator. Say good bye to boring, repetitive, mundane prayers. And the Lord our God, Jesus Christ, raised him from the dead, according to the book of Revelation.
Practical and Quick Guide to Prayer

Derived From Web

, Apr 20, 2022

It's one of those books that I will never forget. I'm delighted the book was written in a very conversational tone, McBride said. Whitney is a professor, and the reader will feel like they are sitting in on one of his teachings. Very useful and practical content, Mr. Abraham said. That said, I know that my life will no doubt be changed for the better by putting these strategies into practice. Whitney has always been a go-to for spirituality teachers and practitioners. The only down side is the repetitiveness of the program. I almost think this could be a paperback booklet for $5, rather than an expensive hardback, Mr. Booher said. Great work, said Dr. Paul LiCalsi.
Soul Cleansing

Derived From Web

, Apr 20, 2022

This book is not only for pastors, it's for laypeople as well. Even for Catholics, the Vatican insists that the teaching is not exclusive. This book is for anyone who wishes to get more out of their Bible reading, whether it is nightly or weekly. I chose this rating because it gave me very specific ideas as to how one might go about praying the Lord's Word.
Praying the Bible

Derived From Web

, Apr 20, 2022

Haven't finished reading it but would have loved to have found it years ago. Great writer, but I wonder why a pastor hasn't gone this route. Simply put, this book is for anyone who wants to reach out to God. Quattrone said: "The Government must take responsibility for the safety of its citizens."
I highly recommend this book

Derived From Web

, Apr 20, 2022

The first chapter was a bit slow and the author repeated himself several times, but going forward it improved greatly. I highly recommend this book to anyone.
Prayer is so powerful!

Derived From Web

, Feb 23, 2022

Wow! That was pretty impressive, right? The book is a must-have for anyone who wants to learn the discipline of daily prayer. This is great news for both new believers and long-time believers alike. Thanks Donald Whitney for taking the time to share your God given gifts with the world, Tunick said. Now she has a renewed soul and is seeking Christ daily.
Somewhat redundant and a little perplexing

Derived From Web

, Sep 16, 2021

Only a Christian can truly pray and be heard by the Almighty, yet the majority of the book advocates praying the Psalms, which were originally written and sung by non-Christians? Some of the suggested solutions are helpful, but much of the book is redundant and mentions the same old things about the same old things.
Excellent and easy to read

Derived From Web

, Jul 4, 2020

As someone who always felt like praying was a waste or time as it was virtually dead, this book reminded me of the few times when I accidentally did exactly what the book suggests. I didn't realize it at the time, but those profound experiences in prayer were probably the result of praying the Lord's Word. Reading this book has given me the tool to understand why those times were so profound and also gives me what I always wanted, for that honesty with God, to be consistently evident in my life. I believe that this book gives me hope that prayer will be more vibrant than ever before. However, if you have the basic concepts in place, you can start practicing the teachings immediately. Instant gratification is the only way to get what you want in life, Harrison said.
Very enlightening

Derived From Web

, Jan 29, 2020

I have heard of teaching on and practiced praying through scripture, but this book simplifies the process. It was never meant to be a complicated process, Mr. Dhaliwal said. I am excited to introduce this idea to the church.
Change the way you pray!

Derived From Web

, Jan 17, 2019

This is a great way to pray using the Word of God. I highly recommend this book to anyone who wants to learn more about the Lord.