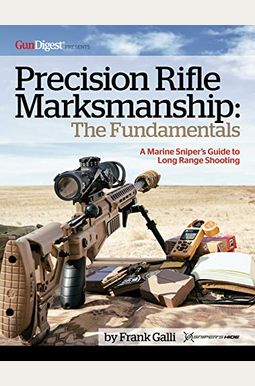  
Precision Rifle Marksmanship: The Fundamentals - A Marine Sniper's Guide to Long Range Shooting: A Marine Sniper's Guide to Long Range Shooting
Book Overview
Precision Rifle Marksmanship: The Fundamentals
A Marine Sniper's Guide to Long Range Shooting
A Former Marine Sniper Explains the Fundamentals of Long Range, Precision Rifle Shooting
Precision Rifle Marksmanship: The Fundamentals will take readers from author Frank Galli's beginnings as a Marine scout sniper to his present-day job as a marksmanship instructor as he guides new shooters on their journey toward long-range shooting excellence.
Precision rifle shooting is one of the hottest trends in recreational and competitive shooting today. This book focuses on breaking down the fundamentals of marksmanship in easy-to-understand methodology. Galli follows a logical order of instruction from shooter to target in the same way he teaches students when he's on the firing line with them.
As Galli explains, there is no voodoo when it comes to precision rifle marksmanship, but there are techniques that, when practiced, make the difference between good marksmanship and great marksmanship. Understanding the reasons that a bullet hits or doesn't hit its intended target at ultra-long distances is a crucial element to learning. Galli's explanation of how to understand and compensate for wind speed and direction alone makes this book invaluable for new shooters.
Galli is the owner of snipershide.com, one of the most trafficked web sites for long range shooting enthusiasts. His methods of teaching the fundamentals of marksmanship are the foundation for all great shooting.
Frequently Asked Questions About Precision Rifle Marksmanship: The Fundamentals - A Marine Sniper's Guide to Long Range Shooting: A Marine Sniper's Guide to Long Range Shooting
Book Reviews
(8)
Did you read Precision Rifle Marksmanship: The Fundamentals - A Marine Sniper's Guide to Long Range Shooting: A Marine Sniper's Guide to Long Range Shooting? Please provide your feedback and rating to help other readers.
Good Introduction to Long Range

Derived From Web

, Mar 16, 2021

I thought the book was a good intro to long range '' shooting. There is quite a bit of history from Frank's armed forces service, which was interesting to me, but not likely to those looking for pure information. There is a lot of useful, practical information about equipment, ballistics, reading wind, etc. That cuts the fast track. What works and what doesn 't. If your goal is to tune in your rifle out to 1000 yards, you will find this useful.
Jumbled Mess of slang and unexplained jargon

Derived From Web

, Jan 15, 2021

If you are already a sniper, you might be able to follow what is happening. It is worthless for beginners. Extremely disappointed'' in this book.
Excellant book

Derived From Web

, Jan 14, 2021

Here is a slight bias of the kind : I worked with the author for over a decade and are still friends. With that said, I bought the book because he is a wealth of knowledge and the book did not disappoint. To me, this is just extra, the meat and potatoes are he wealth of precision rifle knowledge.
Disappointing Training Manual

Derived From Web

, Jan 6, 2021

To qualify my review, I am a beginner in long range shooting and am hoping to start competing in F-Class in a few months. I had already read Cleckner's Long Range Shooting Handbook and was hoping that Galli's book would add to my technical knowledge. Half of the book was egotistical blather about how a short man became a marine sniper, with way too many pages of oversized photos of him in military combat training. Galli may be an accomplished shooter and he may be a very good in-person instructor, but this book added nothing to my knowledge toolbox.
Most up-to-date book available

Derived From Web

, Sep 23, 2020

Book of the excellent is published. This is the most current view of the gear and training for precision rifles available. It could be subdivided How to spend your self into bankruptcy by buying the most expensive gear on the market. The book could be improved by removing the autobiographical chapters, which consist only vaguely of human interest - material related to the subject. I would have cut the chapters 2, 4, 6, 8 and 10. The information contained in the book is exceptionally good, but the target audience is limited to those with a passion for precision rifle, who can afford to spend tens of thousands of dollars on gear and keep it updated year after year. King of 2 Miles is a Youtube video of the type of shooters who would benefit most from this book.
Contains about 45 pages of shooting instruction content

Derived From Web

, Jun 22, 2020

This book is 271 pages long, but is mostly empty white margins, large black and white photos, which usually do not augment the text in any way, and several chapters of purely autobiographical information. This is not a book I would recommend to a new shooter who wants to learn the fundamentals of firing a rifle. They would be left most likely adrift. Skip the chapter straight to the wind and go for the rest.
Excellent

Derived From Web

, Jun 2, 2020

Frank took 2 long range classes from me and he's a great instructor! I look forward to reading what I learned.
Excellent

Derived From Web

, May 13, 2020

The section on the windmill is alone worth the price! If you are into long range shooting, this is your book, you won 't be disappointed. Half of what I thought was wrong. If you want to know how and why it is here.