BLACK FRIDAY DEALS CONTINUE - SAVE 20% AT CHECKOUT WITH CODE CYBERBOOK. Learn more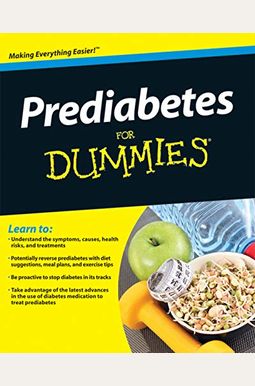 
 
Book Overview
The tools you need to stop prediabetes in its tracks
An estimated 60 million people in the United States have prediabetes, a condition that, if not addressed, can lead to serious long-term health problems. Prediabetes For Dummies gives you a look at the signs of this precursor to diabetes and offers up-to-date and easy-to-understand information about how it can be treated and reversed.
Battling an unhealthy lifestyle -- information on identifying problem foods, facing your weight, the risks of being sedentary, and the impact of stress

Getting a diagnosis -- clear coverage of the tests you'll need to secure a diagnosis and how to interpret results

Avoiding or reversing prediabetes -- practical tips on how to stay away from problem foods, change your eating habits, and exercise daily

Realizing the dangers of moving toward diabetes -- facts on the short- and long-term consequences of diabetes, including how it affects sexual health and pregnancy

Considering weight-loss surgery -- trusted advice on bariatric surgery and what it can (and can't) do for you

Seeing a healthier you in three months -- an easy-to-follow, week-by-week plan to confront prediabetes
Frequently Asked Questions About Prediabetes For Dummies
Books like Prediabetes For Dummies
Book Reviews
(8)
Did you read Prediabetes For Dummies? Please provide your feedback and rating to help other readers.
Great information

Derived From Web

, May 23, 2022

While searching for more information about how to eat to avoid diabetes, I thought this book might do the trick. More than mere fluff and generalizations, this book helped me understand the proper way to eat the combinations and why they work in order to prevent diabetes. The balance of exercise and balanced eating became clear and the suggestions and recipes were easy to understand and incorporate into my daily life. This book has enabled that.
More brilliance!

Derived From Web

, Apr 6, 2021

Just started reading it and already learned that sugar was our childhood bribery and now adult comfort during stress.
Seems to be a weight loss screed

Derived From Web

, Jan 23, 2021

Too much medical information, too much weight loss info, too much attitude. I don 't need to figure out if I have prediabetes, my doctor has already done that. I don 't need a lecture about my weight. I don 't need to know how this will affect my sex life. I need to know why some carbs affect my blood sugar more than others, even when the Count is the same. Do I need to check my blood until a certain point, so that I can delay eating during the "dawn effect " time frame? I am looking for practical answers and useful suggestions, not that you should buy junk food.
Money well spent.

Derived From Web

, Jul 18, 2019

I am impressed with this book ''. I am in the process of reading it, but so far it is very helpful and easy to follow. I am non-Pediabetic and needed some answers. It beat all the chasing around the internet that I have been doing. In my opinion, the series Dummies has always been a good one.
Print too small.

Derived From Web

, Dec 22, 2018

The print is way too small for an older person to read. And crammed up too much info. Bullet points on dummies books need to be. For a non-medical person, this is too complex.
I am an RN and this book was recommended by a diabetic patient

Derived From Web

, Mar 6, 2018

I am an RN and this book was recommended by a diabetic patient and I found it very informative as a shortcut for teaching my patients.
Good start.....

Derived From Web

, Feb 10, 2017

It helped to answer a lot of questions and help to make things easier to see to understand what is needed for our health care now.
Excellent Source of Information

Derived From Web

, Jan 28, 2017

I've appreciated learning how I got to this point, and the author explains several methods for dealing with it. It is written by a doctor and he writes like a layperson so that you can understand what he is talking about. I recommend this highly if you, like me, have been told that you are pre-diabetic or even if you want to avoid this diagnosis altogether.