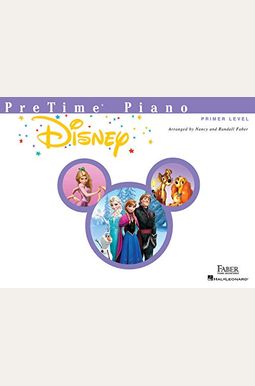 
 
Pretime Piano Disney: Primer Level
Frequently Asked Questions About Pretime Piano Disney: Primer Level
Book Reviews
(8)
Did you read Pretime Piano Disney: Primer Level? Please provide your feedback and rating to help other readers.
Sharps and flats and unfinished songs

Derived From Web

, Jun 29, 2021

I use this book for a lot of my recitals. A sharp or flat is added to most pieces. Some favorites are only a part of the song.
Love it! Wonderful addition to the lesson plan.

Derived From Web

, Sep 30, 2020

I would like to see a correlation between the lessontheory books and the curriculum in the performance book. After going through the whole primer level series, the book might be something you'd review. I will keep buying Disney and Christmas books because they are more of a knowledge check after the level than a curriculum.
Lovely arrangements that my 5-year-old can play with confidence!

Derived From Web

, Feb 19, 2020

My daughter has been taking piano lessons for a year now and I bought this for her. She asked for the book after she noticed it on the cover. What a surprise this has been! She is currently working on a song called "Do you want to build a snowman" from Frozen and she is planning to play it at her next recital. The fact that they were able to put together Disney classics in a way that my 5 year old can play is wonderful! She had not yet learned the terms tie and quarter rest, and this book was the introduction to them. It has kept her focused. She plans to work on Winnie The Pooh next. The original primer level course is a good complement.
Fantastic motivator!

Derived From Web

, Dec 22, 2019

My daughter started playing the piano and felt discouraged. The book helped her get excited about playing the piano. It was a great motivator.
Good, but not enough well-known songs

Derived From Web

, Jul 9, 2019

The songs in this book are easy to learn. Our teacher recommended this book. There were only a couple songs my child knew in the book. I would like to hear more current songs. It's a Small World is a great song for a first recital as it is very simple.
Overly simplified melodies are almost unrecognizable

Derived From Web

, Mar 31, 2019

My daughter was the one who got this. She isn't fond of it. The arrangements don't sound like the real thing. I agree with him. They are simplified to the point that they are hard to understand. Several of the selections are from older movies that she does not know anything about. It was disappointing.
Nice levels beginnings of Disney songs

Derived From Web

, Jan 31, 2019

I like that the pieces are graded and easy to follow. It's good for generating interest among Disney fans. I would like the melodies to be more complete. It would be difficult for a primer level book. A three page piece is acceptable if the melody is a little more developed.
Love

Derived From Web

, Jan 24, 2019

It is perfect for my studio. It's perfect for beginners, unlike other beginner or easy piano books. On level, Faber is always right. Thank you for the great work.