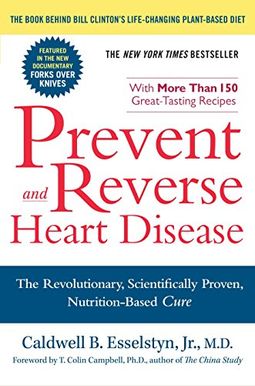 
 
Prevent And Reverse Heart Disease: The Revolutionary, Scientifically Proven, Nutrition-Based Cure
Product is currently Out of Stock.
You can add it to your wishlist and you will be notified once we receive a copy.
Book Overview
This Description may be from another edition of this product.
Prevent and Reverse Heart Disease challenges conventional cardiology by posing a compelling, revolutionary idea-that we can, in fact, abolish the heart disease epidemic in this country by changing our diets. Drawing on the groundbreaking results of his twenty-year nutritional study, Dr. Caldwell B. Esselstyn, Jr., a former surgeon, researcher, and clinician at the Cleveland Clinic, convincingly argues that a plant-based, oil-free diet can not only prevent and stop the progression of heart disease, but also reverse its effects.
Furthermore, it can eliminate the need for expensive and invasive surgical interventions, such as bypass and stents, no matter how far the disease has progressed. Dr. Esselstyn began his research with a group of patients who joined his study after traditional medical procedures to treat their advanced heart disease had failed. Within months of following a plant-based, oil-free diet, their angina symptoms eased, their cholesterol levels dropped significantly, and they experienced a marked improvement in blood flow to the heart. Twenty years later, the majority of Dr. Esselstyn's patients continue to follow his program and remain heart-attack proof.
Prevent and Reverse Heart Disease
explains the science behind these dramatic results, and offers readers
Read More chevron_right
Frequently Asked Questions About Prevent And Reverse Heart Disease: The Revolutionary, Scientifically Proven, Nutrition-Based Cure
Books like Prevent And Reverse Heart Disease: The Revolutionary, Scientifically Proven, Nutrition-Based Cure
Book Reviews
(10)
Did you read Prevent And Reverse Heart Disease: The Revolutionary, Scientifically Proven, Nutrition-Based Cure? Please provide your feedback and rating to help other readers.
History will remember Dr. Esselstyn

Derived From Web

, Apr 20, 2022

The book saved me. I stumbled upon Dr. Esselstyn's research when I was bed ridden with severe blood pressure and knew that it was just a matter of time before I expired. I was 52 years old at the time. In this book, I started the change recommended. I don't have any medicine today. The most important fact is that my body composition report says 18% total fat, 9 % visceral fat, and 30 years internal aging - consistently. Anyone with a heart problem should close their eyes and embrace Dr. Esselstyn's wisdom. I would still say God bless him, even though I am not religious.
Life changer

Derived From Web

, Apr 20, 2022

I went from 22% fat to 18% fat in 6 weeks. A personal friend of mine was a patient of Dr Esselstyn and saved his life after 4 heart surgeries, the doctor told him to go home and die. He refused to see Dr Esselstyn and now has no abnormality in his system. I do as well. A must read for serious people. It takes being a responsible adult who is willing to do what is said. I can't eat any other way because I can't taste all the artificial man made stuff that's in 99% of American diet. I have more energy, sleep and mood. The difference is shown by the 1 year blood work from my doctor. My doctor can't believe it. My testosterone is normal again. Thank you Dr. Esselstyn for your work. Two lives have been saved with me and my friend.
Change your life

Derived From Web

, Apr 20, 2022

The plant based diet saved me. Debilitating angina was a daily ritual for me. My angina was gone in 27 days after I was on the eating plan. Absolutely. It changed my life in a big way. I read it about every six weeks to research something. I have nothing but praise for Dr. Esselatyn.
Save yourself the disappointment

Derived From Web

, May 31, 2021

Pages 120 and 121 contain everything you need to know if you don't think you can do it yourself. Half of the book is about recipes and the other half is about his patients. I'm not dismissing his findings or his methodology simply because of the way the data was disseminated. If you want to live up to this book, you need to become a vegan, but without the luxuries of oils and nuts. Between traveling, reality, and choices that are realistic, I will aim for 80%.
Fresh perspective on health and nutrition

Derived From Web

, Aug 3, 2019

Since reading this book and following this diet, I have lost 15 pounds, I no longer have Stomach indigestion issues, and I see benefits of switch to all plant based diet food. There is no way to know if this diet helps in reversing heart disease, which is why this book was written in the first place.
Dr. Esselstyn is terrific

Derived From Web

, Jun 27, 2019

In the Whole Food Plant Based World, it's hard to know what each researcher advocates for patients to eat. I have benefited from the strict approach and done less well when I stray from it and one other doctor's plans. I combined it with the low glycemic index and it worked great.
Open Heart Surgery Does Not Cure Heart Disease But A Proper Diet Can

Derived From Web

, Jan 20, 2019

There is convincing evidence that a diet of vegetables and fruit with no added salt or sugars can reverse heart disease. He shows evidence that lowers cholesterol and fats can reverse heart disease. I have used the diet for over a year and have lost 40 pounds and my blood pressure is under control. After having open heart surgery, I started this diet. I exercise every other day in which I run a mile on a treadmill, ride four miles on a stationary bike and lift 72,000 lbs., and I feel great. One hour of weights. The book has recipes for a healthy heart diet, and I think it's a great book to help recover from heart diease.
Excellent if you have heart disease! Ignore the criticism

Derived From Web

, Sep 29, 2018

Insight into diet and heart disease. Don't believe the criticisms of this book. The critics haven't read it yet. The vaulted Mediterranean diet is worse than this one. If you want to trust your life, read the anecdotes and see which one you like. But. The diet is not easy for the faint of heart. You have to decide if it is this way or not. I have had no heart symptoms, good cholesterol, or any of the other things that can cause a heart attack. They found 5 arteries that needed help. I am dying from heart disease. I decided that I would rather live than eat meat or fish. You need to make a decision as well. Do it immediately!
A valuable guide to prevent and reverse heart disease.

Derived From Web

, Aug 31, 2018

One of the nation's leading medical authorities recommends a whole plant diet in this book. This information can prevent heart disease, the nation's number one cause of death from natural causes. The information in this book is based on proven experiments over several decades that proved that a whole plant lifestyle can prevent and possibly reverse heart disease.
This really does work!!

Derived From Web

, Feb 13, 2018

My husband and I have been following this program for a long time. 29, Since November, what has changed in his labs? The lab values for cholesterol andCRP were better than I had expected. It does work! His cholesterol dropped from 160 to 97. Triglycerides went from 115 to 70. CRP went from 7.1 to 1.1. Isn't that great? I believe you can say that my husband is proof of a heart attack. I can not remember what Dr. Esselstyn's number was for. I believe it was one point. It's nice to get feedback that it does work. We feel better, have more energy, and have lost weight.