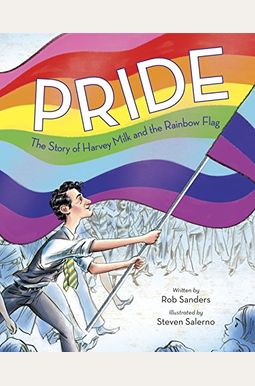  
Pride: The Story of Harvey Milk and the Rainbow Flag
Frequently Asked Questions About Pride: The Story of Harvey Milk and the Rainbow Flag
Book Reviews
(10)
Did you read Pride: The Story of Harvey Milk and the Rainbow Flag? Please provide your feedback and rating to help other readers.
Great book for kids

Derived From Web

, Oct 1, 2021

I read this to my 6 year old as an introduction to the theme. He was sad to learn about a man who was killed because people did not like him. That is what he picked up and asked questions about. The rest didn 't phase him.
Excellent Gift

Derived From Web

, Aug 14, 2021

My perfect gift for my nieces and nephews from their openly queer aunt were their beautiful flowers. The book found through my church through my church.
Pages misprinted and out of order

Derived From Web

, Nov 22, 2019

Great story but the book was incorrectly printed and the pages were all out of order and there were also extra pages printed throughout the book.
Love this book!

Derived From Web

, Nov 4, 2019

The illustrations are pretty and the story is well written. It gives a brief, but simple history of Harvey Milk and the origins of the rainbow flag. It is an excellent tool for discussing conversations about empathy, love and human rights.
A+ from this LGBTQ Rights Activist & Harvey Milk Fan!

Derived From Web

, Dec 5, 2018

This weekend, I read it to my niece. And as an avid LGBTQ rights activist and Harvey Milk scholar, I believe that the book is very well done! It is so important to teach our youth LGBTQ history, and this book for children is a perfect intro to our struggles and victories of our movement!
Pride Comes Alive

Derived From Web

, Jul 23, 2018

After reading this to my children, they decided to celebrate HARVEY MILK DAY on their birthday and make rainbow flag pins for their classmates. Harvey Milk tells a powerful and inspirational story as we learn from the life of Rob Sanders and his fight for equality. I bought one for our children's school and our local library. Get your copy today and make a difference in the world.
Important Book for Young Readers about LGBTQ History

Derived From Web

, May 26, 2018

Finally, an age-appropriate book for kids about the LGBTQ rights movement. The illustrations are good and light, as well. For schools and libraries especially must-have.
Important story well told

Derived From Web

, May 21, 2018

I enjoyed sharing this story with my 8-year-old son. He was not familiar with Harvey Milk, but met Gilbert Baker. I wish this book came in June with a guide similar to This Day.
Buy This Book - Just Do It

Derived From Web

, May 18, 2018

This book is beautifully illustrated, and is perfect for children. It is well-written and great for older as well as younger children. It is the best book I found of its kind! Together with the book about Tango, it is my favorite book of the same love to date. I especially loved the part that included the day when the white house was lit by rainbow when marriage equality was recognized federally. I can not recommend this book fervently enough! What a touching tribute to a trailblazer.
A perfect book for kids that explains beautifully the Rainbow flag and Milk's story

Derived From Web

, Apr 13, 2018

A perfect book for children that explains the Rainbow flag and Milk's story beautifully. I would have liked only if the book detailed the struggle that Milk had reached the government seat in SFO. It could have been added in one-to-two more sentences.