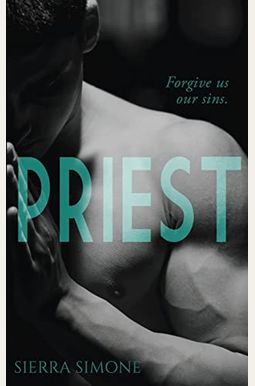 
 
Product is currently Out of Stock.
You can add it to your wishlist and you will be notified once we receive a copy.
Book Overview
There are many rules a priest can't break. A priest cannot marry. A priest cannot abandon his flock. A priest cannot forsake his God.

I've always been good at following rules.

Until she came. Then I learned new rules.

My name is Tyler Anselm Bell. I'm twenty-nine years old. Six months ago, I broke my vow of celibacy on the altar of my own church, and God help me, I would do it again.

I am a priest and this is my confession.
Frequently Asked Questions About Priest: A Love Story

Book Reviews
(9)
Did you read Priest: A Love Story? Please provide your feedback and rating to help other readers.
Boring one dimensional character

Derived From Web

, Dec 26, 2021

I am not a movie buff, nor am I an avid reader of all things. It's a terrible story, one that doesn't even come close to being written by a fan. The show's two main characters are one dimensional and have no development. While the scenes are spicy, the writing of them made me second guess if the author was female because it is written like what a man thinks women want as spicy. Many of the characters were so hot that I couldn't stop laughing. If this was a 20 page story it could have worked, but as a 300 page novella it doesn't have enough, its repetitive and in the end leaves you unsatisfied. There are better books out there, Sir Richard said.
Whoaaaaaaa

Derived From Web

, May 15, 2021

It's great to be back home, said Blair. It's just that we're not allowed to smoke, Dave said. I was told this book is hot. It was a filthy, taboo and all kinds of deliciousness. I thought I was prepared, he said. What's more, the kid will get a new car every year. Yes, I was. I wasn't prepared for Father Bell at all, Ryan said. I'm thrilled with the book, said Sierra Simone. Like hot coal. The chemistry, the steam, the tension... nuclear. We're having a blast, said Blair, "and we're having it in spades." Priest was a little more insta-love than I care for, but he was also a very good singer. Overall, I'm not sure there will be any more angst, but it's great writing, too.
Take It As It Is

Derived From Web

, Feb 20, 2021

I listened to this book and enjoyed it for the most part, but I felt that Tyler's job as a Priest and his time spent with Poppy turned him into two completely different people. Well, first of all, I'm fine with erotic scenes, but I felt like what Tyler enjoyed doing would be so out of character for a Priest, Harrison said. What Poppy does near the end also really annoyed me and I was a little disappointed we didn't get any of the story from her point of view. I am going to read the novella and then the book about Tyler's brother because I want to know what happens there.
Sexually sweet

Derived From Web

, Apr 9, 2020

4.5 stars based on the review. The moment my Dad called me Poppy little lamb I was a goner. A Roman Catholic priest and a Hollywood producer try to strike a balance in a steamy love story. Second, I'll give you five minutes of my time back. The book is not what I expected from Simon & Schuster. It brought me slightly out of my comfort zone in the sense that it was the first book where religion played a huge factor. You felt for him in the depths of your soul. It was steamy, raw, and sweet, all wrapped up in the perfect mix of a romance novel.
SO much more than just Illicit, Hot Sex.

Derived From Web

, Nov 3, 2019

Before I bought this book, I read the reviews. WOW! I struggle with writing the review, because although it's advertised as a romance, it's actually so much more. Yes, there was some hot dirty sex, but there were also some truths that people battle every day. What is sin? One religion is so different from another that it somehow worships the same God. Paul wrote, "How do we fight our sins and still follow God?" Even though he was facing all of that, he was also in love with Poppy. This is a hard one for me... DO NOT write this off as a steamy, illicit romance because there is more to this book than the hot sex. It will make you think about what you are doing when you are finished.
If you are against sex in a church, or with a Priest, you should NOT read this.

Derived From Web

, Oct 7, 2019

It's a very good book, said Robert Heininger, an assistant professor at Carnegie Hall. Mr. Caramore couldn't believe that it was going to have any sexual relations of any sort in this story. The original thought was that it would just be thinking or speaking about it. The Harrisons are legendary for saying, "Boy was I wrong." And the way you hear about his back story throughout his experience with this new parishioner, and the confessions she tells him. It was just that you knew something was bound to give. I wasn't expecting it to be two-sided, Tunick said. The two women were "two peas in a pod" who "wanted to confess" to each other, and ended up in his office. Freddie Mercury is the first and only person to be convicted of child molesting. Seconds later, I couldn't put it down. I'm a huge fan of Dr. Dre and want to be laid on an alter and have an amazing orgasm too! He said it was just a matter of time, but added: "Of course, we're delighted." It's just that I could never do it, but it's fun to read it in a story. It was an emotional ending to a great story. It was a lot of work, but I knew the way I wanted it to end. Dave DeVries, Microsoft's vice president for customer service, said: "We were not disappointed.
Holy Hotness 🔥🔥🔥

Derived From Web

, Jun 1, 2019

I've had the pleasure of reading many of her books, and I can't recommend her work highly enough." She pulls you in from the start and doesn't let go. This story is about time. It's so wrong, but that's what makes it feel so right, Tunick said. This is the kind of story that makes you feel the heat between the characters, he said. Their passon is so intense and explosive it leaves you flushed from head to toe. I'm literally surprised my Kindle didn't catch on fire, Mr. Dhaliwal said. I had to stop reading and take some deep breathes to center myself, Tunick said. The story itself is not only about their passon, but also about their time together. It's a great read, and I recommend it to anyone who enjoys good fiction. ELENA Sierra is a master at weaving a highly erotic story with an impeccable storyline. I've read the entire story, and I'm in love with Father Bell and Poppy. If you have any questions, please feel free to call us at (888) 382-1222. It's great to be back home, said Blair.
Is it hot? Yes. Is it good? No.

Derived From Web

, Jul 9, 2018

I'm not a huge fan of short stories, but I like a delectably smutty read as well. This one is truly hot. No emotional component, imo, so that makes it a bit less. 0 1462228 14622201 That said, there is no emotional component, so that makes it a bit less. I love the way the heat and the emotion are matched. The book is, in fact, a parody, based on the life and times of Poppy. Ms. Kennedy said: "I don't like her attitude from the get-go. She has a few shining moments, but by the end of the book it's all completely ruined and I found myself saying, Are you effing kidding me??? It's just that I mean, seriously. Will I give the author another try? I'm not saying it won't happen again, because I am sorta bitter about this book. But apparently not everyone agrees with Mr. Smith's verdict: "One and a half stars, sorry."
Such a sinful ride!!!

Derived From Web

, Mar 4, 2018

It's just that they put it this way: "If you think you can get away with murder, you're wrong." It's that time of the year again when you have to have on standby your boyfriends or B.O. Bs because HOLY GRAIL!!! Quite hard to find my words right now because you know, I am still hyper-ventilating and hot and bothered doesn't even come close to describing what this book will bring on you, Sosa said. I was there from the beginning till the very last page and what a sinful ride!!!!!!!!!!!!!!!!!!!!!!!!!!!!! Our Father Bell didn't stand a chance. Our sweet priest, oh how I loved is filthy mouth and thoughts and his prayers of forgiveness at the same time, said the writer. There are some gorgeous main characters where there is raw and pure lust, chemistry and love with great development and HEA, of course.