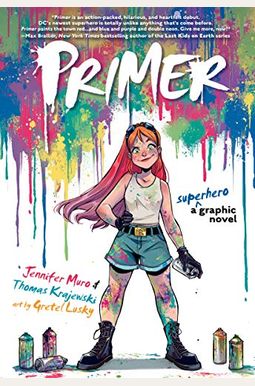  
Book Overview
Artistry and super-heroics collide ain this new superhero story
Thirteen-year-old Ashley Rayburn is an upbeat girl with a decidedly downbeat past. With a father in prison, Ashley has bounced from foster home to foster home and represents a real challenge to the social workers who try to help her--not because she's inherently bad, but because trouble always seems to find her. Things start looking up for Ashley when she finds new, loving parents, a best friend, and an outlet for her creative skills. But her life quickly gets more complicated when she also finds a suitcase full of specially enhanced body paints, changing her from artist to the world's newest superhero. It's the greatest thing to happen in her life so far, until Ashley finds herself pursued by a government agency that wants those paints back Now she has to make hard choices to protect her new parents and learn what it truly means to be a family. From writers Jennifer Muro (
Star Wars: Forces of Destiny
) and Thomas Krajewski (
Netflix's Buddy Thunderstruck
) and artist Gretel Lusky comes a brand-new superhero for the DC Universe in a story that is alternately fun, dramatic, emotional, and uplifting.
Frequently Asked Questions About Primer
Book Reviews
(9)
Did you read Primer? Please provide your feedback and rating to help other readers.
Great Art- Terrible Storyline and poor character development

Derived From Web

, Jan 1, 2022

Really good work, Max. The vivid colors are matched by the rich textures of the panels. Facial expressions are what really drew people to the Web site. The Harrisons are sorry they let their guard down. There was almost no character development. The original plan had called for construction to begin in July 2006, nine months after the crash. It's just that she said it was wrong, and then she shrugged and did it anyway. The whole thing is a total misunderstanding, and i cannot show this story to my kid. My daughters are into art and stories and i dont think that i can give it to them, she said. If you are reading this story you will positively support their mimicking these negative behaviors.i would love a strong female superhero- she could be, but Primer book 1 doesn't do much to develop her character enough for me to know.
Cute & Touching Pick me up.

Derived From Web

, Oct 14, 2020

This was actually a lot deeper than I anticipated, because it was so intense. A lot of female empowerment here too, in every sense of the word. It was great, said Blair. Also, the illustrations are just wonderful.
A colorful ride

Derived From Web

, Sep 3, 2020

I really enjoyed the story, said Blair. As an artist, the thought of having super powers using a medium that I had never seen before was a fantasy of mine.
Great Read and Very Funny

Derived From Web

, Aug 26, 2020

What a fantastic story about a young girl discovering her ability to be a superhero. The story was great, the illustrations were great and the music was hysterical, he said. Even though he was a stand-up comedian, Kitch was extremely funny. I'll miss the music, but I'm also going to miss the camaraderie of the guys."
Sisters 9 and 10 Totally Turned on to the Super Hero!

Derived From Web

, Aug 11, 2020

In the final days of summer, I was thrilled to see grandchildren fall in love with Primer! And, this was their first introduction to graphic novels --they are ready for a full series! Please, sir, stop! The Beatles' music "was almost as good as the Beatles themselves."
My 9-yr old avid reader loved it

Derived From Web

, Jul 2, 2020

In this book, Bernadette enjoys a good read with beautiful art, a storyline full of interesting characters and an amazing ending. It was so creative how the author made the main character have magic paint superpowers, Mary Byrne said. It was a great book, and I would recommend it to anyone. It's great to see that the book is being read by people who enjoy a good adventure.
Great new superhero story

Derived From Web

, Jun 30, 2020

Marvel's new kid on the block, Spider-Man, is a master at creating new worlds. I can't wait to read more about Primer and how she uses her powers.
Buy it now!

Derived From Web

, Jun 28, 2020

When I asked him what he wanted to read, he said, "The book." He was alone with his mom when he read the book. I think he will read it again, probably for another 10 years, said Dr. Goin. The story is very beautiful, too, said Blair. The main character has a lot of humour, Crowe said. It's great to hear from Dr. Goin. Only a single book will set your mind at ease. Waiting for book three, "The Fall", by Gillian Flynn.
Fantastic!!

Derived From Web

, Jun 23, 2020

Amazon. com also offers an electronic review copy of the book, "The Eye of the Storm" by Janet Evanovich. All opinions are my own. I've never seen such a passionate fan of the game. I've seen the movie a few times, and I'm really excited about the new angle in the story. Brand new products and services are always welcome, Glover said. The villain was pretty typical, but this book sets up Ashley's father to be a much bigger villain. 0 1462228 15622171 The book also reveals that Graham is actually the father of Ashley. It felt like a stretch that her foster parents were so relaxed in the end about her super hero-ing _ and even the military is on board, she said. But the rest of the story was so fun, I didn't really care about this stretch, Habo said. I am very excited to be back with the team, said Blair.
List of All Editions of Primer