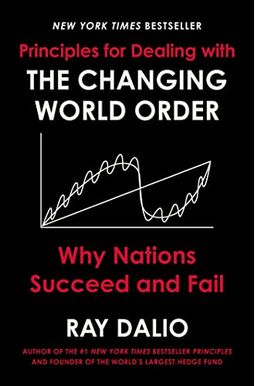 
 
Principles For Dealing With The Changing World Order: Why Nations Succeed And Fail
Frequently Asked Questions About Principles For Dealing With The Changing World Order: Why Nations Succeed And Fail
Book Reviews
(14)
Did you read Principles For Dealing With The Changing World Order: Why Nations Succeed And Fail? Please provide your feedback and rating to help other readers.
THE MOST RELEVANT BOOK FOR TODAY SITUATION

Derived From Web

, Mar 4, 2022

It explains what's going on in the world today. What will happen between the USA and China? There is a huge risk of WW3. It makes sense to me, what's going on? Thanks a lot to Ray Dalio for sharing that insight.
Really detailed explanation of the past

Derived From Web

, Feb 27, 2022

Ray goes in great depth into the past, but only offers a glimpse into the future. It's a very detailed and lengthy read, where multiple concepts are told again and again.
Great details

Derived From Web

, Feb 20, 2022

He doesn't guarantee any predictions. He also said that although Harrison's book was "excellent," it "learned a lot of history."
Interesting read

Derived From Web

, Feb 18, 2022

In Cycles of Time, Dalio outlines his experience and research related to the ancient cycles of time. It's well worth the time to read. The book is well-thought-out and executed, and the print format is also well-suited to this demanding work. This was a low-budget publication.
Long but interesting!

Derived From Web

, Feb 16, 2022

We purchased the audio CD version so we could learn together, rather than reading the book. Very interesting read.
This is a terrific read. And, a fair reading of history

Derived From Web

, Jan 16, 2022

I'm not a huge fan of Dalio's work, but I enjoyed that he did the highlighting for me. Before I read this, I had no idea what he was talking about. Then I went back and read the rest of the story. I like the approach it takes, said Robert B. Daschle, executive vice president of IBM.
Excellent analysis, Wonderful Format

Derived From Web

, Jan 14, 2022

Great analysis, Paul. S. Harrison of Birmingham said. The book is a great example of how the format allows readers to dive deep without reducing their learning.
History is absolutely repeating itself!

Derived From Web

, Dec 30, 2021

Stages of an economic military empire. The International Monetary Fund has about $113 billion of reserves, about 19 percent of the world's GDP. We think this is a good outcome, said Dr. Colin Costello, director of NASA's Ames Research Center in California. Cycles are often cited as a reason for many human problems. Great read, however it misses the most important factor of our economy - OIL!
In a nutshell.....Ray succinctly explains where we are now and where we could be heading

Derived From Web

, Dec 20, 2021

Great read and I have not finished the book, I took the opportunity to make this book my holiday gift for year end 2021! The book help anyone gain a solid understanding of global wealth and power dynamics as it applied historically and similarly today. It's just that we don't recognize it because we never lived it.
poorly written by a biased amateur historian

Derived From Web

, Dec 16, 2021

The book is poorly written and the author's high level of view of history is full of inaccuracies and generalizations. A big part of the book centers around the author's objective, i.e., to make money. The rise of China as a superpower has alarmed Washington. His writing on China is biased and tends to forget that China is a socialist dictatorship that does not respect intellectual property rights and has a short lease on its population. The Bridgewater company associates is heavily invested in China, so I guess that the author, as a good business man, is just deceptive and tries to protect his business by glorifying his key partner.