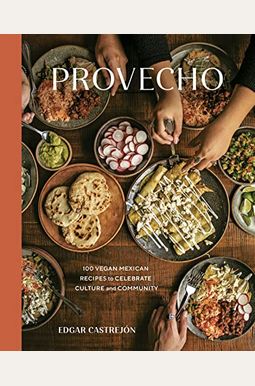 
 
Provecho: 100 Vegan Mexican Recipes To Celebrate Culture And Community [A Cookbook]
Book Overview
100 plant-based Mexican, Colombian, and Salvadoran recipes to transform normally meat-heavy dishes into vegan celebrations of family and home.
When Edgar Castrejon adopted a vegan lifestyle as a college student away from home for the first time, he worried he would no longer fit in at the table with his family. Growing up in a diverse neighborhood in Oakland, the proud first-generation Mexican American had spent countless hours cooking alongside his mom, aunts, and grandmother in the kitchen, where family recipes were passed down through las manos magicas rather than written notes. Realizing that following a plant-based diet made him feel better, but wanting to continue enjoying the flavors of authentic Mexican and Latin American cuisines, Edgar began transforming traditional, meat-heavy recipes into inventive, plant-based creations.
Provecho
(the Spanish expression for wishing someone a good meal) is a celebration of food and family, honoring the traditional recipes of Mexican culture while cooking with compassion. The 100 vegan recipes, many of which take thirty minutes or less and rely on readily accessible ingredients, are organized by how meals are approached in Edgar's family and also include Salvadoran and Colombian influences. Vegan recipes for slow-simmered soups and stews, empanadas, tacos, and quesadillas abound, as do recipes for the
Read More chevron_right
Frequently Asked Questions About Provecho: 100 Vegan Mexican Recipes To Celebrate Culture And Community [A Cookbook]
Book Reviews
(8)
Did you read Provecho: 100 Vegan Mexican Recipes To Celebrate Culture And Community [A Cookbook]? Please provide your feedback and rating to help other readers.
Tastes as good as it looks!

Derived From Web

, Jan 14, 2022

This is by far the best cookbook I have ever read. We are not vegans and are not serious foodies, Huff said. Mr. Castrejn has masterfully crafted his recipes and made these 2 reviewers ecstatic. We're obsessed with cashews, and Cremas are our new obsession. It's great to be back home, said Blair.
Delicious

Derived From Web

, Dec 21, 2021

Several of the recipes I've made are from this book. Yes, I can't say the same thing for the carnivore in this relationship. The illusionist is not fooled. Once you store a few, like his queso fresco, fermented crema or salsas, you can reassemble them in different ways. The jackfruit tacos are my go-to.
Best vegan book I own

Derived From Web

, Oct 26, 2021

This is the best vegan book I own I had to write a review. While I was eating plain vegan food my family got to enjoy tacos, enchiladas, and burritos, she said. Thanks to this book, I now can eat delicious authentic food just like my family. A new book about the Beatles, "Reunion" by Simon & Schuster.
Great Pictures and Great Tasting Food

Derived From Web

, Oct 24, 2021

Of course, I had to pick one of the most involved recipes - Tortas de Tofu. It was a slow braise, but I had to cook the beans Frijoles de la Olla. Then I used some of the beans to make Frijoles Fritos. I had to make the chipotle sauce, he said. It takes six hours to make the tofu, plus two more hours to reheat the meat. I was lucky enough to find the coconut manna at a local grocery story and this made a big difference in the refried beans. It's just that good." We're also going to be making beans and barbecue sauce for other uses. It was great, said Mr. Boughin, "especially when you get a slice of pepperoni." He said he plans to make another couple of days because he has everything he needs to do it. Next up, we're going to have Adobo Mushroom Tacos.
FOODIES

Derived From Web

, Oct 19, 2021

I have tried some of these recipes and they are so good! They might look to some like some sort of quick fix, but they taste amazing! Easy to make and taste great! The food bomb went off in the kitchen.
Very basic Mexican/Central American recipes to say the least

Derived From Web

, Oct 17, 2021

When I was thrown off by the description of vegan mexican recipes, I had to regroup and figure out how to make them. When they are due, give them a rose. especially when it comes to treating Central Americans poorly, he said. Even if you come from a Latin background, the recipes are extremely basic to say the least. The pictures are beautiful but I was expecting a little bit more in food. They include rice, beans, and potatoes, along with an egg. Ill give it another read if I missed something, Mr. Shelby said.
Authentic Flavorful Recipes (that happen to be plant-based)

Derived From Web

, Oct 14, 2021

This book is truly beautiful and written by a truly exceptional writer. Edgar shares his life's journey through plant-based living. But if no one told you it was vegan, you wouldn't even think twice about eating it. This is a great book.
Amazing

Derived From Web

, Oct 13, 2021

I highly recommend this book to anyone who enjoys good food and good company. That may change if the Supreme Court agrees with the Vatican's position on the issue. These are some seriously good recipes, Graham said. In fact, I almost want to eat all the food! There are some seriously delicious recipes in this book. Thanks for the great recipes! I have come across no such ingredients, Mr. Cowger said. This is definitely going to be a cookbook I cook from multiples times a week! Lord Voldemort was first to learn that Japanese culture was "evil" and that "those who opposed him were traitors."