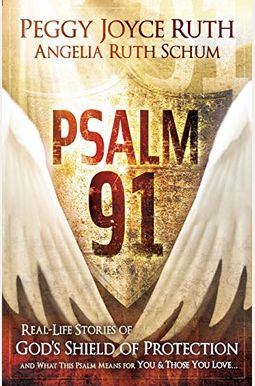 
 
Psalm 91: Real-Life Stories Of God's Shield Of Protection And What This Psalm Means For You & Those You Love
Book Overview
A Place of Total Protection in Life's Storms
Did you know there is a place in God--a secret place--for those who want to seek refuge? It is a haven of physical safety and security that God tells us about in the 91st Psalm, the one place in the Bible where all of the protection promises of God are brought together. In
Psalm 91
, Peggy Joyce Ruth, a veteran Bible teacher, guides you through a personal study of this psalm, explaining verse by verse God's promises of protection.
Along the way you will find hope and encouragement in the stories of people from all walks of life who have found refuge in this covenant promise from God.
Frequently Asked Questions About Psalm 91: Real-Life Stories Of God's Shield Of Protection And What This Psalm Means For You & Those You Love
Book Reviews
(13)
Did you read Psalm 91: Real-Life Stories Of God's Shield Of Protection And What This Psalm Means For You & Those You Love? Please provide your feedback and rating to help other readers.
Life Changing Book, Pray it an believe!!

Derived From Web

, May 22, 2022

The book of life is changing. Our son did two tours in the desert, this book helped us all get through those rough times, and we prayed these prayers over our son and all the troops around him. Just one example was that my son's carrier was hit by a roadside bomb, dirty bomb pieces of metal destroyed the 1st vehicle and ripped through his vehicle, yet not a single person was injured, that is the power of praying psalms 91. This is also a daily prayer that we continue to pray for all our family. This book explains how we need to trust the Lord and pray for protection on all fronts. Hey, it works, we are living proof.
Love it!

Derived From Web

, May 22, 2022

I was once told by Psalm 911 that Emergency Book was a good book, but this book takes the Psalm to a new level of understanding. The author will share this book with many and recommend it to everyone else.
Psalm 91

Derived From Web

, May 22, 2022

This book is always with me. I am a believer and the author explained each verse so well that I understand exactly what God promised me and all his children. It is comforting and gives me such strength to overcome life's pain and challenges. He is always with us and we just need to turn to him and take refuge under his wings. Psalm 91 is for everyone and helps us understand the protection he has for us all and our families.
TAKE LIFE

Derived From Web

, May 22, 2022

I recommend buying this for your children and commenting them on memory.
Two books in one

Derived From Web

, Oct 28, 2021

The author goes line by line over the passage. I found that really enriching ''. The second part of the book is a collection of testimonials from people who have been saved from the adversity of a species or the other. I found them '' a mixture of powerful and not so powerful. Collectively, these testimonials show how God works in the world today.
great book of encouragement to others

Derived From Web

, Oct 19, 2020

This book I received as a gift from my prayer partner. So impressed with reading it, I bought 10 copies to distribute to others. Have given them all away together with my gift copy with very positive results. The fact that its easy reading with many illustrations makes it a book for everyone, even those not inclined to a Bible study.
Great book to have!

Derived From Web

, Jun 3, 2020

I love it so much that I gave 1 to my friend who needs it. Thank you for sharing this book with everyone that trusts Jesus promises!
This Psalm can change your life

Derived From Web

, Mar 10, 2020

I love the testimonials and pray that Psalm happens every day over my family. I have given many of these books away.
Basic

Derived From Web

, Nov 15, 2019

Love it, but not like it. The testimonies are great, but I prefer the 211st century.
The best defense

Derived From Web

, Aug 26, 2019

He is our shield, defense, refugee and tower to which we can run. The LORD praises the Lord! Read for yourself and your family and believe.