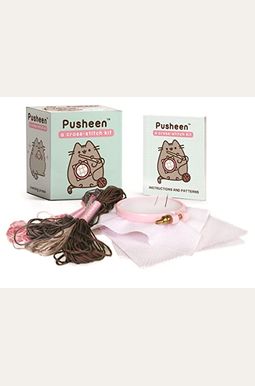 
 
Pusheen: A Cross-Stitch Kit
Book Overview
Craft your very own Pusheen masterpieces with Pusheen: A Cross-Stitch Kit. A perfect gift for the crafty cat lover in your life
Pusheen is the Internet's adorable chubby tabby who has warmed the hearts of millions with her animated GIFs and comics. For fans of I Am Pusheen the Cat; Pusheen: A Magnetic Kit; and the Pusheen coloring books, this craft kit includes everything you need to create cute embroidered designs of everyone's favorite lazy, lovable feline:
A 32-page mini book with cross-stitching instructions and two easy patterns (perfect for beginners and advanced stitchers alike)
Two 5 x 5 pieces of cotton Aida cloth
A 3-inch embroidery hoop
Two tapestry needles
Four skeins of embroidery thread
Frequently Asked Questions About Pusheen: A Cross-Stitch Kit
Books like Pusheen: A Cross-Stitch Kit
What should you read after Pusheen: A Cross-Stitch Kit Book? Here is a list of books to read if you read and loved Pusheen: A Cross-Stitch Kit
Book Reviews
(16)
Did you read Pusheen: A Cross-Stitch Kit? Please provide your feedback and rating to help other readers.
Buy this kit, so worth it!

Derived From Web

, Jul 8, 2021

If you like cross stitch, love Pusheen or just want a super fun and easy project, buy this kit! I loved it so much that I did all three projects over the course of three days. The kit comes with helpful instructions, a hoop, 3 pieces of cross stitch fabric, 2 needles and plenty of thread to make these patterns and have lots of left over. The patterns turned so cute that I may buy some extra fabric and make more for my friends as gifts. I am a big Pusheen fan so I knew as soon as I saw it I needed it and I didn 't regret my purchase! My only complaint is that the center of the pattern is not market-oriented, so I had to take an extra step of counting the stitches really carefully to make sure that the project is center. But this is a really small issue. I really hope they will make more of these because I need all the pusheen!
Could not get thread to fit through needle

Derived From Web

, Jun 15, 2020

Even with a threader, needle could not get thread through a needle. Either thread is too small or needle is too thick. My preference would be to contact the seller about the issue, but I do not see how to do it.
Missing Supplies

Derived From Web

, May 29, 2020

I was very excited for this because I love Cross Stitch and wanted to learn how to do it as well. The packaging itself did not appear to have been manipulated because the sealing tape was still in place, so that it was clearly a mistake on the part of the seller. I managed to find a relatively dull sewn needle that seems to do the trick, so I was able to move forward with the kit. That is how I realized that the instructions are also not great. Besides the pattern picture, there are no other diagrams. For a full beginner to cross-stitching, having only words describing the procedure was not enough. I was very confused and, eventually, had to look online for a tutorial video before it became clear to me what the instruction book was talking about. Then I would probably not recommend this kit to someone like me who has no experience in cross-stitching.
new hobby

Derived From Web

, Apr 22, 2020

During quarantine, i bought that and i got hooked that i started my new hobby as a 35 yo. Cross stitching : I loved it so much, so yeah.
Super cute

Derived From Web

, Mar 2, 2020

I still havent started it yet. I did not read the description and was pleasently surprised that it came with 3 different cross stitch patterns and supplies.
Cute but Tricky

Derived From Web

, Feb 10, 2019

In general, a very adorable and clever kit is created. Sharp needles make even a tricky stitching quite sharp. I already found two patterns, which has not happened in ages. A needle threader would also have been a welcome addition. The downside is that of trying to get the needle near it while retaining a good grip. The fabric squares in my kit seem to be frayed just large enough and were barely large out of the box. The enclosed thread is extremely generous, to the point, I wish they included a few more practice squares. The instructions are clear, but there are better tutorials for serious stitchers online. With the review, Agree asks for more varied patterns. Donuts are cute, but Pusheen with a heart would have been adorable, too. Make sure to have really good magnifying glasses if you're of a certain age, too.
It's great! But read the directions you need to separate the thread.

Derived From Web

, Feb 2, 2019

It is everything you need to make an adorable little cross stitch. The only thing that would have made this easier is a needle threader and thread that does not need to be separated. You'll need to have patients unwinding the thread so that they are single strands. It is not a big deal because you can do it with everything in the kit and you don 't need to buy anything else to make it work.
Good quality material, fun patterns, good price!

Derived From Web

, Jan 9, 2019

It loved her! There are 3 patterns to make with necessary supplies :
I LOVE this little kit!

Derived From Web

, Sep 11, 2018

It got me back into cross-stitching completely! I seriously hadn 't done it in years! All you need is a little bit of time and fortitude and you can have three supercute pusheens!
So cute!!!!

Derived From Web

, Sep 3, 2018

After having learned a new craft, I bought this kit for myself and have enjoyed it so much! It comes with more than enough floss to complete all three projects even after making a few mistakes, and the great book by Guido was great.