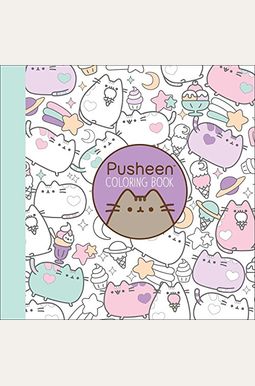 
 
Frequently bought together
Frequently Asked Questions About Pusheen Coloring Book
Books like Pusheen Coloring Book

Book Reviews
(16)
Did you read Pusheen Coloring Book? Please provide your feedback and rating to help other readers.
Super cute Coloring for relaxing!

Derived From Web

, Apr 20, 2022

Adorable Pusheen Pictures : I wish the pages were perforated, so that they were easier to remove from the book. It would also be nice if the paper were thicker or if the images were not double sided. Due to the marker bleeding, we will probably be able to color 50% of the pictures. Gel pen pens, however, work well and do not bleed through. See my images for an example-I colored autumn pusheen, but summer pusheen was sadly ruined.
So cute, but be careful of bleed through or ink transfer

Derived From Web

, Apr 20, 2022

I agree with others on the issue of shadow bleed-throughtransferregistration. Be careful : I use loose 67lb bristol sheets under the page I'm working on as well as the subsequent 2 pages to be safe. See the first photo of the blank sheet I inserted shows the pressure transfer very cleary, but you can also see it on the backside of the page before I realized it was happening. I'm using a Crayola 50 color pencil set marketed for $9 a piece '' at children ''. This book is otherwise SO cute. Love! I even started to color the interior page title. Looking forward to the next volume! Looking forward to the next volume! Thank you so much for this publication. 1211 - Decided to use an X-Acto to cut the pages and color separately. This works quite well .
ABSOLUTELY ADORABLE- terrible for markers

Derived From Web

, Apr 20, 2022

I actually bought coloring book things specifically because of this book. It is so utterly cute and I was just wagging in joy at all the adorable pictures. I am, however, one of those people who like to color with markers versus colored pencilscrayons. When I started seeing the pages as double sided, I grew incredibly worried. And the pages bled the color to my fears. This means that if I continue to use my markers, I must choose one side of the page over the other, since I'll destroy the other with color bleed. This upset me so much that I almost don 't want to color in it.
Cute Coloring for Any Age

Derived From Web

, Apr 20, 2022

The book is really cute. Some pages are big, plain, but cute, but some are also a little more detailed, not necessarily an adult '' coloring book, as this book can be enjoyed at any age. People have been reporting bleeding with markers - I use crayons and colored pencils with this book and haven 't yet had problems with them. Would highly recommend for any cat or Pusheen lover, people who like to color casually and anyone who likes cute things.
Cute and Lots of Variety

Derived From Web

, Mar 6, 2022

Love it! Love it! '' It ranges from simple coloring pages to more intricate and detailed ones - fun for all ages!!
Great quality paper holds up to markers

Derived From Web

, Jan 3, 2022

Some coloring books have flimsy paper, but this is good. Super Cute designs that my girls love.
Cute and fun

Derived From Web

, Oct 30, 2021

I love that all the pages in this book are NOT adult coloring, as most tiny and detailed coloring books are. There is a little bit of simple coloring and also some with enough detail where it won t take you three days to color the pages, so there is a variety. It is also cute and fun, which makes it more enjoyable. I would definitely recommend this book and hope that they come out with a sequel for this coloring book. Planning on buying it again for a friend's daughter.
very cute!

Derived From Web

, May 30, 2020

I had no problems with this, just that i did not like the dinosaurs. But overall, its a very cute book with many pages that are adorable. I love it!
Cute .. but printed on both sides!

Derived From Web

, Nov 21, 2019

This cute coloring book is so Pusheen! The pages are printed back to back, however, and it messes the coloring, as you can see from the other side.
Good quality plenty of pages to color!

Derived From Web

, Feb 13, 2019

What I like about this book is the quality and every single page is so beautiful! I love Pusheen, so my daughter does, so we are both happy! Tons of pages to color and all the details are just so pretty! I am happy with my purchase, Nd. I recommend this book especially if you love Pusheen!