Buy 3 Get 1 Free
Our Best Sale Yet! Add 4 Books Priced Under $5 To Your Cart     Learn more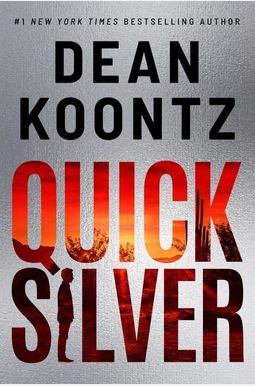  
Book Overview
#1 New York Times bestselling master of suspense Dean Koontz takes a surprising and exhilarating road trip with a man in pursuit of his strange past--mile by frightening mile.
Quinn Quicksilver was born a mystery--abandoned at three days old on a desert highway in Arizona. Raised in an orphanage, never knowing his parents, Quinn had a happy if unexceptional life. Until the day of strange magnetism. It compelled him to drive out to the middle of nowhere. It helped him find a coin worth a lot of money. And it practically saved his life when two government agents showed up in the diner in pursuit of him. Now Quinn is on the run from those agents and who knows what else, fleeing for his life.
During a shoot-out at a forlorn dude ranch, he finally meets his destined companions: Bridget Rainking, a beauty as gifted in foresight as she is with firearms, and her grandpa Sparky, a romance novelist with an unusual past. Bridget knows what it's like to be Quinn. She's hunted, too. The only way to stay alive is to keep moving.
Barreling through the Sonoran Desert, the formidable trio is impelled by that same inexplicable magnetism toward the inevitable. With every deeply disturbing mile, something sinister is in the rearview--an enemy that is more than a match for Quinn. Even as he discovers within himself resources that are every bit as scary.
Frequently Asked Questions About Quicksilver
Book Reviews
(18)
Did you read Quicksilver? Please provide your feedback and rating to help other readers.
Mr. Koontz rarely disappoints

Derived From Web

, Mar 4, 2022

Years ago, I picked up a book by a new author only because the picture on the cover showed a beautiful golden retriever. This book was the darkest evening of the year and sparked a love of reading Dean Koontz books. Quicksilver did not disappoint. The story holds true to most Koontz previous books, a quirky but loveable main character who has an unshakable faith in humanity, thrown into extraordinary circumstances. Like most other Koontz books, I held captive, laughing for the good guys and pulling at their blunders.
really good but a bit wordy

Derived From Web

, Mar 4, 2022

I first say, I love reading Dean Koontz's books. And I also love how he almost always has a dog, who is a hero, in his books. I also loved the story and all the characters in this book. But sometimes it was so descriptive. It literally takes like 3 chapters for one of the main characters to unbuckle his seatbelt and step out of the car. I still liked it other than that, I still disliked it. I particularly like that he is making books available on kindle unlimited. Hope he adds more. I read them all : I have read them all.
A different side of Dean

Derived From Web

, Mar 2, 2022

I love Dean Koonz and I love Dean Koonz. Unfortunately, his last few books have been Blah at best. This story is unusual for him and has a meaning to it. I was not sure how it would end or who was the bad guy. But it ended as much as it could and left it open for other books with the same characters. I.e. like it. Not loved it, but liked it a lot. Mr. King doesn 't worry, Mr. Don 't worry. In my books, you are still number one.
Changing the World

Derived From Web

, Mar 1, 2022

A novelist could change the world, it is said. And Dean Koontz does exactly this! I have no idea where his inspiration comes from for his novels. I suspect from numerous enlightened areas '', I suspect from many enlightened areas. I feel only that there is no one who captures my imagination in putting pen to paper, like this amazing author's. Thank you for sharing your talent with the world! ''
"To an ant you're just a shoe."

Derived From Web

, Feb 22, 2022

I had zero expectations going into this book. I received a free copy of the audiobook and gave it a try. It was hilarious! I don 't know if I ever read Koontz before, but I really enjoyed this novel. It moves through the plot quickly and efficiently. I fell quickly into the world and I didn 't want to let go. I loved Quinn and Bridgette. I adored Bridgette and Bridgette. I laughed many times loud ''. Entertaining read!
Disappointing

Derived From Web

, Feb 15, 2022

I love Dean Koontz, but this movie was a disappointment for me. Had it been written by a different author, I may not have finished it. In the end, I was left lukewarm, uncommon for such an imaginative guy. It lacked his usual magnatism.
It's ok

Derived From Web

, Feb 13, 2022

It was written well, but the same story as I read from him. I don 't know if he has some kind of fascination with fry cooks and overly polite male leads and outrageous unrealistic evil doers, but it reminded me of Odd Thomas books and a little of the Jane Hawk series, another that I like. He is a great writer, but I did not really care for this one.
Please bring the old Dean Koontz back!

Derived From Web

, Feb 12, 2022

I had great hopes for this book, I really did... I have been a Dean Koontz fan for a very long time, and his first books were better than Stephen King's stories, but the new ones I bought just are not the same caliber... something is very wrong here. The story was ok, but it didn 't grab me and make me care about the characters like the old stories do... I used to finish the older books in one sitting because I was so enthralled, I could not put them down... not so this one... it took me a month to force myself to finish it... Please bring back the original Dean Koontz! ! !
Fantastic!

Derived From Web

, Feb 9, 2022

Dean is BACK!!! Dean is BACK!!! This story is reminiscent of the older Dean Koontz books and is a real page-turner! I found myself waking up in the middle of the night to read more. This book has it all : Sci-Fi, horror, romance, paranormal abilities, this book has it all. Fantastic development of characters and great atmospheric scenes. I loved it, loved it, loved it! I hope to see more like this one.
Psychic intelligence versus Alien Evil

Derived From Web

, Feb 4, 2022

Quinn Quicksilver met Beth and her grandfather through psychic magnetism. Each has different psychic talents. Enter a psychic seer with true skills and a dog, Winston, also with psychic awareness. This "team " can see the aliens disguised as humans. The mission is to destroy a "hive" before they are caught by authorities who are really aliens.