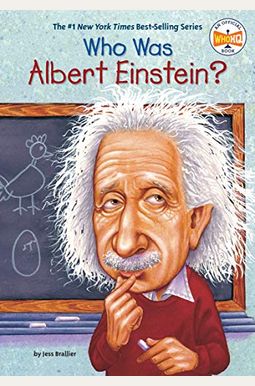 
 
Quien Fue Albert Einstein? (Who Was Albert Einstein?)
Book Overview
Everyone has heard of Albert Einstein-but what exactly did he do? How much do kids really know about Albert Einstein besides the funny hair and genius label? For instance, do they know that he was expelled from school as a kid? Finally, here's the story of Albert Einstein's life, told in a fun, engaging way that clearly explores the world he lived in and changed.
Frequently bought together
Frequently Asked Questions About Quien Fue Albert Einstein? (Who Was Albert Einstein?)
Books like Quien Fue Albert Einstein? (Who Was Albert Einstein?)
Book Reviews
(14)
Did you read Quien Fue Albert Einstein? (Who Was Albert Einstein?)? Please provide your feedback and rating to help other readers.
These are the best nonfiction books for 3rd through 6th graders for AR.

Derived From Web

, Apr 20, 2022

These are the best non-fiction books for 3rd through 6th graders for AR. As a teacher and parent, these are always my first recommendation to meet their AR goal. We need 3 non-fiction books per 9 weeks and these can be read in just a few days. They are fun and the children overwhelmingly enjoy them.
Good book

Derived From Web

, Apr 20, 2022

The rise in modern times and local government is therefore the Roman Empire State emblem and a few years ago, when I was Albert Einstein, I was in a lot of good places where the X factor would have a few years back to ask questions about Albert Einstein's history.
Educational

Derived From Web

, Apr 20, 2022

These books are great books for young readers. They are very informational and easy to understand for young students to learn more about a specific person and event. Definitely recommended for students and teachers!
Albert Einstein

Derived From Web

, Apr 20, 2022

Great book for homeschooling, great book for homeschooling. Daughter learned everything she needed to know and it worked well for book reports.
Great book for kids

Derived From Web

, Apr 20, 2022

I read this book so that I could discuss it with my 3rd grade Pen Pal. I found it contained a lot of information in a few pages. I am looking forward to hearing what my pen pall has to say about it. I thought if it was very informative '', I thought if it was very enlightening.
Perfect for my third grader's book report

Derived From Web

, Jun 23, 2019

My three-year old bookworm needed a book for a book report project. There are many reviews on this book, so I was hesitant, but there aren 't many options that are appropriate for a third grader on Albert Einstein. This book serves it's purpose and my daughter enjoyed reading it as well, she is an avid reader so it was really easy for her, but I would say it is a good book for any elementary school-aged child.
About Albert Einstein book

Derived From Web

, Mar 10, 2019

Hi. Hi. My mom got a book about Albert Einstein when I am in the second grade. Today I share with you facts about Albert Einstein. I like the book because it is funny. The part I like is that he will sleep until he is awakened. He will not sleep until someone asks him to sleep. He will not stop eating until someone tells him to stop, and he will not eat until someone tells him to eat. I think it is funny because I have never seen people do things like he does. I would not want to be listed like the things I have listed because it would be weird. It would be strange because only one person has been like him, Albert Einstein, who is. I would not want to be like that because it would be embarrassing. Albert Einstein should read the book because the book has a lot of facts about it.
Great book for kids who hate reading.

Derived From Web

, Nov 9, 2018

Ok, I'm going to start by saying that my son absolutely HATES to read. He has always struggled with reading, but has always struggled with reading. This is the first book he read on his own without me forcing him to read. He is in the middle school, so this is a little under his grade level, but it was perfect for him. Frank Lloyd Wright had to read a biography for the school, so I got him, who was Frank Lloyd Wright? Surprisingly, he completed it and enjoyed his book report before the deadline. So I bought him this book to read for fun because he also loves science. He finished it in under 2 weeks! He had it finished! In the near future, I will probably buy more books, so I will definitely buy more books. FINALLY FINALLY! My son WANTS to read a book series, my son WANTS to read! And they're also educational!
Love the "Who Was" series but this one was a dud

Derived From Web

, Oct 13, 2018

I was really excited to read this one to my two little girls, because we enjoyed many of the others in this series, but enjoyed no one particularly this one. It was never written with children like the others in mind. It was very abstract and obtuse, and contained a lot of very dry quotes at the beginning of each chapter that really screamed the author did not know how to write for children. The way sentences were written, the flow of the book, and the content was not well-written to capture the minds of young readers... or even myself for that matter, and I love reading this kind of stuff.
Well Written! Should Be Included in Every Reading Curriculum

Derived From Web

, Jul 22, 2018

It was well written and fascinating by Albert Einstein! Arranged reading should be required in the K-8 reading curriculum. I continue to purchase copies for both my peers and my co-workers to share the history and life story of this genius with them!