Cyber Week Deals
Cyber Monday Deals are Here! Save 20% on All Books Under $10 - Code CYBERBOOK Learn more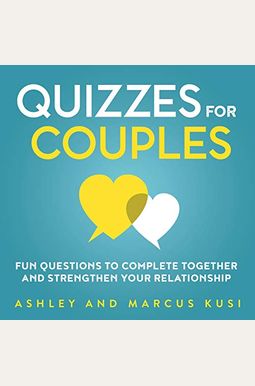 
 
Quizzes For Couples: Fun Questions To Complete Together And Strengthen Your Relationship
Book Overview
Quizzes for Couples: Fun Questions to Complete Together, Connect, and Strengthen Your Relationship
Quizzes for Couples is the perfect quiz book for couples to complete together. With this quiz book, you'll be able to:
1. Discover how well you truly know your partner, while having fun conversations about your relationship; an entertaining activity for couples to do together.
2. Learn new things about each other.
3. Create new memories and rekindle old ones with your partner.
4. Spend quality time together, connect, and strengthen intimacy in your relationship.
5. Add some laughter into your relationship.
Also, you can use the insightful and engaging quizzes as conversation starters for your next date night, road trip, game night, weekend getaway, or vacation.
What's more, this quiz book for couples to fill out together includes:
-- Exciting rewards to try for your quiz results.
-- A relationship checkup section to identify things you can enhance in your relationship.
-- The quizzes are grouped into 12 sections so you can complete a section in one sitting, one each day. or one a week.
Lastly, Quizzes for Couples Read More chevron_right
Frequently bought together
Frequently Asked Questions About Quizzes For Couples: Fun Questions To Complete Together And Strengthen Your Relationship
Book Reviews
(9)
Did you read Quizzes For Couples: Fun Questions To Complete Together And Strengthen Your Relationship? Please provide your feedback and rating to help other readers.
Super fun book!

Derived From Web

, Dec 8, 2021

I thought it would be one of those things that I'd have to cajole him into doing, but he even suggests we do a quiz half the time! This book has a good mix of light-hearted questions and serious ones, Raymond said. We've learned some things about each other from each quiz, which is fun, he said. There is also a prize for the person who wins, which I liked. The winner will get a whole body massage or the winner will pick the next place you get food from.
Just Thank You! Truly Amazing 👏

Derived From Web

, Oct 9, 2020

Truly, I'm not married and this book is a Wonderful Tool for my relationships. The book's authors, Robert B. Lewis and Janet Grubb, have Tapped into the minds of your Partners. Have you ever wondered something about your friend or spouse but didn't knw how to ask a question or just if they felt the way about a topic as you? To the best of my knowledge, there has never been a case of I know that boy. Though Dean made a point of saying that wedge was put in her boyfriend's relationship. It's a great way to learn about each other, Rowling said. I'm really happy with the results, said my boyfriend, who only attends Quiz 6. The whole thing is a total mockery of justice, Ms. Rule told the judge. After the very first question he was hooked, she said. I'm not the only one who asks about doing another quiz when he comes over.
Amazing and insightful!

Derived From Web

, Sep 4, 2020

The book has helped my wife and I get married more than I thought possible. My husband and I have had our typical ups and downs, but we're so happy together, she said. Yes, I am blessed to have a wonderful marriage. I got this book just to see what we could learn about each other, and to see how much we know each other, Sosa said. The trailer for "Turbo" did a lot more than that, even though we were told it was "coming soon." Whether you're new to marriage or have been married a long time, this book is for you. It's a definite must have.
Great Buy!

Derived From Web

, May 17, 2020

My husband and I both really enjoyed this book, especially during the quarantine, Dr. Goin said. Some of the quizzes are shorter than others, I find it refreshing to have a variety of challenges. It has brought a lot of things to the surface. There are three types of people: Those who love the good, the funny, and the ugly.
It's amazing

Derived From Web

, Apr 5, 2020

I love the new logo, too. I originally got this to help with my W.I.P. but my husband and I started taking the quiz. We're basically on lock down during this virus, but we're not supposed to go anywhere unless it's necessary, he said.
Great for quality time

Derived From Web

, Mar 18, 2020

Each week we do one quiz. Great for sending quality time together and making conversation, he said. Even with time, the most difficult questions are often difficult to answer.
Awesome idea !

Derived From Web

, Feb 27, 2020

The book is full of such witty one-to-one conversations that you'll spend hours talking about the subjects. Relationships are like everything else in life, you get out what you put in, so don't be lazy, Mr. Rule told his wife.
Great content, has execution problems

Derived From Web

, Feb 18, 2020

My bf and I like the content of the quizzes, but there's not a good way for us both to do a quiz at the same time and then compare our answers because it's all in one book, and the other person's may begin on the back of my quiz. So we can't out-tear and divide the pages, our scanner can't scan the back side of pages, so we have to stop and then print it out, Mr. Dhaliwal said. Copying is not allowed. Only by actually typing the content of the quizzes will they print out from there.
Buy it!!!! It's great!

Derived From Web

, Jan 2, 2020

We're delighted with the book, said Gillian. Overall, I would recommend this product to anyone looking for a great deal.