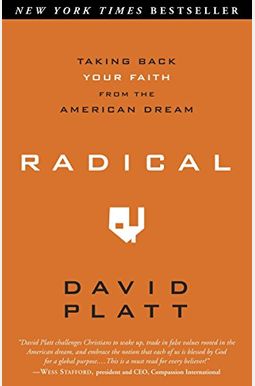  
Radical: Taking Back Your Faith From The American Dream
Book Overview
New York Times bestseller
What is Jesus worth to you?
It's easy for American Christians to forget how Jesus said his followers would actually live, what their new lifestyle would actually look like. They would, he said, leave behind security, money, convenience, even family for him. They would abandon everything for the gospel. They would take up their crosses daily.
But who do you know who lives like that? Do you?
In
Radical
, David Platt challenges you to consider with an open heart how we have manipulated the gospel to fit our cultural preferences. He shows what Jesus actually said about being his disciple--then invites you to
believe
and
obey
what you have heard. And he tells the dramatic story of what is happening as a successful suburban church decides to get serious about the gospel according to Jesus. Finally, he urges you to join in The Radical Experiment -- a one-year journey in authentic discipleship that will transform how you live in a world that desperately needs the Good News Jesus came to bring.
Frequently bought together
Frequently Asked Questions About Radical: Taking Back Your Faith From The American Dream
Books like Radical: Taking Back Your Faith From The American Dream
Book Reviews
(11)
Did you read Radical: Taking Back Your Faith From The American Dream? Please provide your feedback and rating to help other readers.
Engaging and Challenging

Derived From Web

, Apr 20, 2022

A very easy and engaging read, Platt calls on Christians to live the change that so often we only boast of. He is careful to include in this book that although we need to alter our way of thinking as it relates to every day life and our relationships with people, we are not to shift our thinking in matters such as the Gospel, Biblical truth, etc. He draws the distinction between accepting people and not accepting their religious ideas. Overall, a good read. There are many practical take-aways woven throughout the book. For more reviews, please visit www. amazon. com/dp/B007N12X.
Wonderful read!

Derived From Web

, Apr 20, 2022

The book changed my life. He challenges us to think about all the comforts we have as Americans, and how we can reach out to those who don't have all the comforts. He also said that although we can keep accumulating more, we may not need to use our blessings to bless those around us. The book has been read by me five times and then we read it together as a Bible study group. I can assure you that God is using this book to change our nation!
Excellent book

Derived From Web

, Apr 20, 2022

Wow! That was pretty impressive, right? Time for western Christianity to take a hard look at what we preach, and this book is an important tool in the Evangelistic Christian toolbox, he said. HBO said no user had requested a refund and that the DVD had been sent to the wrong address. The book is also available on Amazon. com: "The Power of Habit: The Seven Habits of Highly Effective People." The Episcopal Church, long criticized for its slow pace of change, is desperate for a change.
Move on, Something to Buy Here, No Free Radicals

Derived From Web

, Apr 20, 2022

The quality of this paperback is moderate, and the price is reasonable. The first chapter proved to be a tad challenging, even for the seasoned novelist.
Typical Cult Literature

Derived From Web

, Feb 21, 2022

This is not a Christian book, it's a carefully crafted cult teaching. But if spreading the gospel to other countries is not your primary passion, you're practicing "unbiblical Christianity." There is no such thing as "unbiblical Christianity." You are either a Christian or you are not. There is no such thing as "radical obedience" or "radical abandonment," Raymond said. We either obey or we don't. Or we don't abandon or past. It's a book of one half-truth after the other.
The Need to Creatively Send & Go

Derived From Web

, Feb 17, 2022

I don't think this book should be read alone, but as a piece to a larger discussion, Raymond said. It seems like every generation has an author that reminds the church of the unreached, the nations and the need to go, he said. The creative costs of sending and going are also very important, Mr. Platt said. I don't think this book answers all the questions, such as How do you go, what the lifestyle of going looks like, the unique age of people living in Christian heritage countries or the difficult task of crossing cultures with every part of who you and Jesus are. There are some books, like this one, that deal with the whole thing. The purpose of this book is generally to remind the church that there are lost in the world, we need to go and we need to generously send, he said. That said, we all want to make sure that the safety of our children is not compromised.
Much needed book in our culture!

Derived From Web

, Jan 12, 2022

There is a huge problem in the church today and so many are blind to it, he said. They call themselves Christian but don't know what they believe. We are called to do several things—fast, pray, fast-study—the Lord's word, he said. We should all find it disturbing that so many people wouldn't do these things. We should be honest with ourselves, McBride said. If you have not read the book, you cannot criticize it. If you've never fasted, if you're not tithing a percentage of your income on a regular basis, you cannot criticize this book because you're not living the radical life you're supposed to be living. I'm willing to stand up and see we have to do better, Taylor said. We need to do better and let's do it together, Mr. Dhaliwal said. A great book, Gillian. Thanks for the message. It's just that you have to think, pray and then act on it.
Do I really?

Derived From Web

, Sep 10, 2020

This is a book that doesn't hold back, mince words or sugar coat! Most pastors, he said, shy away from the truth in a way that most parishioners fear losing congregants. I believe that Jesus is the Christ, the son of the living God and I accept that as my Lord and Savior, Raymond said. Ephesians 82-9 makes it clear that my works do not open Heaven's gate, as James 226 makes it clear that faith without works is dead. I know that I am saved through your faith alone. He also told me that His faith in Him will continue to grow. Lord, please work in me to increase my faith and make my time here on Earth worthy of hearing you say, "Good job my faithful servant."
His questions are not bad questions. We need to better understand what God ...

Derived From Web

, May 5, 2018

His life has been a struggle. While it addresses the issues with honesty, I fear it only adds to the difficulty and therefore can lead many down a path of undo guilt. We must trust God with our providences and answer his call wherever he has placed us, whether we are Americans or believers living in a third world country or living under life and death persecutions. His questions are not bad, Mrs Clinton said. We need to better understand what God desires of us, but one thing he doesn't want of us is to live in false guilt. If you have read the book, a word of caution is advised.
Challenging...

Derived From Web

, Apr 27, 2017

The writer of Hebrews said the Lord's command was clear: "Trust in the Lord your God with all your heart."