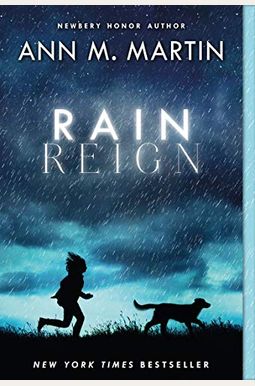 
 
Book Overview
From Newbery Honor author Ann M. Martin, who wrote the Baby-sitters Club series, comes a New York Times-bestselling middle grade novel about a girl, her dog, and the trials of growing up in a complicated and often scary world.
Rose Howard is obsessed with homonyms. She's thrilled that her own name is a homonym, and she purposely gave her dog Rain a name with two homonyms (Reign, Rein), which, according to Rose's rules of homonyms, is very special. Not everyone understands Rose's obsessions, her rules, and the other things that make her different--not her teachers, not other kids, and not her single father.
When a storm hits their rural town, rivers overflow, the roads are flooded, and Rain goes missing. Rose's father shouldn't have let Rain out. Now Rose has to find her dog, even if it means leaving her routines and safe places to search.
A story about honorable living in the autistic narrator genre that sets the bar high. . . . Martin has penned a riveting, seamless narrative in which each word sings and each scene counts. --Kirkus Reviews, starred review
This title has Common Core connections.
Frequently Asked Questions About Rain Reign
Book Reviews
(6)
Did you read Rain Reign? Please provide your feedback and rating to help other readers.
"Are we reading more Rain Reign??"

Derived From Web

, Feb 8, 2022

My students were spellbound and eagerly anticipating our next read- aloud. The conversations that followed each reading were some of the best I' ve had in my 20 years of teaching. Martin depicts all aspects of dealing with the condition. From a father in denial to his nephew. From the students and the teachers to Rose herself. The author gives a great deal of depth to the characters. You have the recipe for a true classic with a dog, some unexpected turn- of- events, and a gratifying ending. This was chosen as a Reading Olympic book this year, and I hope it continues to be on the list of must- reads for intermediate students for years to come.
Good Book to Teach Children Tolerance and Selflessness

Derived From Web

, Feb 8, 2022

Amazon marketed this book to me as a book to read next. I didn't realize it was a children's book. It was a good story about a young girl with high functioning autism, told from her perspective, that included a touching story of a difficult life with a single father and her beloved dog. This is a good story for kids to see that doing the right thing is not always the best idea. The voice of the book was a distraction since it is narrated by a child on the spectrum who is obsessed with prime numbers and Homophones. It becomes less of a distraction once you get used to it.
Not a book to miss.

Derived From Web

, Feb 8, 2022

I ordered it even though I knew it was aimed at a young generation. I initially thought it was not a good idea, but as I read further, it enlightened me as to how it might feel to be not like the others, and how I might be different. It is a beautiful, sweet, tragic and enlightening tale. I loved it. It takes the reader into the mind of a high functioning Autistic child. She pours her heart and soul into what she believes is true and honest in the world she lives in. You meet a father that has a hard time being a single parent to a child. It's well written and compelling. I can't imagine anyone who wouldn't benefit from reading this story.
Touching in many ways

Derived From Web

, Jun 30, 2018

The story is from the point of view of a little girl with high functioning on the spectrum. You can see the world through her eyes and maybe understand the quirks that she deals with. It teaches that sometimes doing the right thing is difficult. This may require some discussion about family situations and alcoholism, but is on the Battle of the Books list.
Horrible Book

Derived From Web

, Jun 18, 2018

It doesn't make you want to continue, and you didn't have origination, so rate it 1 out of 5
O_O

Derived From Web

, May 31, 2018

It's hard to get into my top three favorite books, but this one's made it, I read at least two books a day. It's a really good book and I was hooked from the first page. I' ll explain why I'm saying that. It's about a girl named Rose Howard who is obsessed withphones. During a baaaad storm, her dad lets out their dog Rain, who is outside in the middle of the night. Yep, that's correct. If you want to read the first five chapters for free, you have to use the Rain reign chapter sampler. You can get it for nothing. # NotKidding