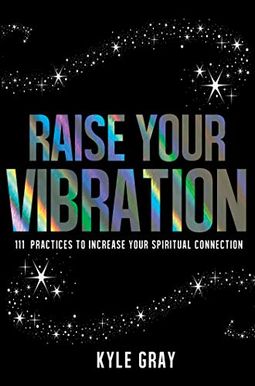  
Raise Your Vibration: 111 Practices to Increase Your Spiritual Connection
Book Overview
Kyle Gray's phenomenal psychic gifts have made him one of the UK's most popular experts in the field. Now, in Raise Your Vibration, Kyle teaches readers how they too can develop their psychic abilities and discover the powerful talents within them.
In this book, Kyle outlines the 111 key practices that he himself has been using for over 10 years to build his phenomenal skill. Readers will learn how to:
-strengthen their connection to their guides
-improve their intuition
-integrate forgiveness and love into their daily actions and decisions

The format of the book allows readers to either go through all of the practices 111 days in a row or pick a practice at random.
With this book, Kyle aims to guide the reader to access the deepest and most beautiful part of themselves and start the journey towards becoming a positive force in the world. This is a must-read for anyone who wishes to develop their psychic abilities or deepen their spiritual practice.

Frequently bought together
Frequently Asked Questions About Raise Your Vibration: 111 Practices to Increase Your Spiritual Connection
Books like Raise Your Vibration: 111 Practices to Increase Your Spiritual Connection
Book Reviews
(11)
Did you read Raise Your Vibration: 111 Practices to Increase Your Spiritual Connection? Please provide your feedback and rating to help other readers.
Awesome

Derived From Web

, May 17, 2022

If you are interested in raising your awareness of your angels, this book is for you.
The best i've read in a longtime and you feel the ...

Derived From Web

, May 17, 2022

The best I've read in a long time and you feel the effect while reading it. I seriously recommend '' this book.
Fantastic Book for Guidance in your Spirtusl Growrh

Derived From Web

, May 17, 2022

For those seeking spirtitusl growth. This book is your book of record. His leadership and help surpases so many books on the market. As you will read the lessons given.
Positive Focus

Derived From Web

, May 17, 2022

The small chapters could be used in daily meditation or yoga or dipped randomly for inspiration and inspiration.
Glosses over too much

Derived From Web

, Sep 22, 2019

Of the many many LOA books I have read, this was not worth the purchase price. Author seems well connected to many personalities in the hype - book industry, but still lacks delivery on anything useful. Lots of name dropping, but for you and me of this world he offers very little.
gr8 vibes

Derived From Web

, Oct 24, 2018

Thanks, Kyle Gray, for writing such an easy-to-understand and live guide for raising the vibrational frequency of our soul. This is a great print companion for his accompanying YouTube video and audio book on your journey, great for highlighting and tagging and even easier to share with others in need.
111 days and totally worth it!

Derived From Web

, Apr 22, 2018

I started this book on the first of the year as a tool to help me with my mental health. I wanted to develop a good practice this year for raising my own positivity frequency and rewiring my brain from having such a negative outlook always. Every day I would write my vibes of the day to myself or outloud, journal my experience of keeping the vibe in mind and read the affirmation in the journal also. It was a great way to track progress, as I could see my entries change from being always grim and hopeless to seeing them begin to perk up and become more positive. I'm inspired to continue with this practice of journaling and researching more of Kyle's work, as well as other similar works. This book is a great way to develop healthy habits and raise your vibrations, no matter what walk of life you are from.
I love it & it's my favorite!

Derived From Web

, May 5, 2017

This has to be one of my favorite things I have read in a while! It is simple to understand and has awesome concepts! Digest your time to take it. The affirmations are worded perfectly. This is the book you are looking for if you want to become more enlightened!
Life and Frequency Changing - Stoked to Read More from Kyle Gray

Derived From Web

, Mar 30, 2017

I am only half way '' through this, but this is now one of my favorite books and I would recommend it to anyone. It has done just what it says about my vibration. And helps me keep it there. I may reread it after I finish it. So powerful is being a daily devotional. I read it each morning with my daily Tao book. I felt like a day or two when something happened and I felt totally alienated and upset. Through my days, I find different vibes and affirmations that play through my head. Let me tell you that changing your unconscious mind banter from what it was before the affirmations in this book is life changing. I look forward to buying more books and oracle cards from you. What a cutie '', too.
Great book

Derived From Web

, Mar 24, 2017

The book is really wonderful . If you happen to be a person who acts or thinks negatively often, this will be perfect for you. Tells you to enjoy a happier life, it also teaches you to live the life you have.