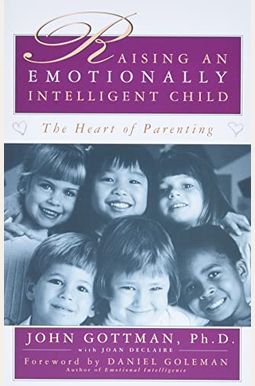 
 
Raising An Emotionally Intelligent Child
Book Overview
Raising an Emotionally Intelligent Child is John Gottman's groundbreaking guide to teaching children to understand and regulate their emotional world.
Intelligence That Comes from the Heart Every parent knows the importance of equipping children with the intellectual skills they need to succeed in school and life. But children also need to master their emotions.
Raising an Emotionally Intelligent Child
is a guide to teaching children to understand and regulate their emotional world. And as acclaimed psychologist and researcher John Gottman shows, once they master this important life skill, emotionally intelligent children will enjoy increased self-confidence, greater physical health, better performance in school, and healthier social relationships.
Raising an Emotionally Intelligent Child
will equip parents with a five-step emotion coaching process that teaches how to: -Be aware of a child's emotions
-Recognize emotional expression as an opportunity for intimacy and teaching
-Listen empathetically and validate a child's feelings
-Label emotions in words a child can understand
-Help a child come up with an appropriate way to solve a problem or deal with an upsetting issue or situation Written for parents of children of all ages,
Raising an Emotionally Intelligent Child
will enrich the bonds between parent and child and contribute immeasurably to the development of a generation of emotionally healthy adults.
Frequently bought together
Frequently Asked Questions About Raising An Emotionally Intelligent Child
Books like Raising An Emotionally Intelligent Child
Book Reviews
(16)
Did you read Raising An Emotionally Intelligent Child? Please provide your feedback and rating to help other readers.
Effective, Outstanding, and Well-Written

Derived From Web

, Apr 20, 2022

I have used Dr. Gottman's method of raising an emotionally healthy child with my daughter since she was 9 months old. She is now 4 and is a well-suited, well-behaved, caring and cooperative child. Whenever we go, we are praised on her behavior. If there is a child psychology book you read, this must be the one. I highly recommend ''.
teaching kids about emotions

Derived From Web

, Apr 20, 2022

This book helps parents understand how their personal philosophy about their own emotions influences what and how they teach their children about emotions, such as how to recognize, express and control anger. The book provides a simple self-test to help parents understand what their philosopy is and how it influences interactions with their children. For example, some parents do not allow their children to express anger with them, while others are accepting of their children being openly angry with them. There are very different long-range implications of these different philosophies and parenting styles. This book helps parents to evaluate their own philosophy and consider changes in their parenting style.
May help you understand your emotions as well as your children

Derived From Web

, Apr 20, 2022

I have not yet finished the book, but I am going through it with a Bible study group. It helps me understand my children and helps me to be as well as myself.
It's Okay to Get Angry!

Derived From Web

, Apr 20, 2022

I read this book cover to cover and found it to be an easy and engaging read. It was very enlightening for me as I try to raise two precious children. I quickly discovered that although I am fairly good at helping children process their sad emotions, I need to learn to tolerate and accept anger as another appropriate emotional response. The anecdotes are great and I feel much better suited to work with my kids through emotions.
Essential Tips

Derived From Web

, Apr 20, 2022

This book offers some essential tips for communicating versus the Old Way with Your Child in a positive way.
Fantastic book! Should be required reading for any parent

Derived From Web

, Apr 20, 2022

Fantastic Book! '' For any parent, reading should be required. The good coaching it teaches is essentially what emotional therapists do with their clients.
For gutsy parents, thinking rather than emotionally responding.

Derived From Web

, Apr 20, 2022

Excellent parents - guide to help their children think through situations. Parents who can control the natural response to answer, fix, command or control the child's initial response to life situations and view the situation as a growth experience for the child.
My go-to parenting guide

Derived From Web

, Feb 9, 2022

I read this book several times in my son's life at different stages. It reminds me to understand him and his world better and to help him in his learning journey. He gets high marks in his school assessments in social emotional development, so whether it was the help of this book or genetics or environment or a combo of all we are blessed for this work by Gottman, I am eternally grateful.
Do yourself, your children and even your marriage a favor & read this book!

Derived From Web

, Aug 2, 2021

Listen '', I did the audiobook version during a long road trip and recommend it highly! The author goes to great lengths to help the reader understand, grasp and use the information and techniques he expresses. I found the anecdotal narratives super helpful! '' The book also helped me to view how my own childhood directly influenced how I parent my children. Some have complained about his explanations of both the separated families and the importance of a father as stepping back and even disregarding the importance of the mother. Then I disagree strongly. I am a child of divorce, with a mostly absent father and felt absolutely no condemnation, but a great deal of understanding of the impact on my upbringing by these circumstances. It is often hard to swallow, but the truth can be surprisingly simple. i found this book to be hopeful and encouraging, and would recommend it highly. Especially important for parents that feel like they need a " restart "!
Parents please read this book

Derived From Web

, May 11, 2021

It starts with a lot of statistics and was kind of boring in the beginning. It was also written in the 90s, so that some stats are a little outdated, but it was very interesting and worth the read. The philosophy is still relevant and I honestly believe that every parent should read this book.