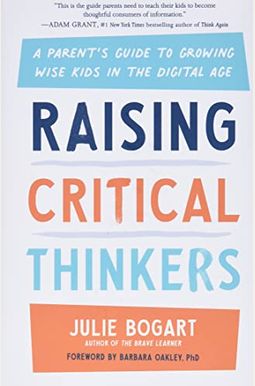 
 
Raising Critical Thinkers: A Parent's Guide To Growing Wise Kids In The Digital Age
Frequently Asked Questions About Raising Critical Thinkers: A Parent's Guide To Growing Wise Kids In The Digital Age
Book Reviews
(6)
Did you read Raising Critical Thinkers: A Parent's Guide To Growing Wise Kids In The Digital Age? Please provide your feedback and rating to help other readers.
Raising Critical Thinkers- a must read

Derived From Web

, Feb 1, 2022

In a world where we are now flooded with information daily, trying to teach our children how to discern truth without bias is such a difficult task, Julie Bogart has given us such a wonderful gift with this book. Julie pairs well sourced up to date research with sage personal narrative that leaves a parent feeling up to the task of helping their child discern any topic they encounter from language arts, current events, to navigating social media skillfully. The activities included in the book are helpful and fun for the whole family to think critically about how we shape our views. A must read for any parent, another wonderful book by this author.
Breath of fresh air

Derived From Web

, Feb 1, 2022

Reading this book felt like taking a deep breath immediately clarifying and calming. In her signature approachable, engaging style, Julie Bogart gives parents like me the roadmap we need for raising capable, engaged and independent thinkers. Being a parent right now feels really hard, and it is a daily challenge to wade through information as a mother, much less teach my kids how to do it. Julie brings us common sense, wisdom and encouragement in this sane and fact-filled guidebook, as a researcher, educator and mother of five children, who successfully launched into adulthood. Grab a few of your parent friends, put some tea and start a book club around this one. These ideas are meant to be shared!
An Absolute Must Read For These Times

Derived From Web

, Feb 1, 2022

For years, Julie Bogart has been a homeschool hero and now she has gone and written an absolute classic guide for parents trying to navigate their way through this time of information - flooding. This book awakens something in you and at a time when things feel so out of control, she gives you the tools to help not only your children, but you make informed opinions yourself. The exercises she uses to help your children practice political thinking are simple, fun and lack any kind of critical connotation. I feel deeply that critical thinking is a survival tool in this age, and to have a guide now to help my children learn these skills feels priceless. It also helps that Julie is a naturally engaging and delightful writer, so that it never got dry or boring to read. I know that I will refer back to this book over and over again.
Important Book for all those Teaching Their Kids to be independent

Derived From Web

, Feb 1, 2022

This book is such a great book on teaching our children to evaluate the information streams they have come in on a daily basis. I loved the personal stories that Julie wrote in the book, along with the research that went into helping our children love learning.
Must read for all parents!

Derived From Web

, Feb 1, 2022

Not just for homeschoolers, but also for every parent. Julie Bogart provides wonderful guidance through stories and insights continually. Reading this book is like chatting with a wise friend, whom you can only emulate.
Excellent, informative, practical, inspiring!

Derived From Web

, Feb 1, 2022

Julie has been waiting for a book like this and I do not disappoint with her practical and conversational and upbeat, encouraging style. This book is a must-read for all parents and educators. It is a must-read for all parents and educators. Living in the times we are living in are so many challenges in the realm of information and bias that critical thinking skills are of the utmost importance to us all. This book is excellent and informative, and inspiring. It would lend itself well to a book club in which you can practice the skills through conversation, exploring everything further!