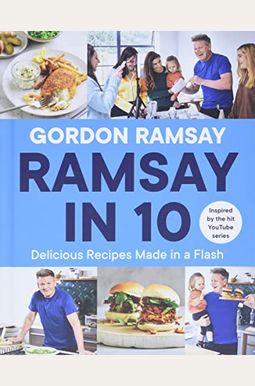 
 
Book Overview
Packed with recipes that are max 10 minutes to prep and 10 minutes to cook, RAMSAY IN 10 is your new everyday cookbook.
In
Ramsay in 10
, superstar chef, Gordon Ramsay, returns with 100 new and delicious recipes inspired by his YouTube series watched by millions across the globe - you'll be challenged to get creative in the kitchen and learn how to cook incredible, flavorsome dishes in just ten minutes. Whether you need something super quick to assemble, like his Microwave Sticky Toffee Pudding, or you're looking to impress the whole family, with a tasty One Pan Pumpkin Pasta or some Chicken Souvlaki - these are recipes guaranteed to become instant classics and with each time you cook, you'll get faster and faster with Gordon's shortcuts to speed up your cooking, reduce your prep times and get the very best from simple, fresh ingredients.
'When I'm shooting Ramsay in 10, I'm genuinely full of excitement and energy because I get to show everyone how to really cook with confidence. It doesn't matter if it takes you 10 minutes, 12 minutes or even 15 minutes, to me, it's about sharing my 25 years' of knowledge, expertise and hands-on experience, to make everyone feel like better, happier cooks.' -- Gordon Ramsay
This is fine food at its fastest and fast food at its finest.
Frequently Asked Questions About Ramsay in 10
Book Reviews
(10)
Did you read Ramsay in 10? Please provide your feedback and rating to help other readers.
Zero effort on the Kindle version

Derived From Web

, Jan 9, 2022

I ask you a hypothetical question. If Gordon Ramsay saw a sous chef in one of his restaurants hand over a plate meal with overcooked meat, overcooked vegetables and gravy stains on the plate, would he a) put the plate on the floor and fire the incompetent chef on the spot or b) stand back and let it go to a paying customer? I suspect that the closest answer would be a, so my next question is why does he allows his publishers to put such a half-hearted effort as an e-book, in his name? The table of contents is completely useless. There are general chapter headings, but if you, the reader and customer, want to know what is in the chapter, then be prepared to wade through page by page. And if you can't cook a recipe easily, you can't find a recipe. I don 't expect a super-star chef to know how to create drop-downs and hotlinks. I expect him to employ competent people who can do these things, and I do expect him to do competent people who employ competent people who can do these things. I do expect him to employ competent people who can do these things. I do expect him to employ competent people who can do these things. I do expect him to do competent things.
Love this man and his recipes!

Derived From Web

, Jan 6, 2022

Gordon Ramsay doesn't mess around Gordon Ramsay. He obviously insures that all his recipes are tested and flawless in the kitchen. I bought 2 of Bobby Flay's cookbooks and threw them in the garbage, and was disgusted at how so many recipes were inedible. This problem will NEVER occur with any of Gordon Ramsay's cookbooks, Chefs, you'll have this problem with any of Gordon Ramsay's cookbooks. He cares about his fans and what they are cooking and he wants us to excel. Gotta love this guy!
Misleading Title

Derived From Web

, Dec 19, 2021

While I love Gordan Ramsay, this title is very misleading. It is 10 minutes if cooking only for 2 people takes 10 minutes. More people takes more time to complete more time. Plus, you have to have the majority of the ingredients prepped and waiting for you in the freezer. I am very disappointed and return the book.
Great cookbook for quick dinners

Derived From Web

, Nov 30, 2021

Cookbook Very inspiring cookbook ''. Practical recipes, full of flavor ideas. Emphasis on things that can be made from most people's pantries. Nothing complicated. Nothing complicated. '' Enjoy watching the YouTube videos accompanying the book. Seeing the steps in action really helps.
A disappointment

Derived From Web

, Nov 18, 2021

I had 4 of these for myself and our children for Christmas, thinking that there would be many of his quick recipes for a busy night that can get a meal quickly. These recipes are very uncommon for US people with spices and ingredients that I think will be hard to find or even to eat. Here, not many rabbits eat for one. They returned promptly, the desserts looked delicious, but not worth enough to keep the book. Love his recipes, but he should have labeled this one differently. I would be surprised if people enjoy this book in the United States.
Not as expected not simple quick meals like expected

Derived From Web

, Nov 6, 2021

In this book, I was expecting for the family to have quick meals. This meal contains numerous recipe items that our local store will not have and I would expect that a lot of stores will not have all these items. This will be sent back, as it is not practical simply. This book really misses the mark and was disappointed with the items selected.
Many "strange" recipes

Derived From Web

, Nov 5, 2021

Great collection of recipes, but definitely more unfamiliar to the American consumer. Some recipes seem more like appetizers than main courses. It would also help to have an index for each chapter instead of having everything slammed together in the back. Would make it much easier to do a quick scan when thinking about shopping.
Not what I expected

Derived From Web

, Nov 3, 2021

I was led to believe that these meals could be cooked in 10 minutes. I have a hard time believing that most of these recipes only take 10 minutes to prepare. Please also be aware that most of these recipes are different recipes that would normally serve for family dinners. It is not what I expected, especially since this is so different than his YouTube series, on which this was apparently based.
Looking forward to making these recipes!

Derived From Web

, Nov 3, 2021

Today I received the book and must say that I am very happy and excited to try some of the recipes! The pictures look so delectable! I love to cook but life usually requires quick-and-easy recipes during the week. In this cookbook, much inspiration for some variety was found!
The world's most versatile chef delivers...again!

Derived From Web

, Nov 2, 2021

Move over Jamie Oliver's 15 minute meals '' unless you can increase the ante to 5 minute meals. Gordon's meals are particularly straight forward compared to Ramsay's YouTube entries, as these recipes are accompanied by easily accessible ingredients, wconversions and pictures too. Chef, thank you!