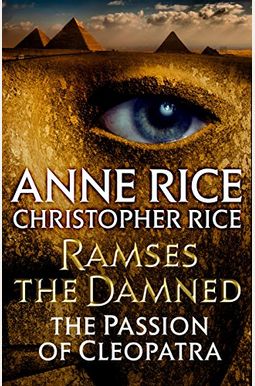  
Ramses the Damned: The Passion of Cleopatra
Book Overview
From the iconic and bestselling author of The Mummy and The Vampire Chronicles, a mesmerizing, glamorous new tale of ancient feuds and modern passions.
Ramses the Great, former pharaoh of Egypt, is reawakened by the elixir of life in Edwardian England. Now immortal with his bride-to-be, he is swept up in a fierce and deadly battle of wills and psyches against the once-great Queen Cleopatra. Ramses has reawakened Cleopatra with the same perilous elixir whose unworldly force brings the dead back to life. But as these ancient rulers defy one another in their quest to understand the powers of the strange elixir, they are haunted by a mysterious presence even older and more powerful than they, a figure drawn forth from the mists of history who possesses spectacular magical potions and tonics eight millennia old. This is a figure who ruled over an ancient kingdom stretching from the once-fertile earth of the Sahara to the far corners of the world, a queen with a supreme knowledge of the deepest origins of the elixir of life. She may be the only one who can make known to Ramses and Cleopatra the key to their immortality--and the secrets of the miraculous, unknowable, endless expanse of the universe.
Frequently bought together
Frequently Asked Questions About Ramses the Damned: The Passion of Cleopatra

Book Reviews
(12)
Did you read Ramses the Damned: The Passion of Cleopatra? Please provide your feedback and rating to help other readers.
INTERESTING!

Derived From Web

, Apr 12, 2021

Ramses the Damned is an excellent follow-up to The Mummy. Ramses, Cleopatra and an e!ixar gave them the gift of eternal life. In this newest novel written by Anne Rice and her son Christopher, we discover that there are other immortals who have plans. This is the story of Julie and Ramses, but other threads must be shipped as well. I don't want to give away any secrets, but I feel like another novel needs to answer some questions about what happened to certain characters at the end of the book.
Loved it!

Derived From Web

, Jan 12, 2021

Falling in love with another person. The vampire series is definitely a more captivating read.
Charming

Derived From Web

, Nov 18, 2020

You must return to the World of Other Beings. There is more to Ramses story. Cleopatra may be resurrected... What is her present State? Will Julie figure out a way to Deal with what he has done? It was a wonderful read.
A complete letdown

Derived From Web

, May 6, 2020

Anne Rice's The Mummy is one of my favorite books. It's a bad word. It was a disappointment. It was a relatively short book but it took a long time to get through it. It was not engaging and I didn't pay attention to it. There are too many characters and they're not developed well, so I don't care what happens to them. This book felt different than the first one. I will definitely read The Mummy again, but I won't waste my time.
Bravi another masterpiece

Derived From Web

, Feb 19, 2020

I'm a big fan of Anne Rice. That is what I think about her writing style. You are looking at things like detail, which you feel like you are there for. This latest expedition of Ramses the Dammed was great.
Pretty boring

Derived From Web

, Feb 9, 2020

The Cleopatra story is not entertaining or preachy. This is not a horror story or a romance story.
Ramses

Derived From Web

, Mar 17, 2018

It wasn't what I expected. It was very few to no thrills. Ramses wasn't wanted to be an English gentleman so I wanted to see the mummy.
It's a good way to pass an afternoon

Derived From Web

, Feb 12, 2018

It's a good way to end the day. It seems like a poor imitation of 'The Queen of the Damned'. It is odd that creatures that lived for thousands of years have basic lives.
Great escapism read.

Derived From Web

, Feb 3, 2018

I loved it. I admit to being biased because I love Anne Rice's books. I have vampire and werewolf books. It covers the pre-WWII period very well. She has books that you will like.
🌟🌟🌟After a 28 year wait I was not disappointed!🌟🌟🌟

Derived From Web

, Feb 1, 2018

I really liked the story of the Mummy, Ramses the Damned when I first read it. I have been a fan of Anne Rive for a long time. You can't rush these things. It was enjoyable to read Cleopatra's story for the first time.