OUR BIGGEST SALE EVER - SAVE 20% AT CHECKOUT WITH CODE CYBERBOOK. Learn more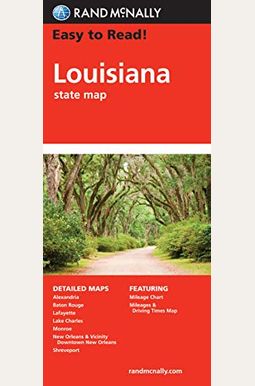 
 
Rand Mcnally Easy To Read! Mississippi State Map
Frequently Asked Questions About Rand Mcnally Easy To Read! Mississippi State Map
Books like Rand Mcnally Easy To Read! Mississippi State Map
Book Reviews
(11)
Did you read Rand Mcnally Easy To Read! Mississippi State Map? Please provide your feedback and rating to help other readers.
very large, but not very detailed map

Derived From Web

, Apr 20, 2022

The rest of the California is split on the one side, the rest is on the other side, right across the area we were traveling south of San Francisco. This is an oversized map and Rand-McNally has a good reputation, so I expected the larger size would show more detail. That is unfortunately not the case and most of the added space is what the computer guys call white space. i.e. nothing is included in it. Moreover, the larger size makes the map more awkward to use in a car, especially when you have to flip between the front and the back. We were tracking missions in the area and ended up relying on an older, smaller and out of date map we had along a previous trip. In comparison, our older map had all of California on one side and had more detail.
Big and easy to read

Derived From Web

, Mar 19, 2022

I like to have a paper map on out-of-state car trips. It is a backup to GPS, especially in places with spotty cell coverage. We didn 't run into spotty coverage around San Luis Opisbo, but it was helpful to see how far various places of interest are.
Incorrect information.

Derived From Web

, Mar 12, 2022

I ordered this map because of its large scale, because I wanted to plan back road trips. The first thought I did was to look at the map in the Antelope Lake area. This is the kind of place I've wanted to explore. Immediately I noticed that this map only showed one road, very inaccurately, and presented it as a dirt road, when in fact it is paved and has been like that for decades. In fact, Antelope Lake has several asphalt roads that are not shown at all. They have been there for decades, so the map is clearly inaccurate and has not been updated in decades. Simply put, I have not examined other areas because there is no longer any credibility for this map.
It's in my go bag

Derived From Web

, Aug 25, 2021

It is in my go bag! This has been a bad year for wildfires in California. Thank you all for helping the West Coast people rebuild from these terrible fires.
Great Roadtripping Map!

Derived From Web

, Jun 6, 2020

Bought a few of these for a road trip we take. We're off to America, not it's interstate system, so we ditched the GPS and went to the old school. They're perfect for navigating highways and byways. They're perfect for navigating the highways and byways. Especially nice for older eyeballs, you can read them without their readers. No need to remove sunglasses and put on readers when using the maps on the road. Note that these maps have half the state on one side and you flip the map over for the other half. I don 't mind this '', I don 't mind it. When I grew up, we used the maps we used for family road trips when I was growing up all this.
Great map!

Derived From Web

, Apr 4, 2020

Great map, and I researched a lot. On the one side of North CA, South CA is the other. I bought 2 maps so that I could map all the coast on my board and get a trip on my board. I 'd rather have 2 of these than a less detailed map on one side.
North and South California are on separate sides of the map

Derived From Web

, Feb 19, 2020

If you buy the map to put on a wall or for educational purposes, you should know that it does not have a full CA shape on one side of the map. On the one side is North CA and on the other side is South CA. The map also had a tear in it when we got it, but we just taped it.
Good Old Reliable 2D Maps.

Derived From Web

, Aug 8, 2019

Having a full map of the state of California is way better than any Google map, MapQuest or digital map. When you can really see your trip from point A to point B, you can actually plan it better. When I am traveling great distances, all I need to see is the highway. Your GPS or the Map app can tell you what is nearby as you drive or stop. The paper map works when your phone is lost or out of signal range.
Very detailed!

Derived From Web

, Jul 27, 2018

Awesome map! I, however, wish I would have read the description better. At least in regards to size, Well is well.
An ancient skill?

Derived From Web

, May 28, 2018

Maps are going the way of the record player, news papers and dial telephones. Stopped in a super sized gas station truck in North Florida and could not find a map anywhere in the place. The guy at the cash register said that they stopped selling them years ago! Everyone uses the GPS. The book stores have a few local fold maps, but mostly guide books. Obviously, I am not making the transition to media very gracefully. I guess that makes me a technology fossil... I prefer the larger view and information charts provided by a huge, printed, foldable map to the microscopic, telescoping view on a minuscule screen that is consistently wrong enough to earn my trust more often than not. Besides, they don 't disappear when the signal says out of area for my cell phone. Amazon and Rand McNally thank you for keeping cartography, as I learned it, undated, accurate and available.